Is an overlanding vehicle enough to survive a zombie apocalypse? Probably not. But sure it's better than an average car on your driveway.
And we have 15 different points to convince you, 15 reasons why we think an overlanding rig is best in a zombie outbreak situation. Each of them is just giving you one more chance for you to survive.
If you prepare for the worst and take advantage of all the gears, accessories, and equipment that come with your overlanding rig, you might as well survive the test of time.
Because in a zombie apocalypse, your best bet would be something that is agile yet heavy-duty, adaptable yet feature-rich. Interestingly, most overlanding rigs fit the bill. Why? Keep reading on and you will find out.
Of course, you can always have a purpose built Anti-Zombie vehicle with built-in machine guns, missiles and 3-inch thick armour, but now we're just discussing how an overlanding vehicle can help you, as opposed to a Prius.
15 Reasons Why an Overlanding Vehicle Is Best At The Time Of A Zombie Outbreak
1. Off-Road Capability
The best way to survive a zombie apocalypse would be to take shelter in a place that's hard to reach. And, if you use a typical vehicle that is suitable only for driving on-road, then you are doomed.
In those life-threatening situations, you better have a vehicle that can drive both on and off-road. And that's when the 4×4 vehicles come into the play. A 4×4 vs a 4×2 vehicle would be just so much better in these scenarios.
These vehicles are typically ideal for operating in all types of terrains regardless of the weather conditions or the season. So, if you want to reach a place that is unreachable for zombies, your best bet would be an overlanding rig.
2. Lots Of Space For Your Family
Hopefully you'll be with your family during a zombie apocalypse, so you will need a vehicle that has ample space.
An overlanding vehicle would be a great choice in that case. Because most of the 4×4 vehicles come with enough space that can easily accommodate multiple persons.
Compared to other alternatives like a small city car or, heaven forbid, a motorcycle that can accommodate only so many individuals, an overlanding vehicle is a great option.
3. Strong Suspension And In General More Robust Build Than Other Vehicles
When the dead start their invasion, you will have to be well prepared. You cannot compromise on anything. Even the build quality of your vehicle would play a vital role in those situations.
Luckily, the overlanding vehicles are known for their robust build quality.
Compared to other standard vehicles, you can rely on any overlanding vehicles for their tough, heavy-duty, and hopefully zombie-proof build. Better yet, you can easily run over some of those brain-eaters without any damage to your vehicle, if necessary.
These rides also come with stronger suspension. So, wherever you are going or whichever roads you are taking, it shouldn't fall apart.
4. Fridge/Freezer To Store Food
You would need lots of food supplies to survive when the zombies' raid, wouldn't you? In that situation, a fridge could come in very handy.
Interestingly, there are various portable fridges/freezers available, operating on 12-Volt current, that you can take with you in your overlanding rig.
Additionally, if you want something simple yet effective for storing food or drinks, you can use expedition coolers as well.
5. Camping Gear (Sleeping Bag, Tent, Tables, Chairs, Stove, Etc.) To Sleep and Eat Anywhere
An overlanding vehicle and camping gears go hand in hand. If you own an overlanding rig, then you must own camping gear as well.
The most common camping gears are tent, tables, chairs, sleeping bags, stoves, etc. Luckily, all of these accessories will be of extreme help when the walking dead are on the loose.
Typically, you will be able to sleep using the sleeping bag inside your vehicle for safety. Should you choose to sleep in your roof-top or ground tent, one of them should stand guard!
Don't forget, you can't really drive away with your roof-top tent all setup! But if you manage to get rounds in getting a good sleep in, your survival chances are increased infinitely!
6. A Winch To Get Out Of Any Bogged Scenario
Going off-road is fun but in an apocalyptic scenario, it might become the only way for you to survive. Now, driving your vehicle off-road is not for the faint hearted.
If you don't have any experience, you can get stuck with your vehicle in severe conditions.
Even if you are a pro in off-road driving, your ride can get trapped. Fear not! A winch can help you to recover your vehicle without much effort.
You can also use a winch to load heavy cargo onto your vehicle which wouldn't usually be possible for an individual.
7. Room For Supplies & Weapons
When the living dead are getting to close for your comfort zone, perhaps you would need to hunt some of them down.
You can't take chance with them. And, in those instances, you will need weapons and supplies as much as possible to survive.
Now, it is not possible to carry more than a few weapons with you if you are using a smaller vehicle.
Thanks to the large form factor of overlanding vehicles, you will be able to store a considerable amount of supplies and weapons with you while you are on the run.
8. Snorkel To Wade Through Rivers If A Bridge Has Collapsed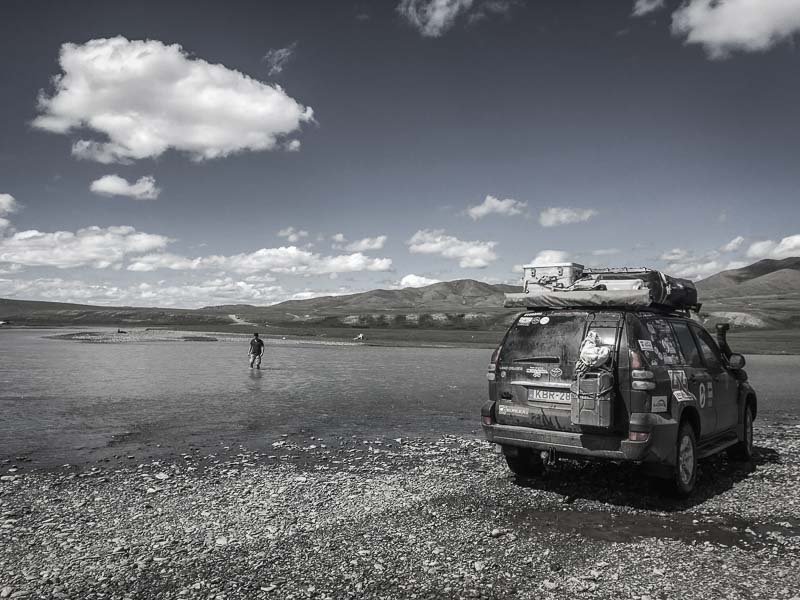 If you are in Zombieland, it's possible that all the main roads are blocked. In that case, it's easy to go off-road and go around them. But what if you have to move across a canal or a river or any other water bodies?
Luckily for you, with the help of the snorkel on your overlanding vehicle, you will be able to wade through the river quite easily.
This feature will also be useful if a bridge has collapsed on your way to the safe-zone.
The majority of the overlanding vehicles would be equipped with either all-terrain or mud-terrain tires. These are special tires made to use specifically in tougher, off-road conditions.
Typical car tires would be of no use when you are going off-road.
But the tires used by overlanders are durable and built to tackle rocky situations, bad road conditions, but most importantly they are simply more durable and can take more beating in general.
A flat tire will less likely happen.
10. Water Tank With Water Purifier
Let's face it, you will need pure water to survive. But in the event of a zombie attack, it will be hard to find a source of pure, clean water, or even find water often-enough.
First of all, overlanding vehicles are usually equipped with a large water tank, so your supplies will last longer than if you raid a deserted supermarket and stock up on a few water bottles.
But if you just come across any water source like a river or lake, you can then use your water purifier to fill up your tanks. It's simple as that.
But it's important to know the difference between filtering and purifying the water.
11. Larger Than Average First Aid Kit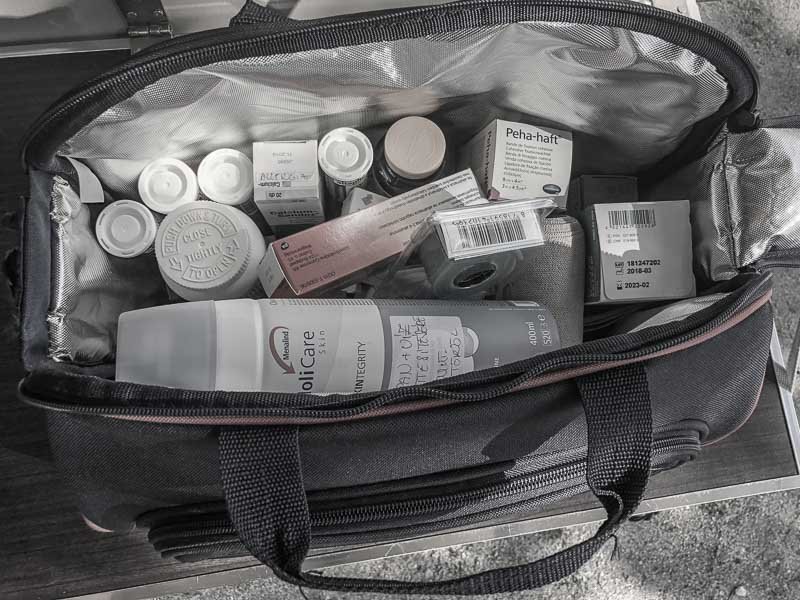 Like it or not, in an end-of-the-world scenario, you will have to prepare for the worst. So, you should have a medical kit with you in those situations. It is good to know that and overlanding rig carries a larger than average First-Aid Kit.
The larger the kit, the more supplies, and medications you would be able to carry. And, that will also increase the possibility of your survival to a greater extent if you get injured.
12. Rigs Are Equipped With A Hatchet And A Proper Knife
Every overlander carries a knife, hatchet, or a multi-tool that comes in use when they are camping. Typically, an axe would be handy for chopping wood for fire. Your better-than-average knife can also be used for hunting down your food.
These items typically wouldn't be present in your vehicle only used for commuting to the office.
When it comes to self-defense, these camping gears could actually act as weapons too.
Yes, we are talking about using your hatchet or knife as a zombie-slaying weapon. You don't know how, when, or what could be of your service when there is a life or death situation.
You should use everything you got while fighting the undead.
13. Off-Road GPS
Standard GPS is great, there's no doubt about it.
But these don't quite cut it when you are driving off-road to save your life in the midst of a zombie outbreak. Because regular GPS' don't provide much data except for the highways, famous landmarks, or the best cafe around the corner.
Thus, you will need an off-road GPS if you want to be able to navigate through the unknown. Luckily, most of the overlanding vehicles are equipped with an off-road GPS.
Better yet, if your vehicle doesn't have one, you can install the best off-road GPS right now as these are sold separately as well.
14. Larger Than Average Fuel Tanks
Your vehicle's range will be critical. The further you can get and the more you can be on the road, the better.
You would have to get ready for the worst-case scenario. It is very likely that you will not be able to refuel your ride frequently.
In those situations, you might not get a chance to fill up your vehicle often. You may get once chance to get to a gas station, which means it's best to put as much fuel in your tanks as possible.
And, that's also when the larger than average fuel tank on your overlanding rig will come in handy. That way, you will be able to carry a lot of fuel and it will last longer compared to others.
15. Other 4×4 Accessories
There are a plethora of accessories and tools you can add or install on your overlanding vehicle. And, all of these accessories could be used on your favor during the doomsday scenario.
For instance, a grille guard might not be a popular addition for a lot of people. But when there are swarms of zombies out there, a grille guard could give you the extra layer of safety.
Similarly, an off-road bumper/bull bar would also be ideal for plowing through a group of living dead.
On top of these, you can also add a solar charger, a roof rack for more supplies, or a set of backup lighting systems. When it comes to accessories and customization, the possibility is endless with a 4×4 truck.
Closing Thoughts
We have just provided you with 15 reasons why an overlanding rig would come in handy in a zombie apocalypse. You don't need to prepare for the situation separately. You don't need to save a million Dollars to then invest into a tank.
If you own an overlanding vehicle, you are ready, you're prepared!
Overlanders are ready for combatting the zombies—should this situation ever arise.
So, what's your opinion about this? Do you think an overlanding vehicle is close to being perfect for surviving a zombie outbreak?
You can let us know your thoughts in the comment section below. And, if you enjoyed the post, don't forget to share it with others!