We know a lot about roof-top tents.
In fact, we'd been living in one for almost a year and tested several others. We know what we're talking about!
When packing up for a camping adventure, your shelter is generally one of the first things that is planned for. For overlanders, the rooftop tent is becoming ever more popular. They're actually often called overland tents, or vehicle tents.
Quick Answer – BEST Roof-Top Tent:
The convenience and practicality of top roof top tents have made them popular not just among overlanders but campers too! All you have to do is attach the tent to your vehicle's roof rack then you'll have your tent set up any time and anywhere.
Because many overlanders, campers and adventurer like to use this type of sleeping solution, many manufacturers have also responded.
There is now a wide range of options available to compare if you're looking to get and use the best rooftop tent, from soft shells, hardtops and other innovative models.
Comparing your necessities for the trip ahead will give you a clearer idea of whether to get a rooftop or ground tent. After all, you should use a tent that matches your needs and preferences.
Your group size will also be a factor as rooftop tents generally sleep two persons comfortably with slight room for a third.
And if you're interested in getting a roof top tent, this comprehensive review will help you make the right choice.
Welcome to our Rooftop Tent Reviews!
Rooftop Tent Reviews
One of the popular models of rooftop camping tent is Feather-Lite Rooftop Tent. With this ten, campers can rest assured that the rooftop tent comes with simple setup instructions to form an instant bedroom. It also has enough space for sleeping 2 or more people.
This rooftop tent has many great features and one of them is its ability to withstand bad weather situations. That's thanks to its strong, waterproof, mold-resistant, heavy-duty poly-cotton fabric that covers the outside. You can use this tent during the summer and rainy seasons.
With the Feather-Lite, campers have the luxury of an included mattress, leaving only blankets or sleeping bags and pillows to set up!
This rooftop model is also equipped with a retractable ladder that is coated with treads for a slip-resistant stepping surface. Keep insects and critters out with the screen-covered windows and doors and campers can enjoy added ventilation by opening the sunroof area that is also covered with a mesh layer.
The tent in its entirety weighs roughly 88 pounds and measures 4.3 feet wide and 7.9 feet long when set up. Even with its lower-class weight, can withstand strong winds and rain with its heavy-duty fabric covering.
If you are looking for a tent that you can use any time of the year, you might consider getting this model.
Of course it's a good fit for the Front Runner Slimline II roof-rack.
Pros:
Lightweight
Durable Fabric Cover
Easy to setup
Cons:
Aluminum gets cold during winter
Ladder slides open too easily in the closed position
With the ARB Series III Sand Rooftop Tent, campers get a customizable setup option with the tent having the capability to open on either side or rear of the vehicle roof.
Once set up, this rooftop tent has a bedroom with ample space to comfortably sleep 2 people or more.
The tent has been manufactured using a heavy-duty, weather-resistant poly-cotton and comes equipped with screen-covered doors and windows to keep out pesky insects.
The ARB Series III, comes with a retractable, aluminum ladder and a built-in bonded chip foam mattress, opening up much-needed storage space for other necessities inside the vehicle.
This rooftop tent has a combined weight of 185 pounds and measures 60 inches by 12 inches by 53 inches.
It's not equipped with universal mounting brackets therefore it could take a couple of drilled holes being added to the cargo racks for installation.
The tent is very roomy and open on the inside and comes with pockets for extra indoor storage.
Pros:
Durable fabric cover
Can open on either side or rear of the vehicle roof
Fast to set up
Retractable ladder included
Cons:
Very firm mattress, you can instead add extra padding
No universal mounting bracket so you will have to drill some holes in your cargo rack to install it
When the tent is fully open, the interior space measures 56 inches wide, 96 inches long, and 52 inches in height. This tent comes with a 2.5-inch high-density foam mattress and has 3 different screen-covered windows that are equipped with their own personal awnings.
The Tuff Stuff Ranger Overland Rooftop Tent is covered with a thick poly-cotton fabric that is weather-resistant, including waterproof, UV, and mold resistance.
The brackets and hinges that soak up the most stress during travel and in inclement weather are manufactured from stainless steel to prevent quick wear down.
The Tuff Stuff Ranger Overland Rooftop Tent has many excellent features but one of the best that truly stands out based on reviews is its added annex room.
It is a section of fabric that can be zipped to the bottom of the actual tent and give campers an added area of covered protection for chairs or extra storage or even a room for small pets or other campers!
Looking at this tent, you can see how well equipped it is for a long overlanding adventure.
You can open this tent on three different sides, giving campers the easy option to have their doorway over the side or rear of their vehicle.
Pros:
Annex room included
Screen covered windows and doors
Can open in three different ways
Fast setup and takedown
Multiples of hooks and pockets
Cons:
Difficult to understand instructions
Possible leaking in zipper area of annex addition
Metal shavings found around mattress area from predrilled holes in tent frame
Campers can enjoy an easy setup with the Smittybilt Overlander Tent that comes equipped with a high-density foam full mattress and enough sleeping space for 2 to 3 people.
With the Smittybilt Overlander, an XL tent size is available that will give campers space for up to 4 people comfortably. Checking this camping tent further, you can see that it is covered with a heavy-duty fabric that is waterproof and protected from the UV rays of the sun.
The Smittybilt Overlander is equipped with a sunroof and side windows that are covered with netting to keep out all insects and critters.
As a custom option offered by the Smittybilt Overlander, a separate annex room can be added on with the use of heavy-duty zippers, for an additional covered area for campers.
The Smittybilt Overlander comes with an aluminum ladder that has an extra extension package available if needed. Included with this tent is a rain fly, which is a separate cover that is added onto the tent to keep the rain out! You can see how it performs well during rainy days.
When the rain fly is attached, the Smittybilt Overlander gives campers the option to keep the sunroof area open during rain for added cooler ventilation inside the tent.
While the Smittybilt Overlander has some of the best features you would want in a camping or overlanding tent, this product received a mix of positive reviews and a few negative reviews. You might consider reading some product reviews first before making a decision.
Pros:
Fast and easy setup
Sleeps 2+ comfortably
Included mattress
Pockets for storage inside
Cons:
Mattress gets flattened overnight
Rainfly holds water when it rains
Need at least 2 people for attaching to the top of vehicle
The Tepui Kukenam Sky Tent comes with a simple setup, consisting of bolting the tent to the roof racks of the campers vehicle with the provided universal mounting brackets and then unfolding the ladder and inserting a couple of aluminum poles.
This Tepui rooftop tent can comfortably sleep up to 3 people or more. You can see that the fabric that covers the tent is a heavy-duty poly-cotton blend that can withstand high winds and downpours.
This Tepui tent is equipped with a screen-covered skylight and windows that have heavy-duty zippers and are capable of opening up for more ventilation through the tent, as well as keeping pesky insects outside of the tent.
Another good thing about this Tepui tent is that it has an aluminum ladder and features a PVC coated travel cover to protect the gear while traveling. The ladder fully extends to the ground for easy access to the tent.
The entire frame is covered with a heavy-duty poly-cotton fabric that is weather-resistant, including rain and snow, and helps protect against UV rays.
When set up, this Tepui tent measures 50 inches by 51 inches by 12 inches and weighs roughly 99 pounds. The tent is equipped with multiples of pockets inside for easy storage.
When it is time to pack the Tepui tent up, there are included bungee cords to making tying the tent down easier!
Pros:
Lightweight
Screen covered skylight for ventilation
Features a travel cover for tent protection during travel
Universal mounting brackets included for easy setup
Cons:
Possible zipper leakage
Would need new holes drilled in cargo racks for installation
Needs added protection from condensation underneath the mattress
The Danchel Outdoor Hard Shell Rooftop Tent model is a travel box style that comes with a really durable hardshell.
It is considered one of the better models of tents in the market today. The hard shell of this camping tent doubles as its roof and base when the tent is set up.
Just like most hardshell camp tents, the Danchel Outdoor tent system is also easy to set up. The average set-up time is less than 10 minutes. You just pop the shell open and the other components will easily come into place.
One other thing you'd love about this camping tent is that it has double doors – one from the driver's side and another one from the passenger's side.
With two doors, you can easily get in and out of the tent. And as an added bonus, you also get excellent ventilation and magnificent views on both sides.
Apart from the two doors, this camping tent also has large windows that help improve ventilation. You can see that all the windows and doors have mesh screens for protection against bugs.
This overlander tent is constructed using a canvas fabric that has waterproofing and anti-UV protection of 50+. With both features, you can tell that this camping tent is quite versatile for rainy and sunny weather conditions.
With the thick and super soft 3.15-inch mattress of this camping tent, you can guarantee a comfortable sleep amidst the wilderness.
You don't have to bring in an extra mattress. According to the label, it can fit up to 3 people with a total weight of up to 260 kg or around 573 lbs.
The extendable ladder system of this overlander tent is 7.6 feet high which can fully reach the ground. The ladder is made of aluminum and it is lightweight, sturdy, and has a weight capacity of 300 kg.
The total weight of this rooftop tent is 144.7 pounds. You can easily raise and lower it to install and uninstall. Overall, it has a heavy and nice build. The zippers are heavy duty and the stitchings are solid.
Even with the many great features of this camping tent, we have yet to see some more positive feedback coming in. The pros and cons can give you an idea of why some people think that this product is not good for them.
Pros:
Two doors for ease in getting in and out
Excellent ventilation
Less hassle to set up and takedown
With waterproofing and UV protection
Features a thick mattress
With mesh organizers
Cons:
The locking clips on the shells are a bit small and can easily give up over time
The metal strapping in the locking clips may easily fray with the use
No wind deflector to prevent wind from going under the unit when driving. This can greatly affect your driving performance.
The Skycamp from iKamper is one of the most successful and best-selling rooftop tent models in the world. In fact, in 2018, they won the prestigious Red Dot Design Award.
You can also read numerous positive reviews about the performance of this camping tent system from those who were able to purchase it.
The iKamper is available in 26 countries. In 2019, the company released the new improved version of the Skycamp which is the Skycamp 2.0 model.
Comparing this version with the original, we can say that it is way better in terms of safety features and much better in terms of overall performance.
One of the best things you'd love about the Skycamp 2.0 tent system is that its hard shell is constructed from fiber-reinforced plastic (FRP) and is composed of two layers unlike other models having a single layer only.
These layers provide extra strength and insulation. The shell is also condensation resistant which helps prevent mold and mildew.
This overlander tent model is quite spacious as it fits a king-sized mattress. With that size, it can sleep 3 adults comfortably. This is perhaps one of the most spacious rooftop tents you can find around.
With this camping tent, you can literally sleep under the stars as it features Skycamp's signature Skyview window. This transparent roof window will not only let you see the amazing night sky view and the stars but it will also give you extra light during the daytime.
Another plus factor of the Skycamp 2.0 tent system is that it uses a thick, water-resistant, and breathable poly-cotton canvas.
This is one of the best fabrics for camp tents as it keeps the inside of the tent dry while also well-ventilated. Moreover, the zippers and rain fly also provide extra protection.
It is also worth mentioning that the floor of this overlander rooftop tent is very unique. You can see that it is made of lightweight high-performance honeycomb aluminum panels. We all know that aluminum is also really strong and durable.
The manufacturer claims that the floor is strong enough to hold up to a 1.8-ton Jeep Wrangler. Moreover, this flat surface is well-insulated for extra comfort during cold evenings.
If you're curious if this camping tent system is compatible with your vehicle, it can be installed in most vehicles, thanks to its universal mounting system. Its total weight is about 70 kg or 160 pounds and is compatible with most crossbars in the market. Considering the weight, it is on par with other similar products.
This tent has numerous stand-out features, however, they come with a higher price tag. If you are an overlander who is willing to spend a good amount of money for a top-of-the-line roof tent, the Skycamp 2.0 is for you.
Pros:
Has stainless steel locks to give you peace of mind
Performs well in the wind
Is made from quality materials
The canvas is quieter in the wind compared with many traditional tents
Large windows have mesh coverings for protection against bugs
Has redesigned lightweight ladder that's fully extended to the ground and is safe and stable to climb on
Cons:
The initial steps of mounting the hardshell onto the rooftop can be a bit tricky as there are many ways to do it.
We can all agree that rooftop tents are perfect for overlanding, however, they are also really expensive.
So if you don't like having a tent on the roof of your vehicle and are looking for an alternative option, you might want to purchase a Napier Backroadz Truck Tent. This overlander tent receives many positive reviews from its users.
While this camping tent system is not for the rooftop, it seamlessly assembles in the back of most pickup trucks. Many say that this type of sleeping solution is a much better choice than the traditional design in terms of safety.
If you like this tent and you plan to get it, you need to refer to their sizing reference so you'll know the right size for your truck model.
As a rooftop tent alternative, it will work well for you if you are an overlander who enjoys spontaneous road trips or adventures wherever your truck may take you.
And you don't have to spend even half the average price of rooftop tents to get it. We can say that this model is a better choice compared to its counterparts.
The Napier Backroadz Truck Tent comes with many great features. It has a large interior space with a center height of about 62 inches. It is available in different sizes depending on your truck's brand and model.
Setting this camping tent up is a breeze as you don't have to climb up the roof of your truck to install it. It comes with a color-coded fiberglass pole sleeve that helps you in the assembly process.
Most users say that they were able to set it up in no time while first-time users may take up to 10 minutes.
Aside from its large door, you'd also love how this camping tent model is designed to offer optimum ventilation. It features two large mesh windows so that air can naturally flow inside.
There's a full rainfly so that you have nothing to worry about rain or moisture getting inside the tent. During stormy days, you can also make use of its additional storm flaps that extend up to the windows and doors.
When you check the inside of the tent, you will notice that it has a gear pocket, a gear loft, and a lantern holder for keeping your valuables.
Pros:
Easy to install
A more affordable option than a rooftop tent
Comes with a gear loft and a gear pocket for organizing
Great ventilation
Cons:
Based on some rooftop tent reviews of this product, there are users who complain about leaks and it could be something to do with the wrong installation
Factors to Consider When Choosing
the Best Rooftop Tent
SoftShell or HardShell
Before you start comparing rooftop tents, the first thing you need to do is to decide whether you'll need a soft shell tent or hardshell tent.
Soft shell rooftop tent – This type of tent is one of the most popular choices especially for those with a limited budget. Compared to hard-shell, these roof top tents are more affordable. You can get this type of tent for as low as $1,000. Hard shell tents normally cost around $3,000.
Soft shell roof top tents typically come with a waterproof burly soft cover that folds beyond the roof of a vehicle. The tent's body is generally made of nylon or canvas fabric and attaches to the roof using internal hinges and poles.
When it comes to size or overall dimensions, softshell have an advantage as they come with a larger space area. They can also accommodate awnings and annexes in case you want to have a larger space. This is often not possible with hardshell roof top tents.
The main drawback of soft shell is that they are prone to moisture buildup. Also, they are not as stable as hardshell tents so you can expect them to be flapping (which can be a bit noisy) when it's windy.
It may also take a considerable amount of time to set this camping tent up unless you can find an instant set-up soft shell tent which is not very common.
Hardshell rooftop tent – Instead of having a soft cover, this camping tent comes with a plastic, aluminum or fiberglass shell which also works as the storage for the entire canopy.
If you have been shopping for a hardshell top roof top tent, you might have already noticed the most common designs for the opening. These tents may have a clamshell or a pop-up on all sides opening.
In most hardshell tents, the footprint area is just limited to the vehicle's roof but a few models allow you to add an awning for extra space.
While these are generally expensive, they also have a longer lifespan than their soft shell counterparts. The hardshell contributes greatly to the life of this camping tent. This part protects the tent during transport and storage.
Moreover, having a hardshell means that these tents are more wind resistant and they aren't noisy even with gushing wind. These tents also have more headroom.
Most importantly, compared to soft shell counterparts, they are easier to set up. This feature is a big plus if you think about frequent overlanding.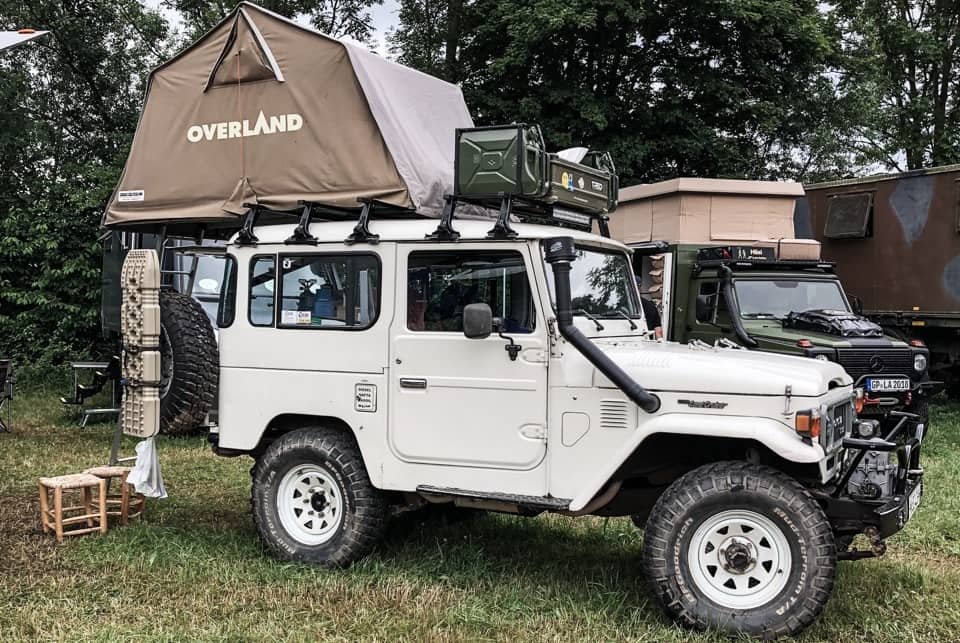 Capacity
Just like traditional tents, roof top tents also come in a wide range of sizes with varying capacities. The minimalist models can accommodate 1 to 3 people while some massive tents can sleep up to six persons.
The tent's recommended capacity is a vital factor to consider especially if you will be using the tent with your family or friends. However, you shouldn't rely solely on the stated capacity as more often the manufacturers are rather generous.
For instance, the standard dimensions of a double mattress is 4 feet 6 inches wide and 6 feet 3 inches long, but many tents for two persons are a few inches narrower. Always check the dimensions of the tent before you purchase one.
When choosing the best rooftop tent, choose one that can comfortably sleep at least two persons. This way, you will have extra room for another companion and a very spacious sleeping area when you go overlanding alone.
Peak Height
Peak height is the highest point in the tent. Some tents have a tall peak height all throughout while others have a tall peak height that slopes downwards.
Alongside capacity, it's a good idea to consider the peak height of the tent as it will affect your overall comfort level. A peak height too low for your height will restrict your movement.
Choose the best rooftop tent that allows you to comfortably sit down while inside the tent.
Integrated Mattresses
One of the biggest advantages of roof top tents is their integrated mattress. But this feature greatly varies across different tent models.
It is common to find tents with a relatively thin 1-inch pad while other high-end models have an additional 2-3 inches of memory foam. Memory foam is the best choice for tents as they are highly soft and mold to the body, offering optimum comfort.
Moreover, some models offer mattress upgrades which is also worth considering. With an upgrade available, if you're willing to spend a little extra, you can get the type of mattress that best fits your personal preference.
Weather Resistance
Rooftop tents are built to withstand the elements. They are typically made of water-resistant or waterproof fabrics so that you can use them even in inclement conditions.
What you should look for when comparing is full coverage awnings on windows and doors. The awnings will keep the air flowing inside the tent without allowing the moisture to seep in.
Clamshell or hardshell tents have their shells as roofs so they offer a really strong and tough structure against bad weather conditions. But it is important to note that if you have a hardshell tent, position the shell towards the direction of the wind.
When choosing the best rooftop tent, it's a good idea to check if it is water or wind resistant. Aside from these features, some products also offer UV protection.
Insulation
Aside from weather resistance features, some rooftop tents have the option for extra insulation.
Additional insulation may be necessary if you want to go on overlanding trips year round, or if you frequently spend the night at elevated places where temperatures are cooler. An additional insulation in the form of inserts can give you warmth on cold nights.
Ventilation
Generally, roof top tents have better ventilation than ground tents. For one, they are designed so that air can naturally flow underneath the tent.
Also, most models come with big windows with mesh panels, many of which can be completely unzipped to allow the air to easily come in and out. Moreover, some models come with anti-condensation mats to minimize drips and mold buildups.
Moreover, if ventilation is your top priority, aside from choosing a tent with mesh windows and door, you may also consider getting the best rooftop tent with the breathable body fabric. A breathable fabric increases airflow inside the tent.
Ease in Installation and Setting Up
Generally, comparing rooftop tents vs ground tents, the former are easier to set up. However, the ease of setting up or installation varies across different models.
Hardshell roof top tents are the fastest to assemble. The basic setting up steps involve opening the shell and engaging the hinges. In most cases, you can set up a hardshell roof top tent in less than 5 minutes.
On the other hand, the setting up procedure of soft shell rooftop tents require more steps and time to do. They usually come with poles for the fly and awnings, and inserting the poles is already time consuming.
Avid overlanders who pack up and move daily will appreciate the convenience of hardshell tents when it comes to setting them up. However, if you stay parked for two or more nights in one location, a few more minutes in setting the tent up and taking down may not seem that much.
Packed Size
As a rule of thumb, you should get the best rooftop tent that is within the dimensions of your vehicle's roof.
If you own a small vehicle, you should be more careful in checking the dimensions of the tent and compare them to the dimensions of your car's roof. The reason behind this has to do with safety as well as aerodynamics.
Weight
We can all agree that car roof top tents are bulky and heavy as they aren't made to be manually carried.
The minimalist soft shell models can weigh around 90 pounds while many hardshell tents weigh more than 200 pounds. Because of their weight, it requires at least two people to mount or remove them from the rooftop of your vehicle.
The weight of the tent becomes an important factor as it affects transport capabilities. Vehicles have a rooftop load limit and overall maximum capacity. You should check out this information before you purchase a tent.
If your vehicle is top heavy, it can greatly affect the center of balance. Also, overloading your car rooftop can have a long lasting effect on your suspension. Additionally, extra weight reduces the fuel efficiency of your vehicle.
Features and Accessories
Some features are fairly standard to every car rooftop tent while there are others that are extras. For instance, car rooftop tents typically come with a ladder that can be either sliding or telescoping.
The ladder is useful for getting in and out of the tent. However, even with a ladder, you may also consider getting a separate SUV doorstep which is a useful tool for reaching your rooftop tent.
Window awnings and hanging loft are also common.
When it comes to features and accessories, you should look beyond the basic features.
There are premium models that come with shoe bags, multiple pockets, USB ports and LED lighting. We also saw some tents that come with a solar-powered fan.
It would also be nice to find tents that offer optional accessories for their tents which may include a mat, inner insulation and shoe rack among others. With optional accessories, you can easily customize your tent to have the best features that you need.
Annexes and Awnings
If you go overlanding for extended several days, having an annex or awning can greatly increase your livable space. With that in mind, you can enjoy a spacious and comfortable space and more privacy if there are multiple people sleeping.
Awnings, on the other hand, are roofs that extend from the tent, creating a bigger roofed open area. It's a great place to relax in the afternoon.
An annex attaches to the tent's extended platform, creating an enclosed space underneath. This is a great place to put your toilet, portable shower, a small kitchen or even an additional sleeping space. With an annex, you can have an upstairs and downstairs feel.
If having an annex is important to you, keep in mind that pop-up or clamshell tents that do not fold out beyond the footprint of the car rooftop do not support annexes. You should be able to find the right tent by reading the label and checking the tent's compatibility with annexes or awnings.
External Storage
If aside from overlanding you also enjoy biking or surfing among other things, you might also want to consider getting a rooftop tent with an external storage compatibility.
An external storage is not a very common feature but is worth having if you're also into other sports or hobbies. You may find this feature in some hardshell models designed to carry added equipment or gear.
Durability
Car rooftop tents are generally made with burly materials that are sturdy enough to withstand the elements, frequent use and abuse. Their fabrics and metal components are designed to handle serious overlanding and camping adventures.
Despite the impressive quality of these tents, there is a serious threat to its longevity as a result of constant exposure to the elements.
Unless you will be removing your car rooftop tent in between each trip and unless you have a shaded parking area at home, your tent is bound to be exposed to the elements. Overtime, this can cause serious damage to your tent.
For the above situation, hardshell tents fare much better than soft shell tents. The hardshell protects the entire structure as it is waterproof and can stand up to the elements.
Soft shell tents, on the other hand, have nylon or canvas covering that becomes brittle overtime if frequently left exposed to the sun and rain.
Compatibility
Before you finally make a decision to purchase a vehicle rooftop tent, make sure that it is compatible with your vehicle's rooftop and roof rack. If your vehicle doesn't have a roof rack yet, you need to consider buying one as it serves as the tent's foundation.
To check if a rooftop tent is compatible with your vehicle, check the following information:
Total weight of the tent – You should easily find this information in the tent's product specs. The weight of the tent is one of the most important determining factors if a tent is for you or not.
Dynamic weight capacity of the car and roof rack – This information should be available in the owner's manual. It measures the ability of your vehicle to support the weight of the tent while you're driving. If you are purchasing the roof rack separately, check the specs for this information.
Roof rack compatibility – Check also if your rack can handle or support a roof-top tent before you purchase a tent. Typically, in the specs it will say if a rack component is compatible or not.
Static weight capacity – This is the ability of the tent to support the tent, occupants and gears. Most overlanding vehicles have high static weight capacity so this should not be an issue. But you have nothing to lose if you double check this information in your owner's manual and compare it with the weight of your tent, camping equipment and people who will be sleeping on it before you make a purchase.
FAQ
Q: Are car rooftop tents safe to use?
A: Yes, car rooftop tents are safe to use. They are invented to be tough and durable. As long as you install them properly and follow the safety precautions by the manufacturer, you have nothing to worry about.
Rooftop tents are great for overlanding across the country. It can keep you safe from predatory animals such as hyenas and lions.
While most of these camp tents are not completely bear proof, they are still safer to use than ground-based camp tents. Based on reviews, many overlanders prefer this type of tent.
Q: How do you install a rooftop tent?
A: Before installing, make sure that the rooftop tent is compatible with your vehicle and rack. Once you tick marked that, you're now ready to install.
Follow the manufacturer's user manual, but generally speaking there will be four or six brackets that clamp onto the roof rack of your vehicle. These brackets need to be fixed to the appropriate points of the rack. You need to make sure the roof rack doesn't rattle and doesn't move at all.
After that you're good to go!
Q: How do you set up a rooftop tent?
Hardshell rooftop tents are quite easy and fast to set up. Some models can be set up in about 60 seconds and you don't need any tools or assistance to set them up.
While the procedure in setting up hardshell camp tents may slightly vary, the general steps include the following:
Park your car where you want to spend the night at
Unlock and open the hardshell
Pull the ladder to the ground and extend the floor
Install all the poles and attachments
On the other hand, soft shell roof tents require similar setting up procedures but instead of simply opening the hardshell, you will have to fold out the tent. Also, each step may require more time to do. In some cases, you need another person to complete the job, especially when you want to close and pack away the tent.
Q: Is a roof top tent a good investment for overlanders?
A: Definitely, yes. A roof top tent is probably one of your best investments when you often go on overlanding trips. When you're in the wilderness or unfamiliar locations, you'll never know what wild animals are out there that can pose danger to you at night.
Being on top of the roof can give you added security. Not to mention that the views up there can really be mesmerizing.
Q: What are the downsides of roof top camp tents?
A: While a roof top tent has numerous benefits, they have some downsides too. These downsides can make or break your decision to purchase.
Cost – On top of the list is the cost of roof top tents. A basic soft shell tent may cost around $1,300 – $2,000 depending on the model.
On the other hand hard, shell tents may cost about $3,000 or more. That excludes the other accessories that you may want to get with your tent.
Impact on mileage – With a tent on top of your vehicle's roof, it will cause your fuel economy to drop. Based on the experience of other overlanders, the drop can be between 15 and 20 percent over the same 65-mile loop.
So fuelwise, having a tent installed on your roof top is not something you would want to keep for your everyday driving.
Impact on vehicle handling – Because of the added weight of the tent rooftop, it will cause some issues in vehicle handling. For instance, you may notice some difficulty in maneuvering mild corners than when you don't have a roof top tent.
Getting in and out of the tent can be a hassle – Imagine using a ladder to go in and out of the tent. This can be too much of a hassle to some people especially the older ones. This factor is worth considering if a rooftent is right for you or not.
Q: How do you care and maintain a roof top tent?
A: Regardless of the type and model of your roof top tent, there are necessary steps that you need to take to extend its life.
Make sure the tent is clean and fully dry before storing.
Before storing your roof tent, you want to make sure that it is clean and fully dry. As needed, you can vacuum the inside of your tent to remove all dirt and debris.
If it needs washing, use a mild detergent and a soft brush for cleaning the fabric. Rinse it using warm or cold water depending on the manufacturer's instructions.
After cleaning, dry the tent under the sun while all windows are open. Make sure that the roof tent is completely dry before storing to avoid mold or mildew.
Observe proper zipper care.
Zippers are exposed to the elements including mud, rain, sun and snow. This makes them one of the most vulnerable parts of a top roof tent. It's important to properly care for them to improve longevity.
Remove any mud or debris from the zipper using a small brush. You can also apply lubrication once in a while to improve the operation of the zipper. This will also help increase its service life.
Each tent should come with specific care instructions from the manufacturer. It's important to follow the instruction not just for longevity but also for the purpose of the warranty coverage.
Final Thoughts – Best Rooftop Tent
While camping can be a fun adventure for many, having a safe and weather resistant shelter is a huge important factor when going out into nature.
Most roof tents are made with a heavy duty polyester and cotton blend fabric that assists in keeping out all moisture and helps keep out the elements, such as UV rays.
Generally, tents are also equipped with screen covered areas, including windows and doors, to assist campers in keeping air flowing through the tent area.
Sometimes it is very hard to tell what kind of rooftop tent a fellow overlander has on their rig, they are so similar.
Where they do differ however, is their build quality and the materials used. This is why we think the Front Runner Feather-Lite Rooftop Tent is a great choice.
What we like about this tent is that it can withstand bad weather conditions. It has strong waterproofing and is also mold-resistant. It's ladder is also slip-resistant. The overall construction quality of this tent is really exceptional.
But if you'd love some extra room for your stuff and more shelter on the ground as well, go for the Tuff Stuff Ranger Overland Rooftop Tent with Annex Room.
With an added annex room, you can have extra space for your gear or small pets. Aside from being spacious, this tent is also well made. It is weather resistant with waterproofing and UV protection.
As there are dozens of rooftop tent models around, making the right decision can become overwhelming. This review can give you a general idea of some of the best products you can choose from so that you can easily make a choice.