ATVs are fun! Due to their nature, you can take them to any places whether it is a muddy, sandy, or a rocky place. ATVs can handle those conditions effortlessly.
Nevertheless, you can get stuck anytime in those rough terrains. Often people are out using their all terrain vehicles on their own. The weight of an ATV can be substantial, it's often simply underestimated.
In that instance, any of the best winches for ATV can be your saviour.
There are winches that are specifically designed for ATVs. And, you can install them on your ATV before you start your off-road adventure.
Quick Answer – WHAT IS THE BEST ATV WINCH:
On Sale
It will help you to tackle any challenging situations while you are outdoor with yout all terrain vehicle. However, because of the wide array of choices, it can get tricky to pick out the best ATV winch.
To solve that problem, we have come to you with this post. In our ATV winch reviews we will be covering some of the best winches for the money you can buy right now.
Moreover, we will also include a comprehensive buying guide for buying the best ATV winch.
Best ATV Winch – Reviews
When comes to top rated winches, you can't leave out Superwinch. They are known for manufacturing top-tier winches of different kinds. That is why the Superwinch Terra 35 has got first place in our review.
This particular ATV winch is rated to pull up to 1591 KG or 3500 lbs. The permanent magnet motor (1.6 Hp) of this winch is sealed in a weatherproof control box.
This 3500 pound winch has a 3-stage planetary gear system with a gear ratio of 140:1 which features oil pocket bronze bearings. The 4-way roller fairlead offers maximum maneuverability.
With these winches for 4 wheeler, you will also get a steel rope of 50 feet with a 13/64″diameter. It features a cam action-free spooling clutch. So you can draw out as much as the rope you need.
The net dimension of the product is 13.4″ x 4.5″ x 4.8″ and it supports almost all the 4 bolt pattern ATV winch mount kits available in the market. Thus, it will be easy to install.
Also, you will get all the necessary equipment to install it into your ATV with the package. Added to these, it has a handheld remote with a 10 feet cable and a handlebar switch with an 8 feet cable.
The Superwinch 1135220 Terra 35 weighs just about 20 lbs. Or 9 kgs. So, it will not add much additional weight to your vehicle.
What Previous Buyers Said?
Like most of the other Superwinch products, this particular 3500 atv winch also got positive feedback from the users. They liked it because of its various beneficial features.
Also, most of the buyers said that it is a solidly built device on which they can rely on. Another reason for its popularity was the price to performance ratio.
Overall, we can tell you that if you go with this Superwinch ATV winch, you will not regret it.
Pros:
Comes with circuit breaker protection
Has a limited lifetime warranty
Comes with a dynamic braking system
Weatherproof sealed Solenoid
Cons:
A synthetic rope would be better (you can replace the stock steel rope, though)
If you are looking for a cheap ATV winch, then read through our Champion ATV winch review, because this is the best winch for the money. The Champion 3000-lb Winch Kit has a wealth of beneficial features that are hard to find in these price ranges.
For instance, it has a pulling capacity of up to 3000 lbs. (If you want a better pulling capacity you should try Champion Winch 4500) And, you are getting a permanent magnet motor with 1.3 hp.
The 3-stage planetary gear system is there to offer you better control over the winch. The gear features a 171:1 ratio. This allows the winch to offer a line speed of 4.30 ft./min with a full load. And with no-load, it can achieve a line speed up to 8.90 ft./min.
Even though these are cheap ATV winches, they have one of the most sophisticated 'Dynamic' brake systems. The winch features a galvanized steel rope which has a length of about 46 feet with a diameter of 3/16 in.
It supports the 4.9×3 bolt pattern and you will be able to mount it on almost all the ATVs. On top of this, you will also receive a handlebar-mounted remote with a 10.30 feet rope. So, you can control the winch by keeping a safe distance.
It also comes with a weatherproof control box where the motor and other electric equipment are placed for safety. As this one comes with a steel rope, it features a 4-way roller fairlead.
The rope is a high-grade aircraft cable so it won't split, fray or damage even in the harshest condition. Overall, for the price to performance ratio, we can say that it is one of the best ATV winches for the money. So it is a best cheap ATV winch, but from a reputable brand.
What Previous Buyers Said?
The majority of the buyers were overjoyed with their purchases. They stated that the main reason they bought this winch was the price.
However, many of them thought it would be a cheaply built winch because of the low price. Yet, in the end, they were actually surprised by the quality of the Champion 3000 ATV/UTV Winch.
Pros:
Comes with a 2-year limited warranty with free lifetime technical support
It features a dynamic braking system
Lightweight, compact yet powerful
Very much affordable
Easy to mount and use
Cons:
The remote control is not that of high quality
The inclusion of a synthetic rope would be better
Best Easy to Install ATV Winch: Bravex Electric 12V ATV Winch Review
The 'Bravex Electric 12V' winch is another serious contender of being the best ATV winch. It offers a host of effective and advanced features but has an affordable price tag.
Due to its popularity, it has become the NO. 1 bestseller in various online marketplaces. The Bravex Electric 12V winch comes with a pulling power of 3500 lbs or 1591kgs. As a result, it can be used as a 4 x 4 winch.
The winch comes with a mounting bolt pattern of 3.13 inches. Added to this, you will get a strong 1.5 hp permanent magnet motor for strong pulling power.
And, the winch also features a differential planetary gear train with a gear ratio of 153:01:00. The net dimension of the winch is about 12.4″ X 4.72″ X 4.17″. And it weighs about only 8 kgs. So, these are quite light weight winches and portables too.
Moreover, the winch has a 40 feet long steel cable of high quality with a diameter of 5.3 mm. For the safety of the user, it offers automatic in-drum braking action.
The lever-action-free spooling clutch helps to manually draw out the perfect amount of cable you need. Nothing more, nothing less.
Additionally, it also features an alloy forged steel hook and a 4-way roller fairlead. As a result, you can pull in the cable in a consistent manner.
Another great addition to the winch is the rocker switch and the wireless remote control. The benefit of the rocker switch is that you can control the winch with a wired connection.
On the other hand, you can also control the winch wirelessly with the help of the wireless remote control. All in all, if you are looking for a 4 x 4 winch, this can be one of the best 4 x 4 winches you can get right now.
What Previous Buyers Said?
We have already said that this is one of the fan favorites among all the other winches for four wheelers available in the market right now.
Many buyers told that they have used this on their boat trailers, ATVs, plows, and even UTVs, etc. And, it performed reliably every time. Also, the inclusion of the dual remote control system was also mentioned by everybody. Given it's discounted price compared to the bigger names, this can be the best ATV winch for the money you can find.
Pros:
Comes with 5 years of warranty
Great price to performance ratio
Both wireless and wired control options
Waterproof and weatherproof control box
Easy to install
Cons:
The steel cable needs to be wound up evenly on the drum, otherwise, it might get stuck
Best Waterproof ATV Winch: WARN 101035 VRX 35 ATV Winch Review
There is a huge competition between Superwinch vs. Warn in the Overlanding industry. As a result, we cannot leave out the Warn WARN 101035 VRX 35 in this review post.
If you are looking for an American-made winch for your overlanding vehicle, you should check this one out. The winch from Warn comes with a winch capacity of 3500 lbs. So, it is perfect for almost all-terrain vehicles. If you have a lighter quad you should consider a 2500 atv winch, for example Warn ATV winch 2500 lb.
The best thing about this winch is the built quality. It is manufactured with an all-metal construction. Added to that, it comes with a powder coat finish that makes it corrosion resistant.
This winch is equipped with a 50 feet long steel rope of top quality with a diameter of 7/32″. Aside from that, you will receive a 4-way roller fairlead, a zinc-plated durable hook, and a rocker switch to control the winch that is the handlebar-mounted.
The winch also features a 3 stage planetary gear train and a hub-style clutch dial. That makes it suitable for offering incredible control and power in tough weather conditions and harsh environments.
The mechanical automatic braking system adds an extra layer of safety features.
The winch comes with a waterproof metal body. Due to that the high-efficiency motor of the winch seats in a safe control box.
So that it will not be damaged in any weather condition. On top of that, it also comes with a corded remote control for safely controlling the winch.
What Previous Buyers Said?
The winch is from an already well-established brand in the off-roading and overlanding industry. Thus, it is nothing new that their products will be liked by the users. Some customers reckon that actually this one is the best ATV winch, which can be true if you disregard the price tag.
Likewise, most of the previous buyers of this winch are delighted because of the quality and the performance of this unit. They also mentioned that the price is not that high compared to the features it is offering.
So, they are recommending it to the owners of 4-wheel-drive vehicles without any second thought.
Pros:
Comes with a 3-year electrical warranty and a limited lifetime mechanical warranty
Has IP68 waterproof certification
Corrosion-resistant
Features the automatic mechanical braking system
Best in the class customer support team
Easy to mount – comes with all the necessary equipment
Cons:
The blue & yellow wires for the connection might be a bit short (you can contact customer support for free replacement wires, though)
Best ATV Winch with Synthetic Rope: 3500 lb. SuperATV Winch Review
SuperATV is known for offering some of the best ATV, UTV, and off-roading accessories in the USA. In this Black Ops winch review we'll talk about the SuperATV 3500 lb.
Black Ops winch comes with a reasonable price yet has a lot of premium features. Matter of fact, it has some rare features that are not even available in any other ATV winches in this price range.
The Black Ops ATV winch comes with a winch capacity of 3500 lbs. And it is compatible with most of the winch mounts with a 3.0″ x 4.87″ mounting bolt pattern.
The good thing about this winch is that it is equipped with a synthetic rope instead of a steel rope. The length of the rope is 50 feet. It comes with a permanent magnet motor of 1.2 hp, which is ideal for pulling enormous loads without any issues.
The net dimension of the unit is 13″ x 4 5/8″ x 4 3/4″. Plus, the 3 stages planetary gear train features a 166:1 gear ratio. Hence the winch comes with a synthetic rope, it offers a hawse (aluminum) fairlead as well.
For controlling the winch, you can either use the wireless remote (with auto-shutoff); or you can use the wider rocker switch which is suitable to be handlebar mounted or dash-mounted.
Furthermore, this best budget winch also offers an auto-in-drum braking system, with full weather and a waterproof metal body.
Even the remote-controlled receiver is housed inside the waterproof control box, so you can control the winch even in severe weather conditions effortlessly. From our point of view, this is one of the best ATV winches for the money.
What Previous Buyers Said?
Overall, this winch is very popular among its previous buyers. Although some of them thought that the price could be a bit lower.
In this Super ATV winch review we also have to let you know: others mentioned that with the features like synthetic rope, dual remote control, weather/waterproof construction, and high performance, it is totally worth it for the price.
Pros:
Features a water-resistant remote control receiver unit
Weatherproof control box and metal body
A dual remote control system
Comes with synthetic rope
Easy to mount
Comes with a 1-year warranty against manufacturing defects
Cons:
The instruction manual could be a bit better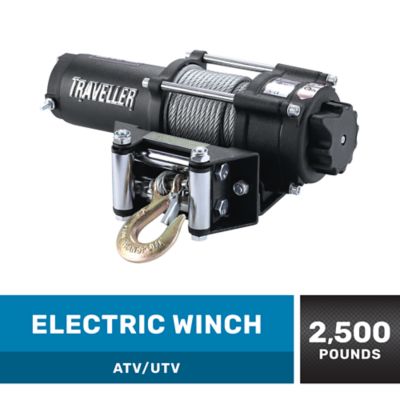 When you need to get your vehicle out of a tough spot, the Traveller 2500 lb. electric winch can help. This winch pulls up to 2500 lbs., making it perfect for ATVs, UTVs, etc.
It's easy to use – just plug it into your 12V vehicle battery and you're ready to go.
Traveller 2500 lb winch has a roller fairlead that keeps the cable in place while you are using it. This ensures that the cable will not be damaged, no matter how you are using it.
A free spooling clutch helps your rope or cable wound up in no time.
What Previous Buyers Said?
Previous buyers were very pleased with this product and they loved its price. The only downside they mentioned was a shorter cable and a wired remote cable.
Pros:
Budget-friendly
Roller fairlead
Cons:
Wired remote control
Short cable
Buying Guide – Best ATV Winch
Till now, you have learned about different ATV winches. Now, we will share a buying guide about buying the best quad winch.
Here, you will find all the necessary things you need to know before making the purchase of your new winch.
Specifications of Your ATV
First of all, you will need to know the specs of your ATV to buy the most suitable winch for that. That information will be available in the owner's manual for your ATV.
Among all the specs, the most important one would be the weight of your rig. That way, you will get to know you are getting a winch with the perfect winch capacity.
Winches With Various Winch Capacity – What Size Winch for ATV is the best?
If you have read the post above, you have noticed that every winch has a specific pulling capacity indicated in pounds. This is the amount of the highest weight any particular winch can deal with. It is also known as rated line pull, winch capacity or loading capacity.
The general rule of thumb is to multiply the gross weight of your vehicle with 1.5 to find out the perfect winch capacity for your vehicle.
For example, if you have an ATV that weighs about 2000 lbs., you will need a winch with a rated line pull of (2000 x 1.5) = 3000 lbs.
Now, winches come with various loading capacities. For instance…
1000 to 2500 lbs. Winch Capacity
All the lower-powered ATV winches will fall under this category. If you own smaller sports ATVs, then you will need to go for a small atv winch.
Due to their lower-rated line pull, mainly they are cheap winches for atv. Here you can read more of one of these 2000 lb winches. Also worth to check out: Smittybilt ATV Winch or Superwinch ATV 2000.
2500 to 4000 lbs. Winch Capacity
On the contrary, you will need a winch with a high winch capacity if you own a heavy ATV. Also, these powerful winches are used to pull logs, trees, or even other vehicles if you need to. Check out this 4000 pound winch that might be good for your needs.
Nevertheless, you can also buy an ATV winch with a higher pulling capacity than your ATV requires to be extra safe.
Make sure you have the right ATV Battery for the job as well.
Key Features of a 4 wheeler winch
These are a few of the most notable features a good winch should have. Let's see what those are, especially if you're looking for the best ATV winch.
Water/Weatherproof – Feature Of The Best Winch for Four Wheeler
You will go to different places with your ATV. And, it is highly likely that you will face rain, water, debris, rocks, or any wet place in your path.
In those instances, a waterproof/weatherproof ATV winch will be the best option. So, even though, a winch without waterproof certification might be cheaper, you should not go for those at any cost.
Remote Control System
All the four wheeler winches will come with a remote. So that you can control the winch from a distance.
Normally, most winches come with corded remotes, where the cord of the remote would be over 10 feet long for safety. However, some latest models come with wireless remotes as well.
On top of this, there are some rare models that come with both the wireless and wired remote control system.
If you want the best user experience, then you should choose a four wheeler winch that has both the wired and wireless remote control system.
Build Quality
Whenever you are buying a tool that will be used in diverse harsh conditions, you will need to take a good look at the built quality of the product.
If it is not manufactured with the best materials and designed in an efficient way, you will not get the best service from the winch.
It might stop working in the middle of nowhere all of a sudden. The rope might split randomly and it can cause injuries or damage to your vehicle as well.
So, you should always opt for an ATV winch which is known for better-built quality.
Warranty
Winches tend to be pricey. Also, these are used in various rough conditions and weather. So, buying a winch should be a long term investment.
In that regard, the warranty policy of your winch should be one of your priorities, especially if you're looking for the best ATV winch.
Always go for the winch that comes with the best warranty policy. That way, even if your winch gets damaged, you will not need to spend additional money to fix it.
Interestingly, all the best winch brands have good warranty policies. So, if you are buying from well reputed good winch brands, you should be fine.
---
Other winch guides you may be interested in:
---
Installation and Wiring of an ATV Winch
After buying the winch, you will need to install it on your ATV. Now, if you have prior experience of mounting a winch, then you will be good to go.
However, if you are new to this, an improper fitting can be dangerous to your vehicle and the winch itself as well. So, we would suggest you contact a professional for setting up the winch on your ATV.
Otherwise, if you want to handle it yourself, you can follow the instruction manual that was provided with your particular winch. To be noted, not all winches are mounted in the same way.
However, the basic idea is almost always similar. First off, you will need to remove the front bumper of the vehicle.
Then you will need to install the proper mounting plate. And, after that, you will have to attach the winch to the mounting plate.
After the installation is finished, you will have to run the wiring properly as well. Once again, the wiring will be illustrated in the instruction manual. So, follow that for the best result, and you can start using atv winch, you can start winching ATV that you own.
Best ATV Winches Accessories
Synthetic Winch Rope from HOOAI
This synthetic rope can hold up to 7000 lbs.
It has a diameter of ¼ inch and has a length of 48 feet. If you want a replacement rope for your winch, then you can check this out. Best ATV winches always come with synthetic ropes.
Universal Winch Mount from Guide Gear
Sometimes, you might buy a winch with an atypical mount. In those instances, a universal receiver winch mount can come in handy.
This universal winch mount has a tensile strength of 3500 lbs. And it comes with a powder coating and pre-drilled holes for both 2 and 4 bolt winches. It is compatible with all the 2-inch receivers.
Wrap Up – Best ATV Winches
An all-terrain vehicle can be adventurous. But to make sure you are safe out there, you should mount a winch on your ATV if you haven't already.
There are plenty of these ATV winches out there. Here, we have included only 5 of the best winches for ATVs.
So that you will not have to choose your one from a whole load of options.
Even then if you can't make up your mind, don't worry! We are here to help you out. For your convenience, we think the best option would be the Superwinch 1135220 Terra 35.
It comes with all the crucial features a good winch should have. The price of this winch is not that high as well and the build quality is great as it comes from a reputed brand.
Also, if you don't like the stock steel rope, you can even replace that.
However, if you have already made a choice, you can definitely go with that.
So, which ATV winch are you going to install in your ATV? Do let us know in the comments section down below!
CHOOSING A WINCH FOR YOUR VEHICLE IS A COMPLEX TASK
Enter your email below to sign up to our newsletter and to download this FREE 22-PAGES long guide on how to choose a winch.
YOUR PRIVACY IS PROTECTED