You're definitely up for adventure. Why follow the same path as everyone else, when you can blaze your own trail instead. Still, you want to make sure you don't get lost or run out of fuel in the wilderness. That's why you're looking for the best off road GPS systems available.
An off roading GPS will allow you to make it from way point to way point without falling off a cliff, getting stuck in woods too dense to cut through, or getting lost.
When you want to find unsealed trails, 4WD routes, or even just uncharted scenic overlooks, you need one of these.
Please read all the reviews below, but see our winners right here and now:
Best for Off-roading specifically
Garmin GPSMAP 64st, TOPO U.S. 100K with High-Sensitivity GPS and GLONASS Receiver
Garmin Overlander, Rugged Multipurpose Navigator for Off-Grid Guidance
The Best Off Roading GPS Reviews
The good news is that there are a lot of great options available. Whether you're hiking or on an ATV, camping in a tent or an RV, or overlanding, there's a good GPS for your needs.
Here are the 12 best off road GPS devices on the market.
After the reviews, there's also a buyer's guide that will help you learn the features to look for when shopping.
Best Off Road GPS – Reviews
The Garmin GPSMAP is a great option that is packed with features. It's got a very high build quality so you know it is durable and can stand up against the elements.
It's lightweight and ergonomically designed to fit well into a single hand, allowing you a free hand to do other things.
It's also got a very intuitive screen, with buttons that are easy to use. In fact, they're actual buttons so you can use this with gloves and not have to deal with touch screen insensitivity.
The screen is reasonably large for the size of the unit and easily displays the navigation data you require.
The GPS system has a multidirectional antenna that makes it easy to triangulate your location to make it easy to navigate.
It also has a camera, so you can take pictures when you come across breathtaking scenic views.
While it is easy to pull out of the box and use the basic features, accessing the amazing tech can be difficult.
The basic GPS works within minutes, but you have to really go through the manual to learn how to turn the additions on and off and familiarize yourself with them.
Features
2.6 inch color display that can be visible in sunlight
8GB internal memory
16 hour battery life on a dual battery system
ANT+ with high speed USB and NMEA 0183 compatible
Heart rate monitor
Temperature senor
3 axis compass with barometric altimeter
Speed and cadence calculation
What Previous Buyers Said:
Very nostalgic retro display – has the look and feel of an old Nokia phone
Build quality is good, battery life is okay, and the user manual is awful.
Feels very dated despite the ample features.
Pros:
A dual battery system allows GPS to stay active as long as you have spares
Packed with tons of features
Durable and waterproof
Allows for high-resolution topographical maps
Cons:
Maps download slowly
Bulky with a very small screen
Takes a while to set up
This is a great tool because it combines GPS capacities with navigations, satellite messaging, and emergency SOS abilities that work even when you're out of range of cell towers.
This works extremely well as an emergency communication device.
The SOS button is on the side, but thanks to a plastic cover you won't accidentally activate it even if it's tossed into a pack.
With their emergency rescue, your location gets updated every minute in the first 10 minutes, and every 10 minutes while moving after that or every half hour when stationary.
You are also able to cancel a rescue if you no longer need one.
This is really special because it also allows tow way communication with rescue personnel, unlike other models.
This means that if you've broken a bone or need some sort of emergency supply, they can be prepared.
It also allows them to help you survive in dangerous situations while waiting for a rescue.
Features:
SOS and satellite messaging
IPX7 water-resistant
Cloud storage with trip planning
Mobile pairing and syncing
Preloaded topographical maps displayed with GPS routing
Built-in digital compass, barometric altimeter, and accelerometer
What Previous Buyers Said:
Love the built-in life-saving features – satellite messaging and SOS messages to a global 24/7 rescue center.
Customer service is really bad – unaware of their own technology and difficult to get in touch with.
Pros:
Two-way messaging via satellite with SOS for search and rescue
Very user friendly
Map sharing with friends and family
Digital compass doesn't require movement to display your bearing
Cons:
Online route planning is basic and limited
Heavier than nearly every other comparable model
Downloadable premade maps are not the most up to date and reliable
This GPS is full of preloaded maps and great features.
Their maps even include public land boundaries so you can' travel without worrying about whether you're trespassing. The terrain is shaded so a simple glance can tell you about the elevation nearby.
This seems like a great option upfront, but the price is extremely steep. It's enough to turn people away because comparable options are available for far more affordable prices.
If this device came with some high-quality maps and multiple layers with transparency, it might be more worth the price point.
However, given that this great Garmin device was developed specifically for overlanders, together with the awesome team at iOverlander, in our opinion this GPS is the way to go when it comes to overlanding.
Features:
Charging mount – magnetic movement to move with no cables.
Voice command for hands-free operation
Preloaded database of all campgrounds, even in the bush.
InReach technology allows for satellite texting, weather updates, and SOS rescue capacities.
What Previous Buyers Said:
Large screen and cool apps!
High-resolution maps aren't compatible with this device – Beware!
You need to leave breadcrumbs to create a backtrack trail.
Pros:
Driving mode with the 3D topographical layout for planning the path directly ahead
Vehicle profile sends warnings to keep you from wrecking in tight spots
Pre-loaded maps
Cons:
Driving mode neglects forest roads. To go off-road you'll need the explore map instead that neglects prompts and turn-by-turn navigation.
No map layering – All layers are on or off and accessible through drop-down menus
Data syncing doesn't work reliable so tracking and waypoint syncing will show some gaps
This is a great system for the car, but use caution with off-roading.
This is one of the oldest and most reliable car GPS systems available. It's great for city driving because of the read direction feature.
This offers turn-by-turn navigation that talks to you through landmarks as well as simply left right and distance.
This has a really large display that is easy to see and use.
Although the pixels could use some work, the illustrations and colors are good enough that you shouldn't need too much if you're not off-road.
The visual and audio features are both very clear and easy to understand.
This has a nice option for free map upgrades for life. This lets you keep your maps up to date with every new construction point.
It can also be programmed to take the fastest route through traffic.
Features:
Foursquare integration for millions of new and popular shops, restaurants, fuel stations, and more.
5-inch display
Preloaded US maps
What Previous Buyers Said:
Requires detailed info to navigate.
Clear voice features with excellent directions.
Pros:
Lifetime maps and traffic data
Dual orientation display shows illustrated map and real-time picture
Easy to understand directions
Real Directions offers intuitive navigation
Cons:
Low resolution
Real Directions – guides using landmarks and traffic lights instead of traditional navigation
The Navruf is a decent GPS for your vehicle. It's got plenty of features, including a large HD screen, 8GB of space, a sun visor, and free map updates… if you can get them to work.
It may be extremely affordable, but there are aspects that are also a bit patchy.
For example, the free lifetime map updates it supposedly comes with are provided through a URL that doesn't list the Navruf among the possibilities for downloads.
It does come with some preloaded maps, including Canada, Mexico, and the USA.
If the website doesn't work, they are available by email so you can also request the maps, but it will take longer to get.
They also have a very fast CPU for quick navigation and up to the second accuracy.
Features:
Turn by turn voice navigation
7 inch HD touch screen display
8GB memory
Lifetime free map updates
Over 40 languages supported
Over 100 regional maps
What Previous Buyers Said:
Excellent navigation, very easy to use and set!
Never affected by screen glare even on sunny days!
Great value for money – highly recommended.
Pros:
Advanced route guide prepares you for exits and turns through best lane highlights
Touch screen brightness adjusts to lighting
100% satisfaction guarantee
Customer service response within 24 hours
Very affordable
Cons:
No AC adapter and USB cable included for charging
No instruction manual for assembly and mounting
Not user friendly
The Real Navigation of this Garmin product is great. It uses landmarks and light count to help you know when you turn instead of being surprised and having very little time.
This helps warn you about stop signs and things that get hidden in the brush and overgrowth.
The smartphone and Bluetooth connections are nice, too.
They can share data with each other along your trip and communicate verbally. With lifetime map updates, you can easily travel everywhere confidently, knowing that you've got recent navigation tools.
Foursquare integration allows you to find all kinds of restaurants, shopping spots, and points of interest that many maps don't offer.
We would be remiss not to mention the fact that this model is a little out of date. Garmin has put forward newer models that are better than this one.
A lot of users have reported that this one goes defective and the lifetime free maps may or may not still be offered, as it's the lifetime of the product as determined by the company.
Features:
Real Directions with landmark navigation
Free smartphone link app
Capacitive pinch and zoom display
Bluetooth compatibility and voice-activated navigation.
Pinch to zoom display.
What Previous Buyers Said:
Out of date and problematic.
Decent GPS if you need to save money.
Pros:
Lifetime map and traffic updates
Compatible with smartphones
Extremely accurate with quick satellite connection
Pinch and zoom touch screen display capacity (Capacitive)
Cons:
No digital traffic feature in this model
Extremely confusing menus due to tons of features and poor organization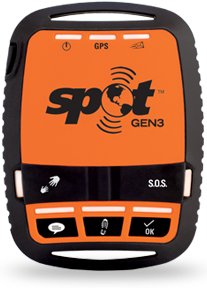 This isn't a map and navigation system so much as a personal tracking device in case of emergency. Having said that, you can still use it as a navigation device as long as you connect your smartphone or tablet to this GPS device and utilize an offline map.
It's built to last, with extremely durable construction and extra-long battery life.
One of the ways it saves battery life is by going to sleep when you stop moving for a while.
The way to use the battery life is by setting to your needs and trip.
If you set your tracker to update your location every 3 minutes, then it will last 7 days when it can see the sky and about 3 or 4 days when it's in a forest or unable to see the sky.
If you're not sure you need it that much, or you plan to be gone for a longer time, then set it to update hourly instead.
It still offers a small enough search radius to be found in an emergency (and an SOS call will update it for you), but it extends the life quite a bit.
You can go for nearly 2 months in the open sky and nearly 1 full month in the mountains or trees.
Features:
Compact design built to attach to clothes and bag
Really long battery life
SOS button if you get lost
Waterproof
What Previous Buyers Said:
Make sure you know how it saves data because it doesn't do what you would expect it to. Recording and updates don't log as often as you want.
SOS system may not work reliably depending on where you are. No verification system to make sure someone is on his or her way to you. Our local sheriff told Spot it was a false alarm and we had no rescue.
For better accuracy, position it face up away from your phone.
Pros:
Great for deep woods and off the grid hikes
Really small – fits like a key fob
Extremely durable
Waterproof in 1 meter of water for up to 30 minutes
Cons:
Weak at real-time live tracking
Garmin is the master of navigation.
They have tons and tons of maps that update regularly for free. They also have Real Directions feature, which navigates you by landmarks rather than distance.
On top of that, it's also got Up Ahead functionality, which lets you know about nearby services, and text-to-speech capabilities.
It's also equipped with Active Lane Guidance with voice prompts.
The maps use 3D features for terrain and buildings.
They include speed limits and let you know when you're in a school zone. It reminds you to take breaks and suggests great waypoints and stops.
Features:
Free lifetime maps
Millions of points of interest through Foursquare and Trip Advisor
Preloaded with North American maps
Voice navigation compatible
Edge to edge display with pinch to zoom touch screen control
What Previous Buyers Said:
It occasionally takes you out of the way when there are more optimal routes.
Very easy to use!
Excellent product.
Pros:
Allows custom points of interest
Real Directions allow landmark navigation
Preloaded with North American maps
Cons:
Not all routes are ideal – can take you out of the way
What to Look for in an Off-Road GPS
There are several features to look for in an off roading GPS system.
First, you need accurate maps. Your device should let you know about key geographical features, waypoints, unused roads, established 4WD trails, and dangerous terrain. Useful GPS systems also have a database of checkpoints and waypoints.
Parks, rec centers, campsites, fuel stations, viewing points, and water and food stops should all be readily listed with maps and routes. It also helps when your GPS can connect to your smart phone. This will let you access maps and save your routes.
If you find a great spot, you will never lose it just because it isn't mapped. You can also save geo tagged pictures and post them to social media. Battery power is crucial, too. You don't want your battery to die when you're off roading.
You need it to be able to keep power long enough to rescue you if you're lost or sending out a signal beacon. It also has to be durable enough to handle the wilderness and the bumpy terrain that comes with leaving a paved road behind you.
Digital and Topographical Mapping
When you're off roading, you need an accurate GPS. There won't be anything that shows the geographical features and useful trails without one.
Good systems will map the ideal trails for you to follow based on popular routes previous people have travelled. The map also has to correctly map the terrain you're traveling. If you're going off roading you need to be sure your GPS will warn you of the dangers nearby.
You need unsealed roads to show, contour lines, and even geographical features that could catch you off guard. A Good GPS will alert you when you're nearing rivers, cliffs, swamps, and rocky terrain. The latest trend in off road GPS systems is to offer digital mapping with GPS navigation. This allows for compass and map combinations that optimize the off road experience.
They have a variety of designs for different purposes. Many of them come with base maps but just as many allow digital downloads from computers.
Points of Interest
Points of interest are really fun. When you're taking a road trip, a GPS can alert you to all kinds of fun things to do that you wouldn't have ever known existed otherwise.
These can make for a great experience. A good off-roading GPS will do the same thing. IF you're out in the forest or jungle, it should be able to safely lead you to fun points of interest, scenic overlooks, waterfalls, and more. These off road GPS systems should show you where good campsites, fuel stops, overlooks, RV parks, and lodges are in relation to your path.
This will help you find the most effective route for your trip. You can plan an entire trip ahead of time, down to food stops and campsites, and know which scenery to stop by and where to get fresh water.
Trails for 4WD
One of the main reasons for an off roading GPS is because they will mark out ideal trails for 4WD trips.
If you want to get to a specific spot, you enter the latitude and longitude and this will get you there via the safest route. If there's a trail that is well worn and several off roaders have taken, it automatically maps it out for you.These should have easy graphic displays that can be seen while operating a four-wheeler or ATV. You will be able to see terrain and elevation changes along your route.
Turn by Turn Navigation
One of the great features in nearly every GPS system is turn-by-turn navigation.
This feature is also available in off road GPS systems. With this feature, your GPS will call out directions to you while also displaying them on the screen.
These will show you the best path to where you're going. Car GPS navigation will update road and traffic conditions. Off road ones will update the terrain based on forces of nature.
Waypoint Memory and Track Logging
One of the important features to have in an off roading GPS is waypoint memory and tracking logs. Having enough memory to log your way will help you retract your path back to a starting point if you end up getting lost.You can also check up the log info while you're off road to see how much memory you've got left. Having waypoint memory lets you have the space you need to record your log info and download it to a computer. On top of being a great safety feature if you ever get lost, it's also a great way to save your favorite routes and mark down beautiful scenery you discover along the way. Ideal systems should have the capacity to store 500 waypoints, 200 routes, and 2000 track logs.
Removable Memory
On top of waypoint memory needs, your GPS should have removable memory. An SD or micro SD chip can accept portable memory. These slots are usually hidden near the batteries. You can use portable and removable memory to transfer maps. It is also a great way to take pictures and screenshots and geo-tag them for future expeditions. You can transfer the waypoints and routes you love to and from your GPS and PC as well.
Map Preloads
A GPS can function as a compass on its own. This also lets it work as an emergency rescue, triangulating your position in emergencies. The best ones all come with some preloaded maps, though.
These let you see the forest you're passing through from a full color topographic view. When your view from the ground is impossible to see around, trust the topographic view to help you navigate through it. These make it difficult to get fully lost in the woods. Just make sure that you configure the right map and data for your position and get an accurate triangulation.
Bluetooth and Wi-Fi Capacity
These days, nearly all off road GPS systems come with Wi-Fi capability.
This lets you share your planned routes and data with people so they know an approximate location and travel speed if you fail to check in and need an emergency rescue.
They also include Bluetooth connection capabilities, so that your car speakers will play the voice navigation on your trip. Another fun aspect of this feature is that you can trade wirelessly with other GPS users. This lets you share your favorite trails, routes, waypoints, and stop overs easily through wireless technology. Using GPS systems with Wi-Fi, ANT+, and Bluetooth makes everything easier. You don't even need a USB cord to upload and download with these features… Just get a stable wireless connection.
Operating Mode: 2D or 3D?
An off road GPS with 2D positioning will fix your coordinates based on latitude and longitude using 3 satellites.
A 3D system also includes your elevation. In order to achieve this 3D operation, you'll need a GPS that can lock into 4 satellites for perfect triangulation.
This makes finding you more accurate, but it also require clear views of the sky, so using it in dense forestation or inclement weather may be difficult. Using 2D positioning will work in more conditions to get a close enough position that you can still be found in emergencies.
Features of Design
There are also several design features that can make or break your interest in an off road GPS. Depending on what you're using the GPS for, you will need different features. The size is a very important decision.
If you have bad eyesight and want a lot of data, then smaller screens will be extremely frustrating. Trying to read insanely small maps can be difficult. On the other hand, if the system is too large it will be difficult to use it in a situation where you need your hands.
For example, in cars and on ATVs, a display that is too large will actually impede your view dangerously. If you do want a larger screen, then consider a Portable Navigation Device (PND) as well. These combine navigation with GPS features. Another thing to decide is whether you want a touch screen or traditional buttons. Touch screens are very modern and reduce size and the need for buttons. It can really help in more humid situations where buttons may stick.
Colored touch screens make maps really easy to read. You can easily tell the difference between land and water. On the other hand, if you're in colder weather the better option may be traditional displays with button navigation.
This will allow you to use your GPS without removing gloves in wind and snow. In general, it also uses less battery power. You should still grab a GPS that has a backlit screen so you can see it in the dark. Pixels matter. If you choose a small screen, you definitely need an off road GPS with a very high resolution. This allows the details to come through on the map.
Lower resolutions on small screens make it nearly impossible to navigate with the system, and you may as well not have it for navigation. The more pixels you have, the sharper your image will be. This applies to images, text, map features, and numbers.
Using digital maps in the field will require high-resolution displays. You should never go below 128, and the best ones are 288. Using 160 pixels is a safe middle ground. Your battery life also makes a big difference. If you're going off road, your GPS should have the capacity to run on a secondary battery when the built in one goes bad. You want to pack back up batteries and make sure that you can swap out to extend your GPS life.
Alkaline batteries are the best options for nearly any weather. They have a lot more power than rechargeable batteries and last longer. If you turn off the magnetic compass, you can extend the GPS battery life. If you don't need back lighting and automatic routing options, turning these features off also saves battery.
Smartphone vs. Dedicated Off-Road GPS
Smart phones are extremely prevalent these days. Everyone has one, and they provide access to all kind of different apps, from games to information.
They also provide a lot of the features a dedicated off road GPS provides but without the expensive subscription fees.
In fact, topographical mapping and landmarks come standard these days in any mapping app, especially ones that are specific to off roading. There are for purchase apps that can even increase these features. They can record your trail when you go off road and geo-tag any pictures you take for future reference.
Using a GPS versus a smart phone tends to come down to personal preference and budget, though if you're going into a more remote location, the GPS will be better because smart phones tend to lose signal much more quickly.Remember that off road GPS systems are designed specifically for that purpose alone. The extra cash it costs allows for use in offline mode when you run out of signal. The battery life is also significantly extended.
This means that you can use it without signal and for much longer periods of time. The batteries are also replaceable, rather than built in, so you don't have to plug in to recharge the device. In a survival situation, the off road GPS is far more useful.
Advantages of Using an Off-Road GPS Device
There are a ton of different reasons to use an off roading GPS device. Every off road traveler should make this part of their packing list and bring it along. Whether you're taking a 4WD trip or hiking, toss it in the bag.
Discover Nature's Unknown Paths
Off roading afford the ability for exploration. Trails can take you to fantastic locations and scenic areas with breathtaking views, but they've been seen.
The thrill of off roading is that you have the chance to discover something that is rarely seen.Off roading will show you the terrain data that standard GPS systems and maps don't bother displaying to people who are following the road.
They may display some off roading trails, but only if they're already very well established.Terrain mapping off road GPS systems will let you find new trails on your own. It frees you to go wherever you want to and alerts you of danger along the way so you can avoid the pitfalls and traps.
You can look for alternate routes to waypoints instead of having to choose the same path you've already been down.
Provides Better Safety
This is one of the key reasons for an off road GPS system. Standard maps and GPS systems provide line data for you.
This doesn't help when you go off road. They will mark landmarks and national parks, but they won't show you any special overlooks or scenery within, and can't tell you if there's cliffs or danger.If you want to travel straight into the heart of the wilderness, line navigation won't be enough. These off roading GPS systems will give you more detailed topographical information, including the terrain.
This lets you explore without worrying about dangerous areas.
Far More Reliable Performance
While smart phones do let you download off road maps, they are still not as detailed as off road GPS systems.
Natural disasters can frequently change topographical data and you will not know that with a smart phone map. The GPS maps as you go if you're online, so you have the most up to date information. These GPS devices will work in the deep wilderness, where cell phone reception fails. They also don't require you to use storage space on your phone to save maps for offline usage.
The battery also lets you use this reliably without recharging. Just make sure to pack some spare batteries, and you don't have to be afraid that it will die while you're trying to use it when lost or in need of rescue.
User Friendly
Off roading GPS devices are easier to use than paper maps and more traditional navigation. Maps made of paper can tear or get wet, wind can blow them away or you can have any number of problems using them in the rain.
Laminated maps offer a degree of waterproofing, but the other facts remain. On top of that, these maps take up a lot of space. They have to be folded up in a very precise way, and you need space to unfold them for use.
This makes it hard to use them in enclosed spaces. On top of that, they don't glow, so using them in the dark is extremely difficult. They also have no rescue capacity if you need to signal someone. The off road GOS device is intuitive. It highlights your path so you don't have to sop and check it every single time.
Just take a glance to make sure you're heading the right direction. Many of them even come with voice navigation systems, so you will get a verbal warning if you're heading into a dangerous area. They will let you know when to turn if you want to go through some landmarks. If you're unable to calculate your own coordinates on paper, this is a great plan.
Different Types of GPS Systems – Let's learn some more!
There are a lot of different kinds of off road GPS systems. Each one is optimized for different purposes. When you're looking at features, see which models are made for which situations.
Automotive GPS System
The car GPS system has been around for a long time. They have bright colors on their screens and very accurate directions.
They need regular updates but will function even when signal runs out, so they have remained popular despite the massive amount of popular GPS navigation apps on smart phones. These systems continue to improve with time. Voice assistance, traffic monitoring, and Bluetooth connectivity make them easy to use while driving. You no longer need to preprogram them to find information along your route.
There are several off road GPS systems on the market. Most rally drivers and campers prefer these.
Hand Held GPS System
Portable GPS systems are carried in your hands. The portability makes them extremely popular. These maps are digital and they show your elevation and topography while navigating the terrain. Multiple people can use these and you don't need it to stay plugged in to a car to work. These can be passed along among friends during wilderness trips. This makes them popular with hikers and campers.
These devices show fishing holes, scenic overlooks, campsites, and more. They also help you find your way back if you get lost. You can also flag emergency services with your exact position if you need a rescue.
Fitness and Sporting GPS
There are also GPS systems specifically make for serious athletes. These are optimized for wilderness gaming.
They're great for cross country runners, marathon runners, and cyclists. They're also useful for horseback riding. These systems come in different looks from traditional ones. Many athletes have some that are worn as watches on their wrists.
Unfortunately, the system only works outdoors, can be very noisy, and doesn't work in inclement weather. These devices still map your terrain and location, but they also have tons of extra features. These will map time, speed, distance, and even monitor your heart rate and cadence. Trainers can use this data to make custom regimens for their athletes.
Maritime GPS Systems
Marine vehicles use very different GPS systems. Captains of fishing boats, cruise ships, commercial tankers, submarines, and even deep sea diving expeditions use marine specific GPS systems to help them navigate the oceans.
These are moving maps that will show water features instead of land features.
They trade topography for radar systems that can map out the ocean surfaces that are too dark to see. These can even detect fish and help ships avoid coral reefs. In an emergency, they also triangulate your exact position for emergency rescue.
Airway GPS Systems
If you're flying a plane, helicopter, or other aircraft, then you'll need an aviation GPS. These systems also use radar to map your direction. This helps during cloudy weather because the radar can see through clouds the pilots have to fly through blind.
These also detect other aircraft, so pilots won't crash into each other. The aircraft GPS systems will coordinate routes, map position and terrain, display data from nearby airports, and offer compass, speedometer, and altitude calculations.
Street Navigation Systems
Street navigation, or Sat-Nav, is a type of car GPS that lets you know where you are and directly you to where you're trying to g. These can be programmed to take you based on the shortest distance or the shortest amount of time. This is a very accurate design these days as long as you keep your maps updated.
Conclusion and Advice – Best Off-Road GPS
The absolute winner is Garmin. This brand must be considered for any off-roader who is looking to use the best off-road GPS.
As you may know from our blog posts, we're a huge fan of iOverlander. It's an incredibly useful tool for overlanders and I was even a volunteer moderator working on new entries in the application.
Combine iOverlander with Garmin and you get the best device we can recommend, which is the Garmin Overlander, of course.
Garmin Overlander, Rugged Multipurpose Navigator for Off-Grid Guidance
7" color touchscreen Features turn-by-turn directions for on-road navigation and topography maps for off-road guidance covering North and south America
Use the Garmin explore app to download additional maps and usgs Quad sheets on 64 GB of storage, and sync all of your data between devices (Wi-Fi connection required)
Preloaded with ioverlander points of interest (POIs) and ultimate public campgrounds, so you don't need a cell signal to route to the best-established, wild and dispersed campsites
Features topographic maps with public land boundaries and 4x4 roads
Routing is based on height, weight and length for large overlanding vehicles
Otherwise, specifically for off-roading, the Garmin GPSMAP 64st is the best.
Despite the small, retro feel of the GPS it has a ton of great features and a really good battery life. If you're going alone or somewhere more secluded, then consider the Garmin InReach Explorer+ because of the satellite messaging and SOS rescue messaging features.No matter what option you choose, by now you should be much more well informed when it comes to off roading GPS devices.
Now, you know which features that all of the good ones should have and which ones are most relevant to your trip. Enjoy blazing the new trails as you set out for uncharted territory!
Please let us know what do you think in the comments below!