If you own a UTV, you know how enjoyable and handy it can be. But if you want to use your UTV to its highest potential, you will need a winch.
During our one-month-long adventure in Mongolia, we had an awesome day discovering the countryside east of Ulaanbaatar, with two side-by-side and two motorbikes. One of the UTVs was equipped with the best UTV winch, however, that wasn't the one that got stuck in a muddy river.
It was the other one.
The one without a winch.
It took about half an hour and efforts from four people to get the side-by-side out of that river. That's when I realised I wouldn't use a utility task vehicle ever again without the best sxs winch bolted to the front.
Quick Answer – WHAT IS THE BEST UTV WINCH:
On Sale
Because a good quality winch can pull you out from those awkward situations when you are stuck in the middle of nowhere. But, purchasing the top rated winches from all those options out there is easier said than done.
That is why we have gathered information about what is the best utv winch. And, we are going to share all those in this review post below.
Additionally, you will find a detailed winch buying guide in the later section of the post as well.
Best UTV Winch Review
The best winch for side by side that earned its place in our review post is the Superwinch 1135220 Terra 35. As per the name, you can already guess that it is from Superwinch.
And, they are known as one of the best brands for offering overlanding, off-roading, and camping gear & accessories in the world. So, as usual, this particular UTV winch is also known for its premium features and reliable performance.
It features a permanent magnet motor with 1.6 hp. Added to that, the 50 feet steel rope cable with a diameter of 13/64 inches is perfect for pulling you out of any horrendous situation. Yet, you can opt for a synthetic rope instead of a steel one while buying the winch.
Otherwise, you can replace it anytime as well as it is compatible with both synthetic and steel rope. For the record, the winch has a pulling capacity of up to 3500 lbs.
Among other awesome features, you will have 3 stages planetary gear train with a ratio of 140:1, handlebar-mounted rocker switch, free spooling clutch, forged all-metal hook, and a 4-way roller fairlead, etc.
The corded remote control comes with a 10 feet cable, so you can maneuver the winch from a safe distance. Besides, it also has a decent braking system as added safety.
What Previous Buyers Said?
All the previous buyers had only good things to talk about this winch. They praised the performance and the high-grade built quality of this winch. They said this is the most reliable side-by-side winch.
Also, a lot of customers talked about the easy mounting procedure as well. All in all, they are very much satisfied with their purchase and also recommend it to others. The UTV winch reviews for this particular device are overwhelmingly positive, this is the best rated utv winch.
Pros:
Comes with a limited lifetime warranty
Has a built-in circuit breaker
Weatherproof solenoid
Strong built quality
Warn is another top-rated brand in this off-roading industry. But Warn has a lot of competition in the market right now such as Smittybilt, Superwinch, and Champion, etc.
However, if you are weighing up and down between Smittybilt vs. Warn or any other top winch brands of such, then we would be recommending Warn without a single doubt.
Why? Let's talk about this particular Warn winch for a bit and you will understand.
The Warn Vantage 2000-S Winch is rated to pull up to 2000 lbs. And it is compatible with most ATVs, UTVs, and even boat trailers as well.
This best off road winch for UTVs comes with numerous helpful features such as a handlebar-mounted rocker switch, dynamic braking system, aluminum hawse fairlead, and so on.
You will recover a 50 feet long synthetic rope with a diameter of 5/32 inches. The winch weighs about 5.5 kgs or 12.25 lbs. That is fairly lightweight.
However, even though this is a lightweight winch, it is equipped with a 0.9 hp permanent magnet motor and a differential planetary gear train. The gear train comes with a 155:1 great ratio.
For your information, if 2000 lbs. of pulling power is not enough for you, you can opt for the Warn 4500 UTV winch. This is another variation of this winch with a higher pulling capacity.
It also offers some variations in the features like spring break, steel rope of 50 feet, 4-way roller fairlead, etc.
Both of these Warn UTV winches come with a powdered coat finish to keep them corrosion-resistant.
What Previous Buyers Said?
The majority of the current users are pleased with the performance of the winch. Most of them used it with their UTVs, however, some also use it for their ATVs as well.
And, it is performing superbly on all occasions. Many of them are even recommending this winch to other UTV owners. If money is no object, this is a top rated side by side UTV winch.
Pros:
Comes with a corrosion-resistant coating
Features weatherproof and waterproof motor and gear train
Has 1 year of electrical warranty and 5 years of mechanical warranty
Cons:
The cable might get stuck while winding up
The third on our list is the best cheap winch for UTVs available in the market at the moment. This one comes with a winch capacity of 2000 lbs. And, it is powered by a 1 hp permanent magnet motor.
It is equipped with a single-stage planetary gear train with a gear ratio of 153:1. Additionally, it also has a corded remote control with a 10 feet cable.
The dynamic barking system and will offer safety while you are drawing out the rope. Speaking of rope, it comes with a 49 feet long galvanized steel rope with a diameter of 5/32 inches.
As usual, it also comes packed with a 4-way roller fairlead and an all-metal hook. The winch is compatible with the 3.1-inch mounting blot pattern.
What Previous Buyers Said?
Frankly, we have got both positive and negative opinions about this winch. For example, one particular buyer said that the remote control wasn't working from the first.
Another buyer said that the rope of his winch broke apart after a second try.
On the other hand, most of the other buyers were happy about the winch. One current user said that he is using this one for about 11 months without any issues.
Similarly, another user said that he is using it for a plow successfully for over 6 months. And, many of the previous buyers also noted that for the price this is the best UTV winch if you are on a budget.
Pros:
Comes with a 2-year limited warranty and lifetime technical support
Very cheap yet reliable
Built quality is decent for the price
Cons:
Their customer support team is slow to response
Makes a grinding noise while operating
Another great UTV winch you can buy right now is the MotoAlliance VIPER Midnight Winch. This one comes with everything you will need to mount it in the package.
Also, it does offer a lot of advanced features. As a result, it has a bit of a high price tag even though this is not a known brand like Warn or Superwinch.
The winch has a pulling capacity of 4500 lbs. So, it will be perfect for both big and smaller UTVs.
The package includes a handlebar-mounted rocker switch, hawse fairlead, 50 ft. synthetic rope, metal forged hook, solenoid, and the necessary wires for the connections.
To top all these, it comes with a 1.6 hp permanent magnet motor and 3 stages planarity gear train with a gear ratio of 136:1. The winch is compatible with a 3 x 4.875-inch mounting bolt pattern.
So, this 4500 pound winch will be compatible with all the top-tier brands like Suzuki, Yamaha, Kubota, Can-Am, John Deere, etc. Thus, if you want an ATV UTV winch with a high winch capacity then it would be a great option.
What Previous Buyers Said?
This is another UTV winch about which the current owners have a mixed opinion. Some users complained about the build quality.
While others said they could not mount it up properly following the instruction manual.
On the opposite, many happy customers praised the price to performance ratio of the winch. One particular previous buyer said that he used the winch 8 times within a span of 2 months.
And it has performed as expected. Also, they liked the high pulling capacity of the winch.
Pros:
Comes with a waterproof remote handlebar rocker switch
6 months warranty on the rope and 1-year warranty on the winch
Comes with all the installation hardware and the instruction manual
Cons:
The build quality could be better. But for the price it is justifiable
This one is a bit different than all the other winches for UTVs listed in this post. Why? Simply because it comes with distinct features and functionalities.
For instance, it is equipped with a synthetic rope while most of the others come with a steel rope. The synthetic rope is about 50 feet long.
This winch has a 3500 lbs. rated line pull. And the dimension of the winch is about 13-inch x 4 ⅝ inch x 4 ¾ inch.
It comes with a myriad of features like a permanent magnet motor of 1.2 hp, 3-stage planetary gear train with a ratio of 166:1, wireless and wired remote controller, hawse fairlead, and a clevis hook, etc. Thus, if you have the budget, you can check this winch out.
What Previous Buyers Said?
The previous buyers were very content with the winch. However, a few buyers complained about the high price.
Other than that, everybody is actually satisfied with the performance, build quality, features, and overall quality of the SuperATV Black Ops UTV winch. Also, some particular buyers praised the dual remote control system of this winch.
Pros:
Has a 1-year warranty against manufacturing defects
Easy to mount
Wireless and wired remote control
Weatherproof and waterproof control box and remote control receiver
Cons:
The instruction manual is not easy to follow
A bit expensive
If you are looking for an electric winch for your overlanding rig, then this one is the best winch. This is one of the most popular UTV winches available right now.
Matter of fact, this budget winch is also ranking as the No 1. Best-seller in many online marketplaces. So, from its popularity, you can already guess its quality.
The Bravex winch is rated with a 3500 lbs. of winch capacity. It features an all-metal 3-stage planetary gear train with a gear ratio of 153:1. Now, the rope it comes with is a steel rope with a diameter of 5.3 mm which has a length of 40 feet.
It also offers features like an auto-in-drum brake, permanent magnet motor of 1.5 hp, both corded and wireless remote control systems, etc.
The unit also has a decent price tag. In a way, this is pretty the best cheap utv winch compared to the features it is offering. This also comes with a waterproof and anti-sediment control box.
You will also get a forged steel hook, 4-way roller fairlead, and all of the required accessories for installing it.
What Previous Buyers Said?
The Bravex Electric UTV winch is known for being popular at the moment. Almost all the previous buyers are overjoyed with this best budget winch. They liked the dual remote control system.
According to them, the quality and the performance of this winch are also praiseworthy. Also, the customer support of the Bravex team is also known for solving issues swiftly.
Pros:
Easy installation
Rugged built quality
Reliable performance
Budget-friendly pricing
Has a dual remote control system
Cons:
Could use a synthetic rope
The cable should be windup evenly to avoid stuck up issues
The last one on our list today is the X-Bull UTV winch. This is a powerful winch as it comes with a winch capacity of 4500 lbs. You can get this winch in 3 versions.
The first one is with a steel rope of 50 feet/15 meters and a 5.5 mm diameter. And, the other two variations are either a red or an orange synthetic rope of the same length.
Depending on the version, the price will also vary. This is one of the most advanced UTV winches available in the market for an affordable price right now.
Yes, there are other high-end UTV winches available, but those are not that low-priced like this one.
It comes with loads of features like a 1.7 hp permanent magnet motor, 4-way roller fairlead, mechanical brake, 3 stages planetary gear train with a gear ratio of 136:1, etc.
The net dimension of the product is 41.5 x 11.8 x 11.8cm. And it weighs about 22 lbs. That makes it highly portable as well.
What Previous Buyers Said?
Most of the previous buyers said positive about it. For example, one of the current users specified that he used this winch for recovering his badly stuck UTV from the mud. And, it was pretty effortless.
Another customer reported that it is very quiet and smooth to operate, and very powerful. Most of the other buyers admired the wired and wireless remote system as well.
Thus, if you need a UTV winch with these qualities, you can definitely check this one out.
Pros:
Comes with 1 year of warranty
It has IP67 water-resistant certification
Supports dual remote control mode
Affordable pricing
Cons:
The rope quality could be a bit better
Best Side By Side Winch Buying Guide
What's A UTV Winch & How Does It Work?
Simply put, a winch is a tool for pulling out stuck vehicles from different situations. A winch would usually be mounted on the front bumper of your vehicle.
And, you can use it to pull anything including your vehicle, other vehicles, trees or logs, etc. effortlessly.
There are many ways you can use a winch. First off, you can attach it to any other vehicle and pull that vehicle out of a stuck situation with your vehicle.
Similarly, that vehicle can also pull your vehicle. Interestingly, you can also use any strong structure or object like a big tree to get unstuck without getting help from anyone.
Different Parts Of The Best UTV Winche
A winch consists of a lot of different parts. Let's learn about some of the most important ones in this section.
Rope/Cable Of A Side-By-Side Winch
A winch can come with 2 kinds of ropes, which are synthetic rope and steel rope. In short, synthetic rope is the latest and best option.
It is a bit pricier than the steel rope though. However, for better performances, safety, and ease of use, you should go with a synthetic rope.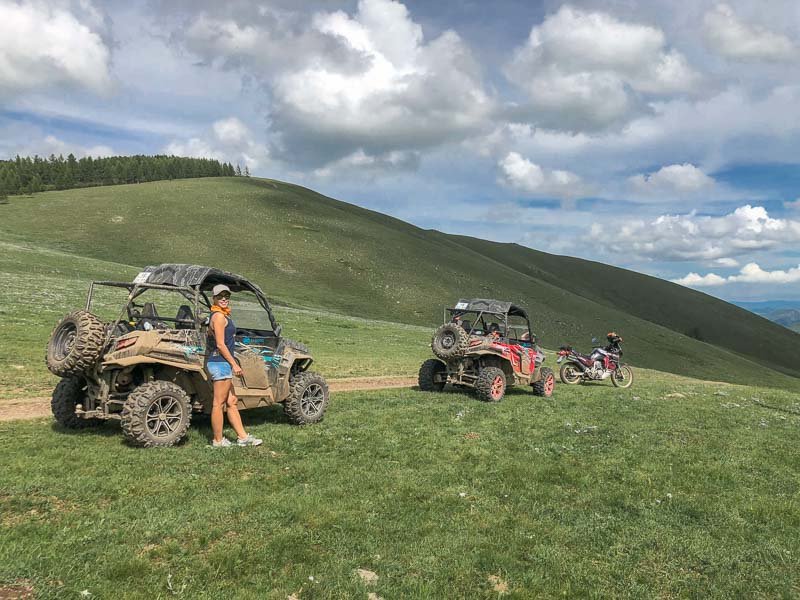 Fairlead
Once again, a winch might come with either of the 2 types of fairleads, which are hawse and 4-way roller fairlead.
Usually, manufacturers provide the 4-way roller fairlead with the steel rope and the hawse fairlead with the synthetic rope. Most of the time, you can replace the stock fairlead as well.
Remote Control
All the best side by side winches will come with a remote control system. There are 2 types of remote control systems available at the moment such as wired and wireless for a winch.
Generally, you will see wired remote control on the most side by side winches.
However, the best UTV winches will come with both the corded and wireless remote control system. It is better to go with these winches as you can control the winch from a safer distance.
Nonetheless, many of the corded remotes actually come with long cables for safe distant operation.
Control Box OF A UTV Winch
Every electric winch will have a control box. The control box will contain the gear train, the motor, and sometimes the remote control receiver as well.
For better results, you should opt for a UTV winch that comes with an all-metal control box.
Because your winch will have to face all types of environments and weather. So, it will need to be weather and waterproof.
There are a lot of low-quality winches that come with a control box made with plastic. You should avoid those at any cost.
Braking System
The best quality UTV winches will feature the automatic load-holding/dynamic/auto-in-drum braking system.
This is the best braking system option for safety. It will provide the user with more control and reliability while using the winch.
Hook
The hook will be at the end of the rope hanging in front of the winch. It will be attached to the object you are going to pull. Now, it is always better to go with a forged metal hook.
Also, you should opt for a winch that has a hook with some protective coating. That way, it will have a long-lasting lifetime.
How Much Weight Can A Winch Handle?
Every winch will come with a winch capacity. The winch capacity indicates the maximum amount of weight it can handle. The winch capacity is also known as 'Rated Line Pull'.
So, if your winch comes with a winch capacity of 3500 lbs., then it is rated to pull up to 3500 lbs. without any issues.
That is why you will need to know the weight of your UTV prior to choosing the winch. Then you can follow the standard formula of (Vehicle Weight x 1.5) to find out the load capacity your new winch should have.
So, if your UTV is 1000 lbs., multiply this with 1.5 such as (1000 x 1.5) = 1500 lbs. In this instance, you will need a winch with a capacity of 1500 lbs. for your 1000 lbs. UTV.
ATV batteries are also an important factor to consider when you're setting up your adventure vehicle. Make sure you choose a battery with the right capacity that can handle your winch too.
Don't end up like us, having to push a side-by-side out of a cold and muddy river.
Wrap up – uTV winch reviews
If you are going to buy a UTV winch, it is always better to get a clear concept about these tools beforehand. Otherwise, you might end up buying an incompatible or useless one.
Thus, we have tried to provide you with all the necessary information about choosing the best UTV winch for the money above.
However, you might still be confused and finding it hard to make the final decision. If this is your case, we have a recommendation for you.
From our research, we have found out that the Superwinch 1135220 Terra 35 would be the best choice.
Because it comes from a well-known brand and it is perfect for pulling most UTVs with its high winching capacity and advanced features.
Or else, if you want to go with a less popular brand, you can choose the Bravex Electric Winch for UTV.
It has similar features to the Superwinch one and also comes with a decent price tag.
So, which one is your favorite side-by-side winch from our list above? Share your opinions and thoughts with us in the comments below!
CHOOSING A WINCH FOR YOUR VEHICLE IS A COMPLEX TASK
Enter your email below to sign up to our newsletter and to download this FREE 22-PAGES long guide on how to choose a winch.
YOUR PRIVACY IS PROTECTED
---
Other winch guides you may be interested in:
---