A BF Goodrich KO2 review is overdue as we've been using them to travel nearly 75,000 miles with them, on three continents through smooth and not so smooth tarmac, rocky mountain passes, sandy deserts, muddy rivers and sharp rocky sections. This is a first-hand durability, usability, quality, and capability review.
However, we have yet to experience an annoying flat tire! That's right, the tires still have decent tread on them, and in general, they are in very good condition. We're just incredibly happy with them.
BF Goodrich KO2 is known as one of the best all-terrain tires at this moment. And, we know that BFGoodrich specializes in manufacturing high-quality all-terrain tires.
They have been doing this since 1976. The BFGoodrich All-Terrain T/A KO2 is an updated version of the famous BFGoodrich KO.
But is it actually a better tire than its predecessors? Or it is just a rebranding of the original one.
Is the BF Goodrich KO2 worth it? We will be answering all these questions in this review article.
Features To Look For on a BFG KO2
At first, let's talk about the sidewall construction of this awesome tire. Because it is one of the most vulnerable parts of any tire.
The sidewall of BFGoodrich KO2 comes with their own 'CoreGard' technology. This exclusive technology saves the sidewall from bruising and splitting.
The sidewall also has an extended shoulder shield. These thick and extended shoulder shield safeguards the sidewall core even under extreme pressure.
For sharp objects or debris split or snag the sidewall, it has to be a pretty extreme scenario. Thanks to the advanced deflection design from BFG. The sidewall deflects dirt, debris, or any other sharp objects easily.
We had several situations where I thought the tires would give up and just split, but no, they just carried on over, scraping sharp rocks without any issues.
BFG has made a huge improvement in the tread-life of this tire as well. They have analyzed and revamped the tread rubber manufacturing formula.
As a result, it is now more durable and perfect for gravel roads.
The footprint shape is almost similar to its predecessors. However, it distributes the pressure uniformly throughout the tire that translates to longer tread-life both on and off-road.
The tread design on this tire is called 'Inter-Locking Tread Design'. And, this innovative design prevents any irregular tread wear.
You will also find tiny yet effective stone ejectors on the tire. These will shield the tire from stone retention and drilling.
In the case of sandy or muddy terran where you'd want to air down, the side biter lugs will come in handy.
You will notice that the tire also features mud buster bars that help to keep the sidewall shoulder clean on muddy roads.
Another great addition is the serrated shoulder design. This particular design helps it to offer increased traction and maneuverability in mud or softer soils.
Along with it, the tread comes with 3D siping which combat overheating and increases the traction in wet, icy, or dry conditions.
As you already know that it is an all-terrain tire, it comes with the 3PMSF symbol on the sidewall. It means this tire is suitable for winter conditions.
Any tire that has this symbol has passed the industry-standard severe snow service performance requirement. To put it another way, the BFGoodrich T/A KO2 is capable of providing proper performance even in snowy and icy conditions.
Similar to the outer construction of this tire, the internal construction is also top-notch. For instance, on the inside, the tire is reinforced with twin steel belts which are further wrapped with nylon for further durability.
Overall, it is evident that the BF Goodrich T/A KO2 is a great tire that offers a myriad of useful and unique features. A BF Goodrich KO2 Review would not be complete without a pros and cons list, however:
Pros:
Staggering Traction capability
Longer tread-life
Suitable for all season and all roads
Ruggedly built sidewall
Comes with chip, cut, and tear-resistant tread compound
Very quiet and comfortable on both on and off-road
Comes with 6 years of warranty
Cons:
Might be pricier compared to other brands. But, the quality justifies the high priceLimited compatibility
Review of BF Goodrich KO2
Now that you know about the features, pros, and cons of the BF Goodrich KO2 tire, it's time to move on to the main review.
In this section, we will be reviewing this tire from various perspectives.
Ride Comfort and Noise Level
What are you expecting from an all-terrain tire in terms of ride comfort and noise level? We all know, that these types of tires are not made for smooth rides like you would get on a passenger car.
However, in the case of BFGoodrich KO2, the comfort and noise level is decent. We've been driving a lot on tarmac roads and the noise level is not much worse than let's say a regular winter tire. (Only comparing the noise level here as a measure – not comparing the KO2 to winter tires in general.)
You will not get a 100% smooth riding with this tire, though, but that is to attain the maximum off-road performance.
If you are frequently overlanding or go on off-road driving, you will understand that an AT tire cannot be completely quiet and smooth as a road tire but at the same time also be capable of climbing a muddy hill.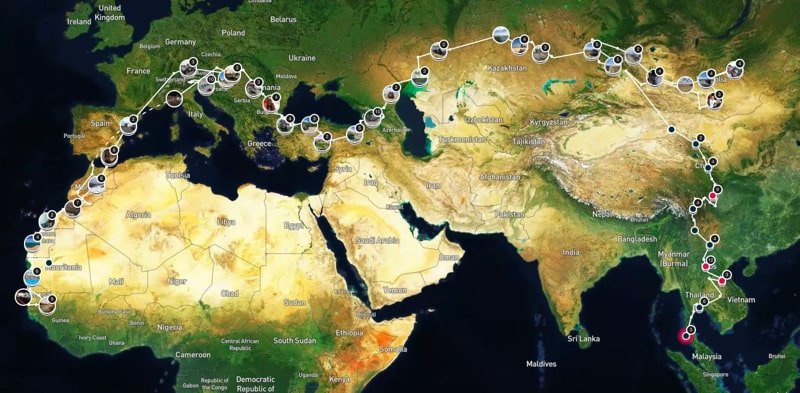 All this with BF Goodrich KO2s and not a single flat tire
Durability and Toughness
If you have read about the features of this tire earlier in this post, you will come to know that this is not a cheaply made tire. Rather, it comes with robust build quality.
For instance, their engineering team used computer analyzing and modeling to create the new tread rubber formulation.
Also, the sidewall and the tread pattern was designed in the same way. So, the sidewall has become tougher and durable. Overall, you can rely on the durability of this tire.
We're a very good example of how durable these tires are. So far we've driven 37,000 miles through all kinds of terrain and the tires still have usable tread on them.
Traction of the KO2
Off-road
When it comes to off-road traction, it's hard to find another all-terrain tire that can perform like the BF Goodrich KO2.
It can combat any type of treacherous roads without any issue. The strong sidewall and the unique tread design makes it perfect for overlanding adventure.
BFG introduced a number of new features on their off-road racing tires while their team participated in the Baja 1000 race a few years back. And, their team came out on top during that race.
Seeing their unprecedented performance there, the company incorporated those features to the BF Goodrich KO2. Due to that, these tires perform beyond expectations when it comes to off-road overland trips. BFG reported that this new tire has about 10% better traction on muddy roads, than the previous version.
Tarmac
The BF Goodrich T/A KO2 is known for its aggressive traction. The new rubber formulation of the tire ensures superior traction on tarmac.
It doesn't matter if the tarmac is wet or dry. You will be happy with the level of traction on the tarmac surface.
Winter/Snow
As you already know that these tires come with the 3PMSF symbol on them. This confirms that these are more than enough for overland trips in the winter season.
They might not be the best in snowy or icy conditions. But the BFG KO2 will do a great job, nevertheless.
This tire comes with 3-D sipes which creates biting edges. And, you know that this feature increases the traction on snowy and winter condition.
As a result, the KO2 can provide about 19% better traction than its previous models in the snow.
In order for the tire to perform well, make sure you choose the right air pressure for the given surface and conditions. For example using too low tire pressure for a long period of time can destroy your tires entirely.
So if you're on tarmac or other hard and smooth surface, pump those tires up!
Rolling Resistance/Steering Response
Some of the all-terrain tires are known for their higher rolling resistance. But, we didn't experience any issues on- or off-road.
Having low rolling resistance, it helps to save a lot of fuel when you are on the highway. Similarly, it has a smooth yet powerful response while you are on or off-road with your overlanding rig.
Tread Toughness and Treadlife
The BF Goodrich KO2 comes with improved tread design. And the tread rubber is also composed of a new formula.
As a result, the tread-life increased to a great extent compared to its predecessors.
Reportedly, it will last up to 15 percent longer in asphalt and twice as long on gravel compared to the previous model (KO). On top of this, the tread-life also will increase by up to 20% in most off-road conditions.
As well as the footprint shape was improved so that the weight and pressure scattered evenly on the entire tire which will help to increase the tread-life.
t;
Even Mud Terrain Tires Wouldn't Have Helped Us Here
All Terrain VS Mud Terrain Tires
BF Goodrich 2 is an all-terrain tire. But what does it mean? Simply put, these types of tires are made for use in both on and off-road conditions.
They provide extra traction while on treacherous roads. At the same time, they can give you a comfortable ride on the highway. In short, they are decent in all conditions whether you will use them on mud/dirt/snow/sand/gravel/highway.
On the flip side, mud terrain tires are designed specifically to be used on mud, off-road, loose and soft soil. So, these tires will not perform well on dirt roads, snow, or wet conditions.
From the contrast, you can see that it is better to go with all-terrain tires as they are versatile and suitable for all conditions and roads. Yet, if you use your overland rig on muddy or sandy areas, going with mud-terrain tires would probably be the best.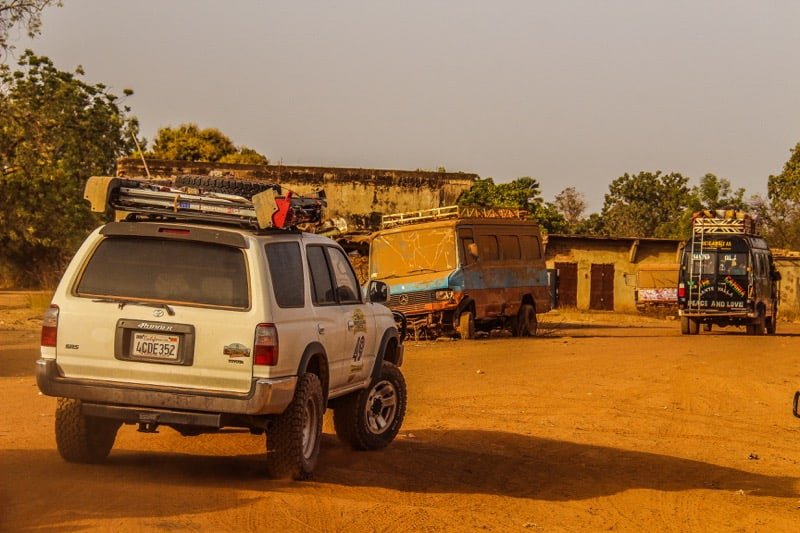 BF Goodrich KO2 Review – What Other Buyers Said?
Most of the tires from BFG have acquired love and praise from customers all over the world. It is also the same for the BFG T/A KO2.
We've met countless overlanders on the road who were using BFG's and haven't heard anyone complaining about them. Friends of ours, during their 18-months long overlanding adventure have changed from TOYO mud terrain tires to BFG KO2s recently.
So customers we talked to and most who left reviews online were thrilled with the purchase. They liked the look, build quality, and the features of this tire.
Few customers said that they were skeptical because of the high price tag at first. But after driving for a few days, they have changed their opinion entirely about this tire.
All of them stated that it was one of the best off-road tires they have used. A lot of current owners reported that they have got over 60,000 miles of mileage from the BF Goodrich KO2.
And, they are expecting a few thousands more as the tires still look fine. The previous buyers were also satisfied with the capability of this tire as it can easily go with any type of road.
They said it doesn't matter to the BF Goodrich 2 whether you are overlanding on gravel/icy/rocky/muddy/dirt/wet roads.
Our Final Thoughts
From the aforementioned review, it is clear that the BF Goodrich KO2 is nothing short of being one of the best all-terrain tires. Compared to some similar all-terrain tires, it might be a bit pricey.
But you have to admit that the BF Goodrich KO2 has some rare and unique features.
For instance, you are getting longer tread-life, tougher sidewalls, aggressive traction, and a comfortable journey on all types of roads and various weather conditions.
Also, similarly to us the majority of the previous buyers spoke very highly of this tire. In that regard, all these things undoubtedly set the BF Goodrich KO2 apart from most of the high-end all-terrain tires on the market.
So, if you are looking for a great all-terrain tire, we would definitely recommend this one without a doubt.
Let us know what kind of tires are you using on your rig in the comment section down below!