The brand Bad Elf has a reputation for manufacturing high-end GPS devices. We've been using one of their handheld GPS units—Bad Elf 2200 GPS Pro—for a long time while overlanding.
We've travelled through countless deserts and mountain passes, navigating with a Bad Elf GPS Pro.
The reason why I chose this device was that I wanted to use my smartphone and my iPad in remote areas, where there is no cell-phone reception. At those locations, this little device can still provide you with information on your accurate position, and therefore make you able to use your smartphone or tablet to navigate with your off-line maps.
Not only for navigation, but the Bad Elf is also immensely useful to keep your online journal up to date, as well as to find campsites using iOverlander.
There is basically no need for a bespoke GPS navigation device if you're using quality off-line maps on your tablet or smartphone.
I must admit we are thrilled with the performance of this device. We are using it on a daily basis now on our Pan-American adventure, but have been using it on all of our previous trips too.
Consequently, we thought why not share a short yet detailed review of this interesting and handy gadget with our readers.
What Is Bad Elf?
Bad Elf is a US-based company that provides accurate high-performance location services with their GNSS receivers. With continuously evolving designs, software, and apps, Bad Elf is able to offer various advanced and easy-to-use external GPS solutions at an affordable price range worldwide.
Review of Bad Elf GPS 2200 Pro
Key Features
Connectivity
The Bad Elf Pro comes with Bluetooth connectivity.
It can be connected to 5 devices simultaneously, which is handy as you can double-check one off-line map against another one on a second tablet to make sure your navigation is correct.
We had no issues at all with connectivity. Once you pair your devices, it will remember them even if the battery runs flat.
Size, Weight, and Design
The Bad Elf Pro comes in a pocketable size that can fit in the palm of your hand. The net dimension of the unit is 3 x 2.5 x 0.7 inches. And, it weighs just 3.2 ounces.
In our case, as overlanders, we don't need to carry it. It's placed in the front, right on the top of the dashboard to make it able to capture good satellite signals.
Occasionally we had to wait for it to find satellite signals, but after a few minutes, it's always been able to connect, even in the remotest corners of Mongolia.
Build Quality
Even though this is a small handheld device, it comes with rugged build quality. From our experience, we can tell that it can withstand the extreme conditions without a hitch.
On top of that, it is IPX4 rated. that means it's splashproof.
Display
Another top feature of this one is the inclusion of a green backlit LCD display. The backlit display will come in handy in the dark to check the GPS information.
You'll be able to see information like direction, latitude, altitude, longitude, speed, battery life, satellite lock, time, accuracy, and so forth on the display.
Battery Life
The battery life of this GPS device has impressed us by far the most. In the paired mode, the battery lasts up to about 16 hours.
Conversely, when the Bluetooth is inactive and the device is in data logging mode, it can last up to 35 hours as well.
However, we tried to keep it charged all the time. It's been plugged in to the 12-volt DC charger but through a 5-volt 2.1A adapter.
Compatibility
Bad Elf is known for manufacturing products that are compatible with the iOS/Apple device only.
But in the case of this GPS device, this is compatible with iOS, Android, and even Windows OS devices.
So, this is not exclusively a GPS for iPad.
As I researched further, reviews admit that it'll work best with Apple devices. However, if a mobile device has Bluetooth connectivity, you can connect the Bad Elf Pro GPS no problems at all.
App Support
This handheld GPS comes with application support. And, Bad Elf has a few applications in the App Store of their own for this GPS unit.
By installing the Bad Elf app on your smartphone or tablet, you can connect and transfer the location data log to your mobile devices from the GPS unit.
I tested this feature when we've had an adventurous day east of Ulaanbaatar.
It was easy to take the fully charged Bad Elf with me when I was riding a motorbike and recorded an off-road route between the River Point camp and the amazing Genghis Khan statute.
Additional Features
The Bad Elf Pro comes with a few more impactful features as well. For instance, it has a sample update rate of up to 10 Hz.
You can customize the unit settings in the menu. Additionally, it can save up to 100 hours of data logging. After you've saved the tracking data, you can even share the log with your Apple devices.
Apart from navigation, you can also use the GPS data with your travel journal apps, such as Polarsteps.
Accessories
With this GPS device, you'll get a micro USB cable of 3 ft. Yes, it doesn't support the lightning connector.
Rather, you've to use the supplied micro USB cable to charge it. And, it'll also come with a detachable neck lanyard. Interestingly, Bad Elf also offers a 12-24 VDC vehicle USB charger inside the box.
What Other Buyers Said?
Simply put, the majority of the users of this GPS device are satisfied with this. They've liked the IPX4 splash-proof rating. And, the compact and lightweight size also received a lot of praise.
Additionally, they've also loved that it is widely compatible with various operating systems.
And customers also admired the accuracy of this GPS tracker and receiver.
Similarly, as an avid user of this device, we are also happy with the build quality, portability, design, specifications, and advanced features of the Bad Elf Pro.
Pros:
Comes with a backlight LCD display
It has IPX4 splash-proof certification
Minimalistic design, lightweight, and portable
Bluetooth connectivity
Incredible battery backup
Precise location information
Cons:
The battery level status behave abnormally sometimes (that's not our experience though)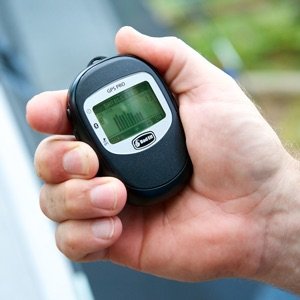 Buying Guide & FAQ – Bad Elf GPS Pro Review
How Do You Use The Bad Elf GPS?
Following the instructions in the supplied user manual is very-very easy. You can set up your device in no time.
On the left side of the device, there are 3 buttons. You'll be able to execute different tasks using those buttons. Overall, this is very easy to use and comes with a user-friendly interface.
What Is 'Bad Elf'?
Bad Elf is an USA based company that designs, manufactures, and supplies both software and hardware related to Aviation, GIS, Marine, Mapping, etc. industries.
They are known worldwide for their various GPS devices. This company has been supplying advanced external GPS solutions at an affordable price range for a long time.
How Do I Make My iPad GPS More Accurate?
You might have already known that not all of the Apple iPad models come with built-in GPS. Even if it comes, you might need to turn on the location service in the wireless settings menu of the Apple/iOS device.
However, if your Apple devices like iPad, iPod touch, iPad mini, etc. don't have a built-in GPS, you can use an external GPS device.
That way you'll be able to make the GPS more accurate of your iPod touch, or any other iOS device. For that, you can get the GPS Pro Bad Elf device.
Can iPhone Share GPS With iPad?
There are some models of iOS device like the iPad (not all models) that don't come with built-in GPS. So, you might want to know whether it is possible to share the GPS information of your iPhone with the iPad.
Interestingly, there are several apps in the App Store that'll help you do that. But, for the best result, we'll recommend you use an external GPS receiver device like the Bad Elf Pro.
Find out if this clever device should be part of your Overland Essentials Bag here.
Bad Elf 2200 GPS Pro (Black/Silver)
Connect up to 5 devices at a time via Bluetooth technology. Now also compatible with the iPhone 5, new iPad, iPad mini, and iPod touch 5th generation.
Large LCD screen with backlight for night operation
Standalone GPS datalogger stores 100+ hours of tracking data
Extra-long battery life and 10Hz reporting rate
Rugged and splash-proof to IPX4 standards