Typically, overland trips could be weeks, months, and even years long. Especially if you consider yourself a #vanlifer.
DOWNLOAD THIS POST IN A FREE PDF E-BOOK FORMAT
Enter your email below to sign up to our newsletter and to download a 45-pages long e-book with all the tips and the infographic included in this article.
Let's not get into the debate of overlanding vs. vanlife in this post. Our focus now is how can you prolong either of them by financing your trip on the go.
You might be wondering how some overlanders make money while travelling all over the world. The good news is that there are several ways how you can finance your extended travels.
In fact, there are a bunch of overlanders and vanlifers who got it figured out already.
However, many people don't have a good idea about how to make enough money while overlanding. For those of you, we've put this list together.
Here we will give you realistic, legitimate, and proven ways to make money while overlanding.
Both Evelin and myself have done and keep doing overland trips months at a time, while we keep working and keep making money.
From the suggested list below, we personally have experience ourselves in several of them.
Regarding the rest of the options, we have close friends who make a living doing exactly what we described below.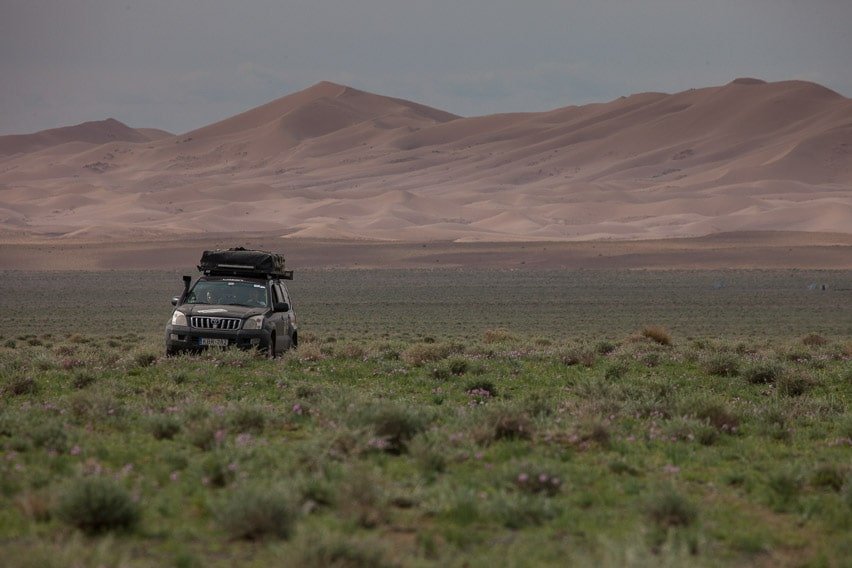 How to Finance Your Long Overland Trips
1. Use Your Savings
Yes, this might seem like a straightforward idea. And it's not actually making money on the road, but for a complete list, we wanted to include it.
It's not a great idea if you don't have millions in savings as the goal is to finance your trips and not to go bankrupt at the same time.
From our experience, this is what most people do.
There are plenty of overlanders that live on their savings while traveling all over the world.
But if you're reading this post, you might be looking for a better solution than travelling on your Rain Days Fund.
Next up, there are various overlanders who got sponsorship from many brands and companies.
Many aspiring overlanders tend to think that it's very easy to get sponsorship. However, we can tell you that it's not the case at all. Yes, if you try hard enough, you might get partial sponsorship.
But you need to know that this will not be enough for paying for all of your expenses.
Even then, finding a partial sponsor for your trip would be extremely difficult. Instead, you might find some companies that offer you overlanding gear or spare parts for your vehicle.
Check out this free offer to find out more:
This might be a good addition to your trip but won't cover any expenses at all. Another thing to note, if you are a new overlander, it will be hard to amuse most of the sponsors.
We do have some sponsors and are extremely grateful to them.
When we started to look for companies who may be willing to offer us some gear in return for a bit of exposure on our social media and on our website, our main goal was to lessen the burden on our wallet during the process of equipping our rig for our trips.
If you think you'd like to give finding sponsors a go, here is a step-by-step guide on how you can do it: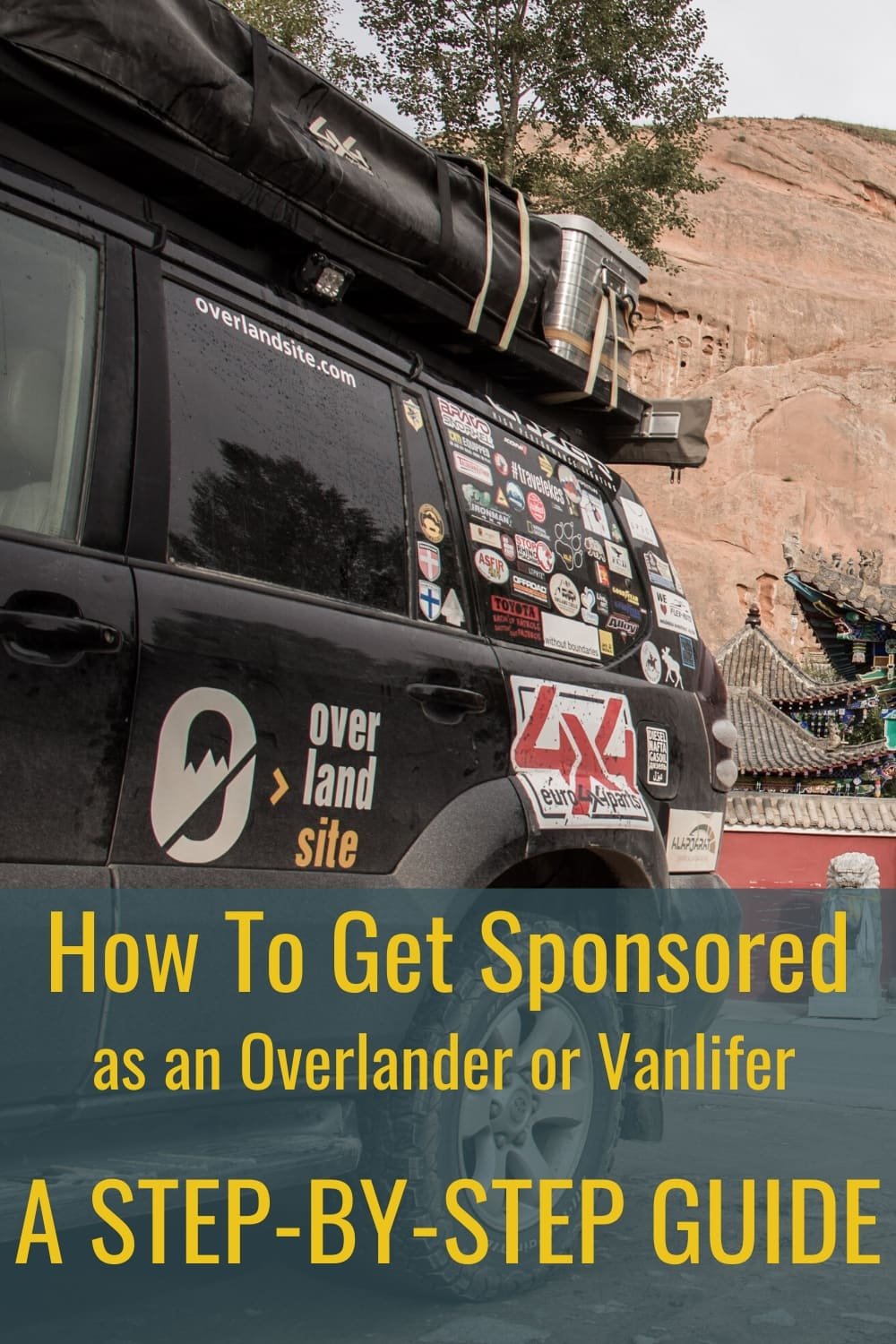 Pin it to your board on Pinterest
Step #1. Build your profile on social media
The main channels for the travel niche are Instagram and Facebook. Create a great name and start posting.
Regularity helps a lot, but the most important aspect of it is quality. Your posts either need to be very informative or beautiful or both.
Don't worry about not getting 3-million followers immediately.
This is not what you're aiming for first.
All you need is a few thousand engaging followers and an active account.
Forget the sketchy sites selling followers. Those are all just bots and a sponsor will notice an account full of fake followers from miles away!
Build it organically over time. You need to be patient.
We currently have around 11,000 followers and it keeps growing nicely. When we started to look for sponsors we had less than half as many.
Potential sponsors need to see that you have an audience who they can show their brand and products to.
Step #2. Create a blog
It's hard work. Creating a blog and write regularly is hard work.
But if you keep posting on your website and include great pictures from your trips, your audience will grow and you'll have another platform that you can present to your potential sponsors.
Try to find an informative and fun angle for your blog. Nobody is interested in what you had for breakfast. Unless you managed to get cereal brand to sponsor you.
Step #3. List all the potential sponsors
Your sponsors should be relevant and somewhat local — meaning that if you're an overlander, you should look for local manufacturers of overlanding and 4×4 gear.
You can extend your attentional to all kinds of camping and outdoors gear manufacturers.
You can then list all the spare part brands, tire manufacturers, and whatever else you think you will need in your van or truck. Are you driving a 4-wheel-drive vehicle? A winch manufacturer can easily become your sponsor.
A good way to do this is to look up the websites of trade shows in your relevant niche and find the exhibitors' list. Most of those exhibitors can be your potential sponsors.
Also think about any other hobbies that you have and you do while travelling. These can be anything from rock climbing, paragliding, mountain biking, etc. Manufacturers of gear for these hobbies can also be potential sponsors. Widen the net by approaching any brands with supporting products, such as best bike rack brands for example.
Step #4. Find their contact details
You should have several hundreds of brands and manufacturers on your list of potential sponsors.
Now it's time to find out if you can actually get in touch with them.
You need to find their email address.
You can do it totally manually, by looking up their website and ideally find a relevant person's email address.
A relevant person, in this case, would be someone in the marketing or sales department, but for smaller firms with no marketing team you can note down the owner's email address.
A quicker way would be to use Hunter, which is a little tool installed in your internet browser and it helps you finding email addresses with a click of a button.
Step #5. Reach out to potential sponsors
It's a numbers game.
The more firms you contact, the higher the chance someone will see an advertising opportunity with you and will sponsor you one way or another.
It's hard though. You will need to send out several hundreds of email just to get a handful of sponsors on board.
In 2018 we sent out 700 emails to potential sponsors. 10% of them replied, of which about 10% ended up sponsoring us.
That means about 630 never bothered to reply and for about 63 of the ones that replied eventually either we said no to, or most likely, they did.
Which is fine. You don't represent a huge amount of advertising value for them initially. But if you grow your travel hobby to an influencer type business, sponsors will approach you, rather than the other way round.
But when you start, you have to do the legwork.
All the emails you send out have to be personalised – not necessarily different but they need to be addressed to the right person by name and you also need to mention the company's name in your email.
You need to introduce yourself and get straight to the point why you got in touch with them. Describe what you have achieved so far on your social media profiles, and send them some examples of your blog posts.
After that you can mention what you can offer to them in return for the sponsorship. Go into specifics: number of posts, on what platform, etc.
If you can, it's always good to include some graphs showing statistics of your visitors' growth.
Step #6. Negotiate a deal
All you can offer is Instagram and Facebook posts and blog articles. Make sure you get the most out of it, once a sponsor shows some interest.
But don't be greedy because you're not really in a position to negotiate. Not yet.
However, if a firm wants you to completely wrap your vehicle with their logos and brand name and all they offer is a couple of camping stools, you can simply thank their offer and say no.
Once you agree on the details, make sure you keep your end of the deal. It's very important because you can build a long-lasting relationship with a brand, which can lead to much better sponsorship deals in the future.
With Nick, the sales director of Euro4x4Parts
With this method, we were able to get over $3,000 worth of sponsorship, mainly in overlanding gear. It didn't pay for a single mile of the trip, but it helped us saving money for fuel and other expenses.
But most of all it's a lot of fun to end up getting sponsored by a good brand.
Our sponsors were: Lazer Lamps, Euro4x4Parts, Kupilka, Buff Headwear, Redbull Spect Eyewear, Walkstool, Forestia, Qool, and we had a number of other offers that we turned down.
We are very grateful to them.
3. Do Seasonal Jobs
You may not be able to be picky in what kind of jobs you'll need to take on, but especially in the tourism industry, you can aim for seasonal jobs
Beach resorts if you're in Europe, summer camps and theme parks if you're in the USA. There are usually plenty of jobs in the tourism industry.
During winter you can look for jobs in ski resorts.
These are only examples. You can discover further opportunities: fast-food chains, logging, tree planting, fishing. The list is endless.
You don't need to work every season. You can just work for half a year and travel during the other half.
Because this is one of the best parts. You don't have to be committed to your employer for the full year, so you remain free to travel.
4. Sell or Rent Your Property
You might think that it's impractical to sell everything and set for the adventure of a lifetime.
But we've met overlanders who have done just that. Sold everything, bought a rig and off they went.
They got rid of the monthly bills they had to pay, all the responsibilities and burdens that come with owning a property.
The truth is, this advice mostly works if you're not saving up for your kids' education anymore.
You should be responsible. Don't just simply spend the whole value of the property on a single trip. Either invest the cash into a business (read about this later below) or buy a smaller property that you can rent out and can provide income in the future.
So, remember, this option has both pros and cons. The good thing is that you will have a hefty amount of money in your bank account. And, as you have sold all of your properties, you are free from any attachments.
But the bad side is that if you don't have any solid backup plans, it's a very risky step to take. In that sense, it will be very hard to get back to your previous lifestyle, if you decide to do so.
Alternatively, you can simply rent out your current home. That way, you can rest assured that you are earning some passive income to support your trips.
Long term, this could be the better option.
5. Work For Your Current Employer Remotely
Whether you can work remotely or not will depend on your profession. So, if your current job needs you to work at a given location or your company's systems don't allow remote work, then you are out of luck.
However, many overlanders are lucky enough to have a remote job so that they can work from anywhere in the world.
There are three criteria that have to exist at the same time for you to start working for your current employer remotely:
your job is possible to be done through just over the phone or on a laptop
you have to be good at what you're doing (so you have negotiating-power with your boss)
you have to have a great, understanding boss or client (of you're a freelancer)
If you achieve this, especially with flexible working hours, you'll be free to travel nearly as much as you want.
But if your boss is worried about the number of hours you'd actually be working, there are really good time tracking solutions out there these days. So that should not be a problem.
Originally I am a lawyer and I used to work for large investment firms. It may seem like a very traditional corporate-type job (and it was!) but I managed to agree on a deal with my boss that allowed me to work remotely from 2013-2018.
So basically I've been working online since 2013.
I eventually quit that position to endeavour to build online businesses.
That takes us to the most exciting part, I think.
Work Remotely, Work Online
Up until now, we have talked about various options that can help you supporting your overlanding trips.
But nowadays, you should know that there is a huge list of legit ways how you can start making money online as well.
You will just need a stable internet connection and a decent laptop, to begin with.
Your internet connection can simply be provided by a simcard in your cell-phone with a good data package. In most countries nowadays you can purchase a pay-as-you-go simcard at a very reasonable price.
Vanlifers are a bit more advanced in this regard than overlanders, perhaps because their vehicle is more suitable to be set up to double as a home office too.
Even though there are numerous ways to make money on the internet, that doesn't mean that it's easy or fast.
Also, not all of the options are suitable for everybody. What you can do and be willing to do will depend on your skills, experience and very importantly, your personality.
The below options will provide you with some ideas, but it's not an exhaustive list.
You will probably also need to invest in your online education a little bit, but nowadays, online courses made it really cheap to learn a new skill.
First of all, you will have to decide whether:
I. Work online for someone else
II. Set up your own online business
They can be vastly different and have different risk levels.
If you haven't made any money online before and you haven't got a huge amount of savings, I'd suggest you start with working online (rather than with a business).
If you decided on getting a job, you still have another decision to make:
Work as an employee remotely: this will be a bit different than the option I mentioned before (working for your current employer remotely) because you will apply for a new job that's already advertised as a remote position.
Work as a freelancer: in this case, you will have to build your client base and keep obtaining new clients through the online job portals and market places.
Both have advantages and disadvantages.
As an employee, you don't have as much freedom and your pay will probably be lower than freelancers doing the same job. On the other hand, you will have stability and a career path as well.
As a freelancer, it can be hard to find clients initially, but once you gain more experience, you keep your clients happy and build your own authority in your chosen profession, you can make a very good living, while maintaining complete freedom. Both in terms of time and location.
In either case, you don't have to commute, your boss or client may be hundreds of miles away and you can have an office view of your choice.
With respect to online businesses, you can either convert your already-existing business to an online one or build a new one from scratch.
Many times, you can go through a classic path of being a remote employee, then start working as a freelancer, after which you can build a business based on your experience and skills (and contacts) you picked up along the way.
Online businesses can be incredibly lucrative.
Now let's have a look at them one by one.
I. What Kind of Jobs Can You Do As a Remote Worker or Freelancer?
Work as a Virtual Assistant
A good option to start earning money online is to work as a virtual assistant or do other administrative jobs.
Virtual Assistants can work for businesses on the other side of the world and are vital parts of the operation of a business.
They can do anything from general internet research, data entry, calendar and email management to anything else you can imagine.
No qualifications or previous experience is required to start, making this a very good choice if you're just starting out in the world of remote working.
You can either do it as a freelancer or as an employee of a company. If you keep your clients or your boss happy, you will be able to make a very nice living, while being totally location independent.
Work in Online Customer Support
There are numerous different type of businesses that need to look after their current or potential future customers.
In addition to online companies, traditional "offline" companies also require customer support staff, therefore, you will not have a problem with the number of job opportunities out there.
Usually, customer support positions will be permanent, giving you long term prospects to gain experience and start earning money online.
There are fewer freelancing opportunities in this profession, since the companies looking for customer staff also want stability when it comes to dealing with their customers and clients.
You will be able to do your job through emails and live chat messaging, and over the phone sometimes.
Usually, you will be required to work at set hours each week, however, you'll be able to do your job from anywhere you want.
Be a Writer, Editor, Copywriter
There are millions of new articles and blog posts published on the internet on a daily basis.
Not only you could work for one of the online magazines, websites, blogs, e-commerce stores, but also for a traditional offline publication.
We personally know overlanders who work for major outdoors magazines who happily pay them for new articles and photos.
While they earn great money by writing about their trips, they also raise their own blog's brand and reputation, making the writing job even more beneficial.
We've also published several articles on other blogs and websites.
You can be totally location independent if you become a writer, but you will also be able to manage your own time completely.
As an online writer, you can specialise in many different directions. You don't have to be an award-winning novel author to be a successful writer online.
For example, you can specialise in blog writing, product descriptions, copywriting, etc. Ecommerce businesses need people to write product descriptions, which can be a very stable income for you on the road.
Copywriters need to combine a little bit of psychology, sales and writing, as they are creating a piece that should sell services or products.
Due to the revenue-generating aspect of a copywriting position, their job can be very well paid.
Most writers work on a freelancing basis, but that doesn't mean you cannot apply for permanent positions to be an in-house writer if you're looking for long term stability.
If you don't like writing per se, you can be an editor, checking, reviewing and approving other writer's work for online or offline publications.
Work as a Translator or Interpreter Online
If you already speak multiple languages, you start with a great advantage as your language skills can immediately be used online.
There is a different amount of demand for each language.
For languages where there is less demand, you can specialize in a certain area and be the authority in that: translate user manuals, cookbooks, board game rules, etc.
This tip also works well if there is a lot of competition.
With your language skills, you can also be an online interpreter, translating live between two business partners over a live conference call.
With language skills, you can work as a teacher, too – please see advice on that later below.
Work as an Online Project Manager
The job market for project management positions online is enormous. Even large, multinational companies employ countless project managers completely remotely.
But as opposed to large, years-long projects completed at traditional corporations, online projects can be very simple and quick.
That means you don't necessarily have to be certified or even qualified to start working as a project manager online.
Initially, you can take on something very simple and learn the profession on the job.
An online project can vary a lot, but as an example, you can be a project manager to manage a website's content plan for the next six months.
You'd be required to coordinate the work of writers, editors, photo editors and developers.
Another example would be to manage a migration project of an e-commerce store that decided to use a new webshop platform online, but the range of work has countless options.
Work as a Teacher Online
Whether we're talking about a regular subject taught in school, or it's a useful skill that people want to learn, both can be taught online.
Language teaching (especially English teaching) is one of the largest niches within the online or remote jobs world, but you can teach a very long list of other subjects as well.
There are parents who are looking for extra help, extra tuition for their children and if you are a school teacher already, you can find these tuition jobs online and conduct your lessons through video calls.
If you are very good at something, or you have a particular skill that people are interested in, you can start setting up your profile as a teacher, begin building your authority and earn money online as a teacher.
The subject can vary from photography, WordPress development, sign language, or anything else.
Most likely you will work as a freelancer, rather than a permanent employee.
If your mother tongue is English, your additional option would be to travel internationally and by travelling at a very slow pace, take on English teaching jobs on the way.
Due to lack of available English teacher and high demand at the same time, you don't need to be qualified at all. All you need is to be able to speak English at a native level.

Be a Personal or Business Coach Online
You can specialize to be a business or a personal coach. But first of all, you need to understand what a coach is and how a coach is helping people and businesses.
The main aspect of a coach's work is to agree on certain goals with the client. The client would like to achieve something in their personal or in their business life. (Your client can be a person or a whole team as well.)
The other main feature of your work as a coach would be that you'd keep your client on track by asking questions, rather than giving advice or suggestions.
In addition to helping businesses reach financial or other business goals, you can help people in their personal or professional lives: dating coach, health coach, but also very specific niches like a poker player coach.
You can obtain new clients on job portals focusing on online jobs and communicate with them through online video calls and messaging systems.
As with all of these positions, you can be location independent and you can do it part-time so that you don't have to necessarily quit what you do right now.
Work as a Business Consultant
Business consultants can help a business in many different departments and with various problems or goals.
If you have any experience in a particular area of a business or you have business skills, you can turn that into a business consultant job or freelance career.
You can help a company in one specific area (e.g. IT consultant, process consultant, business tax consultant, management consultant) or in a certain stage of a business set up process, such as opening a new subsidiary in a new market.
The latter is especially true if you can help international businesses entering the market in your local area, so you can help them by advising on local tax rules, company formation, best bank account to open, etc.
You don't have to obtain international clients, though. You can help small businesses operating in your field of expertise, with your suggestions and advise on how to resolve an issue or how to improve processes.
A typical example would be an IT business consultant, whom with previous IT experience can advise a business on what kind of systems to implement, how to implement them and at what costs.
Business plan writing, tax planning can be other niches that you can aim for when you're searching for online jobs.
Work With Technical or Creative Skills
If you already have skills or you want to learn new knowledge to work as a professional with technical or creative services — such as photo and video editors, developers, etc. — you will enter a job market with huge demand online.
All jobs that require the use of a picture or video editor software are nowadays done remotely and due to the large amount of content being produced online on a daily basis, the demand is already huge but still growing.
If you're a developer for example, you can change your current career and daily routine of commuting to an office every day, with working from home or working while on the road. No more traffic jams on a Monday morning.
The best thing about these professions is that the skills can be learned and the learning curve is very steep. You will learn very quickly.
You can specialize in a single software, deepen your knowledge in a particular tool and get a remote job or a freelance gig just by being really good at using a software.
Picture and video editors should learn how to use a software that is in high demand, at a professional level. These days it would be Adobe Premier Pro and Adobe Photoshop / Lightroom.
If you're aiming to be a designer, but don't think you have a creative mind, there are several methods of how you can train your brain, but furthermore, there are online tools that will help you along the way.

Work in Digital Marketing
The area of digital marketing comprised of numerous fields of expertise. You can either combine all these together or just specialize in one of them. The industry of digital marketing is incredibly large.
If you choose to be a digital marketer, either as a remote employee or a freelancer, your daily work can be very varied, due to the diverse aspect of this profession.
You can be an expert in search engine optimization, email marketing, influencer marketing, online advertising, content marketing, social media marketing, just to name a few areas.
The range of tasks is so wide that you can niche down even further than the above-mentioned list.
You can either work as a permanent employee at a company or at an agency that provides digital marketing services.
Of course, once you build your knowledge and experience, you can obtain clients yourself as a freelancer.
What To Do If You Are Highly Qualified?
If you're a highly qualified professional due to your studies and/or experience, the online world is still open for you.
If you are a doctor, lawyer, engineer, etc. you still have plenty of opportunities to work as a remote employee or as a freelancer. This means you'll be able to manage your own time and be location independent.
Some examples would be to work as a consultant and provide your expertise to websites, online magazines that produce content related to your qualifications. You can be a writer or editor at one of these companies.
Furthermore, you can change your career path completely, and do something completely different. Online businesses need smart people and you can pick up new knowledge and experience on the job.
With these examples, we are only scratching the surface. But to give you another example, as a lawyer you can obtain international clients online, or you can specialize in internet and copyright law.
The best part of being a freelancer online is that you can work whenever you want to and from almost anywhere in the world.
However, remember that if you are new to this, then it might be tough to get clients first. Also, there is a fierce competition on the online freelance marketplaces.
But the most important part is to actually start. You need to take action and start making money on the road.
II. What Kind of Businesses Can You Set Up Online?
Remote work and freelance opportunities are great, but as I mentioned earlier, it will depend on your personality, skills and experience what you can and will do online.
You may want to set up a business, rather than go work for someone else.
In that case you also have several different options to choose from.
All come with different responsibilities and different risks.
Services Agency
By setting up a services agency you will help your clients with solving a problem that they have with respect to their time, expertise or creativity.
This can be a demanding business, meaning you will have to attend a lot of meetings, although they would be online. You still need to be reachable and be able to answer queries quickly if you want to keep your clients happy.
On the other hand, this can be a very lucrative business model as some of the online agencies can achieve profits in the 6-7 -figures range.
Once you find your first client, they will be recommending you to other clients too, so if you're good, you won't even need to advertise. You'll be obtaining new clients by word of mouth.
You'll have fixed costs that you need to cover, regardless of your revenue, since you'll be employing staff to complete client's projects.
However, compared to brick & mortar businesses, you won't need to rent office space, won't need to buy desks and chairs etc, so you'll save a lot at this end.
You can set up a marketing agency, PR agency, WordPress development agency, design agency just to name a few.
Dropshipping Business
Dropshipping is an ecommerce business model where you sell physical products but you only act as a middle man.
Once you find a product range you want to sell, along with a supplier, you can set up your dropshipping operations.
Through your online store you'll sell your products, for which you will receive the money from the end customer and only then you'd purchase it from your supplier.
The supplier will then send the product directly to the customer.
This is totally legit and there are really large businesses that operate this way.
You can start with a small operation and still achieve a monthly income that pays for your travels and more.
The key here is that you won't own an inventory, so there is no need to invest any capital in buying stock and storing it in your garage. You can manage the whole process completely online.
Affiliate Marketing Business
There are a few ways how you can do this, but basically, with affiliate marketing, you're helping other people or businesses selling their products and you earn commissions while doing it.
There are several different channels where you can promote products and the products can either be digital assets or physical goods.
You will need to be a good salesperson to generate income with affiliate marketing, but there are a lot of tools that could help you along the way.
Your channels to promote products can be paid advertising, YouTube channels, websites. For example, you can set up a YouTube channel reviewing products you already own and direct viewers to the relevant e-commerce store to purchase them.
You will need to be a participant of the affiliate programme of that given e-commerce store, but those are usually easy to join.
Via paid advertising, naturally, you will need to make sure that your advertising costs are lower than your revenue from affiliate commissions.
Some websites with large amounts of organic traffic (i.e. traffic via organic search through Google) can generate great monthly income for their owners.
The process works like this— you will promote a product on your site using a link dedicated to you as an affiliate partner.
When visitors on your site end up buying that product within a certain period of time at the ecommerce store where you directed them, you will get a percentage of the sale.
Now, this is great because there are thousands of products you can recommend. Also, there are various sites that offer 'Affiliate Programs' like Amazon, eBay, Clickbank, Rakuten, Walmart, and more.
Here are some more details on different types of affiliate marketing:
Affiliate Marketing Through Amazon
Undoubtedly, Amazon is one of the largest online marketplace in the world. Thus, it's very easy to find almost any products there to recommend on your site. Also, Amazon as a brand, is very well known and trusted.
So, whenever you recommend products from Amazon, people won't hesitate to buy them. If you want to do affiliate marketing, Amazon is a good place to start.
Other Affiliate Programs
There are some other affiliate programs that are different from the ones offered directly by online marketplaces like Amazon.
Some of the most notable ones are Clickbank, Skimlinks, Share-A-Sale, etc. The number one difference between these sites and Amazon is that they offer a very high affiliate commission.
Also, some of these sites have digital products to recommend including online courses, eBooks, software, etc.
Digital Products' Affiliation
If you own a website dedicated to technology, you can recommend digital products on your site.
Some of the most popular digital products to recommend are software, website hosting/domain, website theme, website plugins, subscriptions on various software, or even online courses.
Become An Affiliate Directly With A Company
Nowadays, every company has an online presence. Quite a few of them also have their own affiliate programs. So, if you want to earn affiliate commission by recommending a product from that company, you can join their affiliate programs directly.
The original company usually offers a higher rate of affiliate commission compared to any marketplaces.
Interestingly, some of these websites don't even require you to have a website to do affiliate marketing. You can even share the specialized affiliate links of the products via email, instant messaging, and social media sites.
But to be honest, affiliate marketing online is hard work. You would have to put a lot of effort to make money from this. Without a great number of visitors, you will not be able to make a good amount of money.
Plus, you should keep in mind that running a website also takes time, money, and hard work. On top of this, you need to be a little bit tech-savvy.
Otherwise, you might have to depend on others to research, plan, and even manage your site.

Info Products Business
Info products are digital products that contain useful or entertaining information for the reader or viewer.
Typically these would be ebooks or online courses. You need to be an expert in order to be able to build authority in a niche so that you can successfully market an info-product.
There are online courses today about literally everything, which shows that there is a high demand for online learning. Producing an online course can be overwhelming though, but if you hire the right person to help you, it could be quite lucrative.
There is a misconception though that you can make money from just writing a simple ebook. Ebooks are great to engage with your audience and to grow your authority, however, it won't pay for your travels.
If you're thinking of making money from info products, try to learn about online courses, that can either be a video course or in a readable, text format.
Branded E-commerce Store
As opposed to the dropshipping model, when you build you own an e-commerce store, you will own your inventory and, typically, you will need to invest some capital.
You will either need to invent a new product, or improve an existing one, although white-labelling is also a solution.
Running an e-commerce store is usually a larger operation than other business models in our list, however, some e-commerce businesses make millions.
This model requires hard work and experience to be successful.
In order to make sure you've not stuck at home packaging the products you sold, you can look for a third-party fulfillment service that will store your products and send them out to your customers. That way you can manage the whole process from your laptop.
Amazon FBA
Another form of the e-commerce industry is Amazon FBA: Fulfilment By Amazon.
Basically you will own your stock that will be stored at Amazon's warehouses.
By doing this, you will be allowed to set up your own listing on Amazon, and once you start selling, Amazon will take care of the whole process of order management, shipping it and managing returns.
All you have to do is to make sure your listing has great pictures and great copy (basically the description of your product) and once your inventory gets lower, you order more from your supplier.
The downside is that Amazon will charge you storage and fulfilment fees, but the huge upside is that you can do it literally from anywhere, anytime.
This business model gives you a huge amount of freedom.
You should aim to sell an evergreen product (not something seasonal, nor fashionable).

Selling Your Own Products on Etsy
Etsy could be a great option if you have any handmade or creative products to sell.
Etsy is an online marketplace for buying and selling unique items. As a seller, you can open an account on Etsy, and you can start selling right away.
You can look around the website to get ideas, what kind of products you could also make.
Influencer
You can become an influencer in a chosen niche and treat it as a business. You can strike a lucrative sponsorship deal, but in order to do that you will have to do a lot of hard work and self promotion upfront.
As an overlander or vanlifer, you face a lot of competition, because these niches were born to be on social media, but you can choose a sub niche, such as survival skills, DIY jobs, mechanical skills or something similar, where you can produce content regularly and hope that your account will grow.
Of course, you can do a lot more than just hope for the best.
You need to make sure your content is top quality, first of all, but you will also need to reach out to other influencers in the niche to start building relationships and help each other.
Your goal is to build a follower base. That's a very hard job to do, so I'd suggest you only consider this as an option if you are already close to be an influencer.
Most importantly, you need to think of the influencer option as a business if you want to make money.

Monetize a Website
There are numerous ways to monetize a website.
But here I only mean content sites, where the purpose of the website is to provide information by publishing content on a regular basis.
There are two main ways to monetize the traffic on your site:
through affiliate commissions (see affiliate business above) or
through display advertisements.
You can use both at the same time.
Using ads to monetize the site is one of the simplest ways. There are many ad networks like Google AdSense, InfoLinks, and Media.net that you can use for this purpose.
The issue with this approach is that your website should have loads of visitors to make a decent amount of money. And, it's not that easy to bring traffic to a brand new website.
Both making money through ads and affiliate marketing require you to produce high-quality content with up to date information that ranks well on Google.
To achieve this, you will need to learn about SEO (Search Engine Optimization), online marketing and keyword research.
To scale and speed up the content creation you may need to manage a team of writers, editors and content uploaders.
It can get very complex, however, if you do it right, it can provide a nice, nearly passive income that doesn't require you to be online all the time.

Build a YouTube Channel
For overlanders and vanlifers, YouTube can be a great platform to showcase their journey. At the same time, you can also earn some money from YouTube, but the work involved is often underestimated.
There are a few overlanders who are monetizing their channels successfully. In this case, you need to have some camera skills to record your daily life but you also need to be a decent editor.
Good quality content and regularity are key.
However, remember that it's not that easy to get traction on YouTube. Other than competing with a lot of great content on the platform already, you can face technical issues such as lacking enough bandwidth to upload your videos.
If you're willing to make an effort, once your channel gets traction, it's a great and fun way to make money online.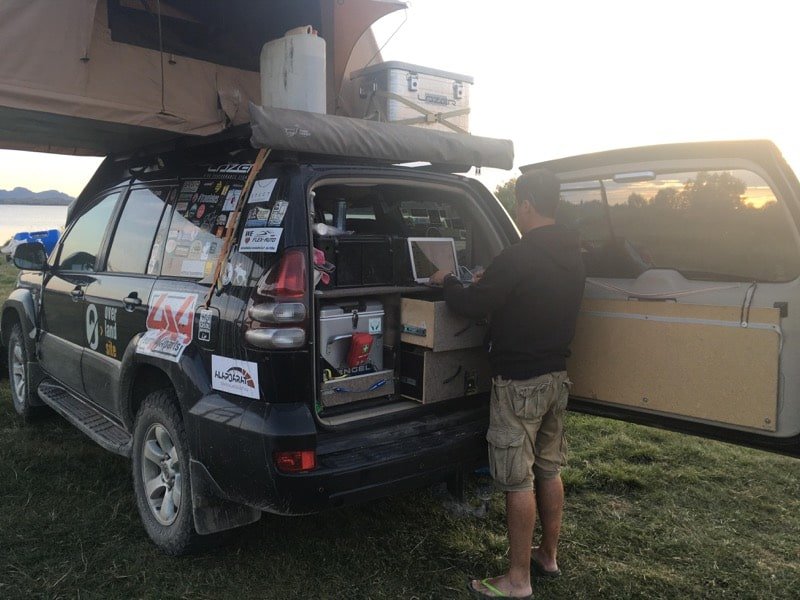 Additional Tips
All the options we have mentioned above are totally doable while living on the road. However, you have to bear in mind that it will not be effortless.
And, it will take even more time and effort if you are just starting. As a result, in our opinion, the best approach would be:
If you're on the road: look at online jobs and freelance opportunities, rather than try to build a business from scratch
If you're aiming to set up a new business: either do it before you set off to do the Pan-American Highway, or travel in a way that you can stop for weeks at a time.
To get a business off the ground it's vital to focus and put loads of effort in.
Once it's profitable, you'll have more flexibility to travel, especially if you hire the right staff and outsource the day-to-day operations.
However, that doesn't mean that you can't both start and manage an online business while overlanding or living the vanlife already. It's very much doable.
The problem with this approach is that it will take longer to finish your project.
To go around that issue, there is another solution. You can invest into an online business that's already running.
Nowadays, online businesses are bought and sold like any other traditional businesses. They are quite liquid too.
Brokers and marketplaces saw a huge growth in the volume of their business during the last few years.
Some brokers you can check out:
Lastly, you should not rely on just one income source. Diversify as much as you can, but keep your focus at the same time.
How can you do that?
Rent out your house in addition to starting a business or a freelancing career. If you're travelling with your spouse, focus on two different business models or careers. That way you have more chances to be successful in covering your travel expenses and more.
Closing Thoughts — How To Make Money While Overlanding or Vanlife-ing?
Above, we've shared many ways you can earn money while overlanding or living the vanlife. You might be doubting whether these work or not.
But we can tell you that all of these are legitimate ways to earn money while you are travelling. You will be able to buy all the gear you'll need for your trips as well as actually pay for the fuel.
Nowadays, online jobs and businesses are becoming mainstream.
And, some of these options can make you some serious money and can turn into streams of passive incomes for you.
Still, keep in mind that there are no shortcuts to making money whether you work online or offline.
You have to put in the effort.
Please let us know what do you think in the comments below and please share our infographic: