If you were trying to find coolers like YETI, you have probably come across ORCA, a great often overlooked brand in the expanding coolers market. Orca is one of the leading Yeti competitors when it comes to coolers. Now, if you are trying to choose between ORCA vs YETI coolers, it won't be easy to decide. However, as we are comparing them side-to-side in this article, we will help you make up your mind.
From the YETI Tundra Series, the YETI 35, 45, and 65 are the three most sought-after models. Based on buyers' satisfaction, these are some truly excellent choices.
As you are considering an alternative to YETI, in the below review we are lining up the equivalent sizes from the coolers manufactured by ORCA.
ORCA's 26, 40 & 58-quart models have received numerous positive reviews from the users. It can be the ideal model you can purchase if you are looking for coolers that offer similar features in comparison to the YETI Tundra Series.
Quick Comparison – Orca vs YETI
Still great, and it's cheaper
Lighter, but still larger
Still great, and it's cheaper
Lighter, but still larger
Which is better ORCA or YETI?
Orca coolers are a better investment than Yeti coolers. If you compare Orca to Yeti, you will find that Orca's coolers are affordable but still offer better ice retention. They are made in the USA with a bigger variety of colors and designs and have a lifetime warranty.
This article will feature the comparison of some of the best models of two great cooler brands- ORCA versus YETI.
Please read more details on YETI coolers HERE, but now we are going to see How Do ORCA Coolers Compare?
ORCA vs YETI Comparison
Features of the ORCA Coolers:
Rotomolded construction and integrated insulation
Cargo net attachment
Easy flow drainage spout
Extendable flex-grip handles
Lid gasket
Features of the YETI Coolers:
Fatwall design and Permafrost insulation for extra-long ice retention
Rotomolded construction for durability
Patented T-Rex Lid Latches also designed for durability
ColdLock freezer-quality gasket between the lid and the box
Easy drain system
Two types of grips: rope and firm handles
ORCA
YETI
Comparison of Available Sizes
More sizes to choose from means that you can easily select the right cooler for your kind of activity and the size of your group.
The Orca cooler lineup comes in different sizes which include 20, 26, 40, 58, 75, and 140-quart capacities. And these coolers are lightweight too, weighing 17, 19, 24, 32, 35, and 50 pounds, respectively.
The two smallest Orca coolers – the Orca 20QT cooler and Orca 26QT cooler are the go-to-size for many users and travelers.
An Orca 20QT cooler can carry about 16 cans of drinks, so it should be enough for short trips. Due to the popularity of the Orca 20QT coolers, many major brands including YETI also offer this size.
From 20QT, Orca branched out to more size options. The Orca 40 QT cooler and Orca 58 QT cooler are bestsellers among families or those who often go camping for several days.
If an Orca 58 cooler isn't enough for your family or group, you can also order a bigger cooler. The Orca 75QT cooler and Orca 140QT cooler are ideal for even bigger groups.
On the other hand, YETI's Tundra series is available in 35, 45, 65, 75, 105, 110, 125, 160, 210, 250 and 350 quarts.
Obviously, they offer more sizes, with their biggest that is more than double the size of the Orca 140QT cooler. If you are after a ginormous cooler, you know the brand to check.
As far as sizes are concerned, YETI is a sure winner. With YETI, you can get an extra huge cooler for any occasion.
Comparison of Dimensions, Weight and Capacity
In the size ranges we are currently looking at, YETI offers the 35, 45, and 65, quart models. As alternatives, ORCA's models are Orca 26, Orca 40, and Orca 58 quarts.
As you will see below, although ORCA's coolers in similar size categories are smaller, they are actually heavier.
YETI 35 vs ORCA 26
YETI 45 vs ORCA 40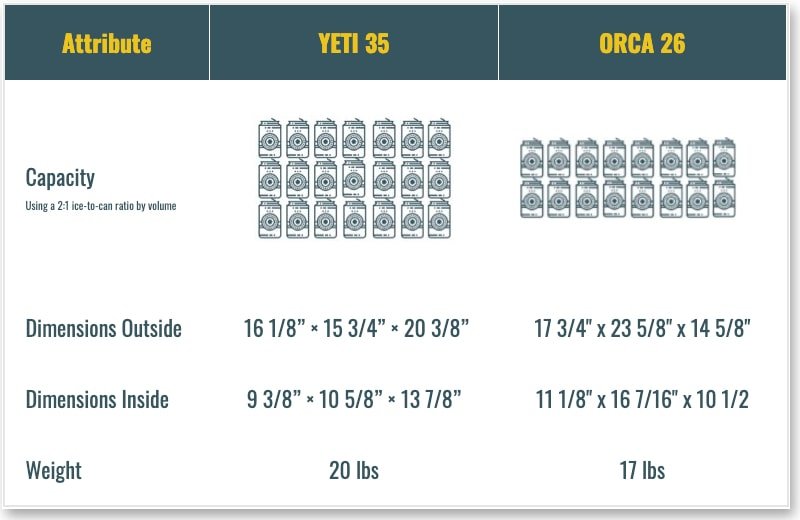 YETI 65 vs ORCA 58
ORCA
YETI
Comparison of Color Options
When choosing a cooler, even the color matters. After all, some people have color preferences that reflect their personality.
Orca seems to have a larger selection of colors for their coolers. The available colors include pink, tan, green, white, orange, dark maroon, purple, crimson, blue and bright green, among others.
They even offer a good selection of color patterns. For some sizes, you can also customize to have your team's color, logo or print.
YETI, on the other hand, has fewer color choices, namely: white, charcoal, ice blue and desert tan.
If you have a special preference for a particular color, it's considering getting a cooler Orca. With their wide array of color options, it can be exciting to choose one color that matches your personality.
Comparison of Ice Retention Time
If you want to invest in a heavy-duty cooler, one of the most important factors you need to consider is its ability to keep ice for a long period of time.
Based on reviews and feedback from its customers, on average, YETI coolers can keep ice for up to 7 days. This is on par with other top-of-the-line brands.
As for Orca, the average ice retention time is about 7 to 8 days.
It's important to remember that ice retention time is affected by many factors including the contents, outside temperature and frequency of lid opening among others. Even if a particular brand claims to have an ice retention time of 7 or 10 days, you need to take that with a grain of salt.
If you want to know who wins between Orca vs YETI when it comes to ice retention time, based on reviews and various tests, we can say that these two brands are in a close match. A YETI cooler can keep ice as long as an Orca cooler.
Comparison of Insulation
Insulation plays a vital role in ice retention time.
If you will compare Orca coolers vs YETI coolers, the former boast of having a thick shell and lid of about 3 inches. Yeti coolers on the other hand have a 2-inch shell and a 3-inch lid. The extra inch Orca shell explains why Orca coolers have a longer ice retention time vs Yeti.
However, since Orca's shell is much thicker, this equates to extra weight. For instance, Orca's 20QT weighs 18 pounds while YETI's 20 QT weighs 2 pounds less.
If you think that extra ice retention time matters more than the weight, then you can go with Orca.
Moreover, when it comes to insulation, we can't underestimate the role of the cooler gasket around the lid. This part ensures a good seal so that no air or liquid gets out. A reliable gasket improves insulation.
If you look closer at Orca coolers vs YETI coolers, you'll find that YETI uses a more durable and reliable commercial-grade rubber gasket around the lid and around the drain, preventing leaking. These rubber gaskets help extend the ice retention time.
---
Other cooler guides you may be interested in:
---
Comparison of Design and Extra Features
If you look at YETI vs Orca coolers, you'd appreciate their cool and ergonomic designs. They also share many similar features that we think are useful for your overall experience.
One of the similar features of YETI vs Orca coolers is the drain spout. A drain spout is a useful feature as it makes cleaning and draining of water from the cooler much easier. Without the drain spout, it can be difficult to remove the melted ice without removing the contents.
Another feature that these two brands of coolers have is their non-slip feet. This feature helps prevent skidding especially while transporting the cooler. It also helps keep your cooler right where you place it.
Both YETI and Orca coolers also have thick and reliable lid gaskets. They also use extra-durable interlocking hinges that secure the lid.
However, there are several features that are unique in a particular brand.
YETI coolers have useful accessories such as bottle openers and beverage holders because why not! They know that many people will use their coolers for storing drinks so they have the initiative to add these two features.
Not only that, but every YETI cooler also has a cutting board divider and a rod holder. These extra features may seem insignificant but once you are in the great outdoors, you'll surely appreciate them.
On the other hand, Orca coolers have also unique extra features, and one of them is the mesh cargo pouch located on the back of the cooler. You can use this pouch for storing your small essentials.
While YETI coolers don't have a mesh pouch, they come with a basket inside. The basket is a good place for storing contents that should remain dry such as sandwiches. This is a great feature as it allows you to carry dry and wet goods in your cooler.
Comparison of Toughness
Both YETI and Orca are premium brands of coolers so you can expect their quality to be above average. In fact, nothing can be said against the quality of these coolers.
Many customers have shared their positive feedback pertaining to the strength and durability of both brands.
Having said that, YETI can confidently say that their coolers are really tough. As proof, they have their coolers undergo a bear-proof test.
True enough, they received the IGBC (Interagency Grizzly Bear Committee) certification, proving that they have bear-proof or bear-resistant YETI coolers.
The same is true for ORCA coolers. They also have their IGBC certification which attests to the overall quality of their product.
However, as per the IGBC website, YETI and Orca coolers need bolts or padlocks to be bear-resistant.
Comparison of Warranty
If you are buying a cooler, choose the one with a longer and more comprehensive warranty. The warranty somewhat reflects the confidence of the manufacturer with their products.
If they know that their product will last long with minimal quality issues, then they are willing to offer a long warranty period.
While YETI and Orca coolers come with warranty, the two brands greatly differ in this aspect.
YETI Tundra coolers are backed by a five-year limited warranty that covers the structure of the cooler. Generally, the warranty does not cover the non-slip feet and the T-rex latches.
Since these parts are among the most vulnerable to damage and wear, you will need to buy new replacement parts in case they get damaged.
Moreover, YETI's warranty will also not cover third-party modifications, replacement parts and repairs. This part of the warranty is typical for most coolers we have seen.
The 5 year warranty of YETI seems to be of no match to the lifetime warranty offered by Orca. Every Orca cooler has a lifetime warranty that covers everything from the main shell to the lid, rubber latches, rope handles and even the non-slip feet. It is rare to find this comprehensive warranty in the market today.
It's worth mentioning that while YETI don't offer a lifetime warranty period, every YETI cooler comes with a 30-day satisfaction guarantee period.
So in case you are not satisfied with your YETI cooler, you can return it and get your money back. They also have a 60-day exchange policy in case you want to change the size or the color of your cooler.
Having a lifetime warranty can somewhat give you peace of mind. So if you will compare YETI vs Orca in terms of their warranty period, it's very obvious who wins between these two brands.
Comparison of Price
If you are looking for a hard-shell heavy-duty cooler, you should be ready to spend around $150 or more for a 20QT capacity icebox. That is depending on the brand you prefer.
YETI coolers have a reputation of being on the expensive side. However, if you look more closely at its features and overall construction and performance, many customers are happy to pay the price just to get a YETI. Many customers are driven by YETI's reputation as one of the best brands of coolers available.
Orcas, on the other hand, are more affordable and come with great features too.
When it comes to the price of Orca coolers vs YETI, Orca coolers win.
If your budget is limited, consider getting an Orca cooler.
What Previous Buyers Said
YETI
YETI has built a great reputation over the years. The thick walls, removable basket, heavy-duty latches and carry handles were the favourite specs mentioned by previous buyers.
One of the downsides some users have pointed out is its weight, however, as you saw the comparison tables above, they are actually lighter than ORCA's smaller coolers.
Additional extra
The overall theme of the reviews of YETI Tundra coolers is overwhelmingly positive. The relatively few numbers of unsatisfied users who left negative reviews were usually complaining about shorter-than-expected ice retention and on one occasion, leaking drain spouts.
Many users also expressed their satisfaction with YETI's ease of use. You can quickly open the lid with one hand and it will stay open unless you push it close. This is a good feature that allows for convenience especially when you are holding multiple things and you just want the lid to stay open.
Moreover, we've also read a number of feedback about how they appreciated the two sets of handles in their YETI cooler. One set is underneath the lid and the other is in the form of a rope handle. These make the camping cooler easier to carry.
Overall, we saw many buyers giving 4 to 5-star reviews for their YETI coolers. They are happy with the sturdy design, extra features, and durability of the YETI Tundra coolers.
ORCA
We know of many Orca cooler buyers who are happy with their purchase especially that the price is more affordable than many high-end cooler brands. Many of them also mentioned how they appreciated the different color options available.
However, there are some of ORCA's customers were not as happy as YETI's. First we also really liked the cargo net attachment, however, many users don't think it is actually useful.
Especially because it is attached to the back of the cooler, therefore, if you place it in a corner or on the side next to a wall or your vehicle, you will soon realise that whatever you put in the cargo net is now quite inaccessible.
There are some complaints about the cooler's build quality and the incompleteness of the gasket seal on some occasions.
There are also buyers who are really happy with the performance of their Orca coolers but gave only a 4 out of 5 star review because of the weight. We could agree with them as that extra thickness in the shell makes these coolers heavier than YETI's.
On the other hand, the majority of Orca users are very happy with their product, and that is also true for the ice retention capabilities and overall quality of the product.
ORCA
YETI
Conclusion – Orca vs YETI
YETI, as a brand, has established itself as a pioneer in cooler manufacturing. On the other hand, ORCA is a brand which is making a mark on the market through their quality products.
Both the brands offer great models of cooler for you to carry on your next camping or overlanding trip.
Being market competitors, they have ticked almost all the boxes when it comes to the features added to the products.
But if you have to compare YETI and ORCA products on the basis of quality and price, the answers would differ. YETI delivers coolers which are a bit better in quality as it has the bear-resistant body and heavy-duty latches.
However, ORCA has delivered a product that has almost similar features in comparison to YETI, but at a much better price.
We think though that out of the two, YETI is the overall winner, not only because of its better quality and design but also because it provides larger dimensions at the same time as being more portable due to its lighter weight.
Still, if you're not a fan of this brand for some reason, but you are looking for coolers like YETI, the ORCA is a great alternative.
ORCA
YETI
Please take a look at the Amazon listings for both the ORCA Coolers as well as the YETI Tundras to see the gallery and full specs for yourself.
Alternatively, you can read our detailed review of YETI 35 vs. 45 – Tundra Cooler Review.