For overlanders and outdoor enthusiasts alike, a good camping stove is a must-have item.
When we decided to equip our overland kitchen, we wanted to go for a quality brand. For multiple reasons we wanted a gas stove, as opposed to a petrol or multifule one, so the Primus Tupike Stove was an obvious choice.
Now, there are a ton of brands that offer stoves of various types for campers. Among them, Primus has made a name for themselves in the 'outdoor cooking' industry.
They have a wide range of cooking stoves, cookware, drinkware, and other campsite accessories in their collection.
But in this review post, we are going to review a couple of their most popular stoves for overlanders, backpackers, and campers. Besides, we will also talk about the legacy of the Primus brand.
About Primus as a Brand
You might be surprised to know that Primus has been on the scene of outdoor cooking for more than a century. The company was founded in 1892 about 128 years ago in Sweden.
They are still a Sweden based brand. They've become one of the best brands in manufacturing top-quality cooking gear for the outdoors all around the world.
Since the beginning, Primus was well-reputed because of their high-quality and reliable products. As a matter of fact, during the first ascent of Mount Everest back on 29 May 1953, Sir Edmund Hillary and Tenzing Norgay were using Primus gear on their expedition.
Similarly years ago, when the famous explorer Roald Amundsen reached the South Pole for the first time in history back on 14 December 1911, he was also accompanied by a Primus stove. As usual, many other outdoor enthusiasts and explorers have chosen Primus as a reliable brand.
At the same time, Primus has been on a mission to improve its products both in quality and convenience. In fact, they hand test each and every stove before shipping it from their factory. Primus designs its gear in Sweden.
They have their high-end production facility in Estonia. Thus some of their gear tend to be of a high price.
Their main goal is to offer a product that is so durable and reliable that it can serve from generation to generation. Primus doesn't settle on the average.
Additionally, Primus designs their gear in a way that is serviceable by the users. So, they also manufacture all types of replacement parts for their products.
Thus, even if there are any issues with any part of your Primus item, you will be able to replace it easily.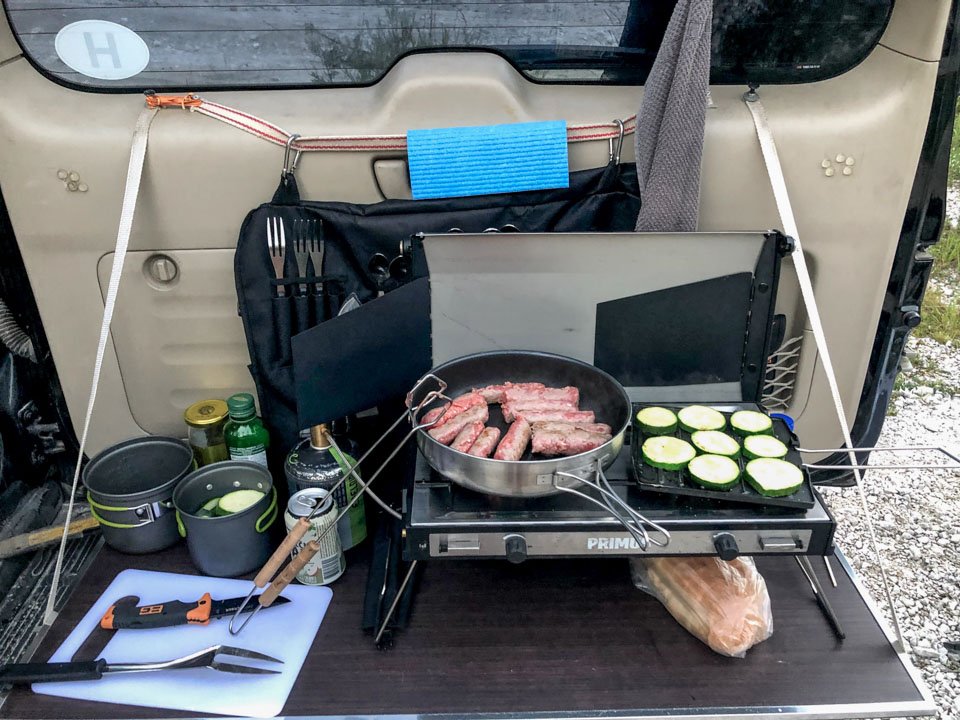 Types of Stoves by Size
In terms of size and construction, we can classify car camping stoves in a few categories. For instance, there are larger stoves with more than 2 burners, there are dual burner stoves, and single burner portable stoves available as well.
Typically, larger stoves will come with more than 2 burners. Because of that, you can easily feed up to 10 people with this type of stoves. However, they are not that portable and hence we do not recommend them for camping or overlanding.
On the other hand, a double burner portable stove can be a great option for overlanders. It's just the right size. You can cook breakfast while the morning espresso is brewing on the other burner. You can grill sausages while boiling some potatoes as well.
Typically, this type of stoves (definitely the Tupike one) will come with foldable legs, a foldable lid, and a carrying case for further convenience.
But when it comes to backpacking or hiking, you can get the single burner ones that are light and simply just tiny.
Yes, they are not the most feature-rich ones nor the most powerful. But they are more than sufficient for backpackers and small expeditions.
Interestingly, for overlanders, taking a smaller single burner canister stove along with a bigger one would be a handy idea. The little one burner stove will be useful for quick breaks, or for heating up ready-meals.
First thing first, we must admit that we have been using this particular Primus stove for years. We are really satisfied with the performance of this one.
It's full of premium features. For instance, this dual burner stove comes with built-in Piezo igniter technology.
Thus, you won't have to ignite the burners using lighters or matches. Another good feature of this is that it has separate ignition systems for each burner.
You can use the integrated valve control knobs to fine tune the flames on both burners separately. We love the built-in side and lid windscreens. Out there in windy conditions, we never had any issues using the stove because of the windscreens.
It is a gas-powered stove with large pot supports. Primus even supplies the hose and the connectors to connect it to different types of propane cylinders.
When it comes to build quality, you can rely on the Primus Tupike Stove. The external body of the stove is made of stainless steel. They use die-cast aluminum in manufacturing the side of the stove.
Plus, you will like the use of brass details and oak laths all over the stove. All of these construction materials ensure long-lasting durability.
Thus, carrying it with you won't impact the performance and quality of the stove. In fact, we have been using our one for a long time without a hitch.
The stove has an overall weight of about 9.5 lbs. or 4.3 kg. Similarly, the net dimension of the stove is 18.7 (L) x 11.6 (W) x 3.2 (H) inches.
Additionally, it comes with foldable legs and a foldable lid. Depending on the platform where you place the stove, you can decide whether to raise the cooking surface or just simply place the device on its belly.
For larger pots it's probably best not to fold out the legs, although we never had a feeling that the stove would be unstable on folded out legs.
It comes with a wood-trimmed handle and locking mechanism.
So, whenever you are not using it, or you want to carry it, you can fold it and lock it for convenient transportation.
In total, this stove has 10,200 BTU output and each of the burners can output up to 3000 watts. Also, the average boil time for boiling water on this stove is very low. It can boil water of 1 litre in under 4 minutes.
We've found that quite impressive!
In addition, Primus offers a griddle plate with a non-stick ceramic surface with this stove for free. This griddle comes in handy for grilling sausages, or cheese and it's an absolute joy to use and very easy to clean.
The big burner head offers stability even while you are using larger pots.
Overall, this is a high-end featureful stove that is well-built, portable, and easy to use.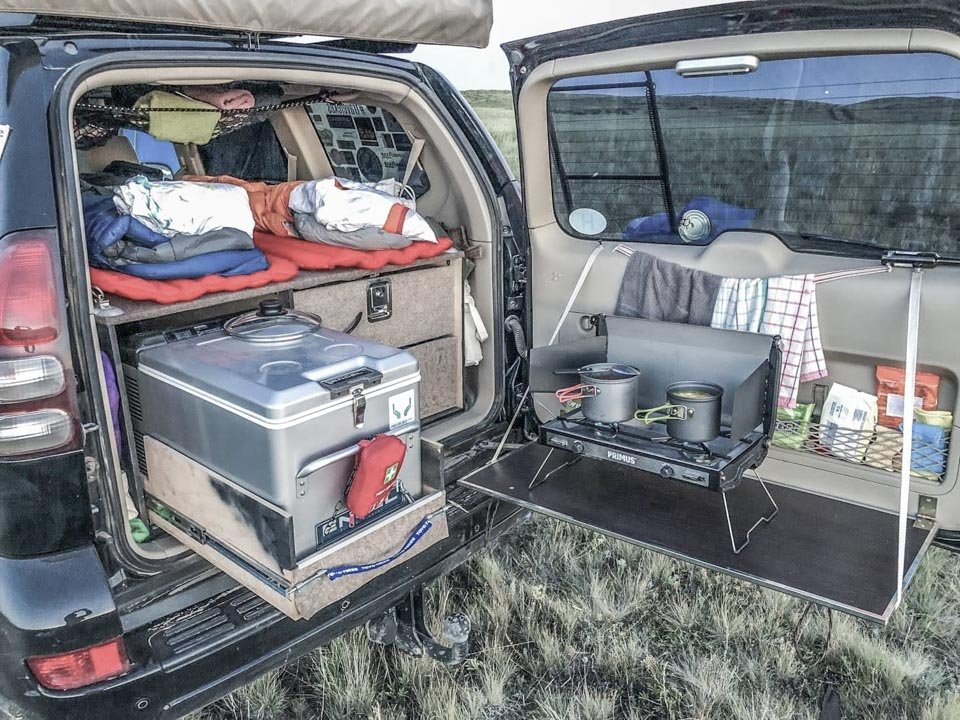 What Other Buyers Said?
Our opinion only counts as one so we have also researched hundreds of other customers' reviews online.
It is a very popular stove among many former buyers. Among them, we have been an active user of this stove from years ago, we can say that this is a top-notch stove for overlanders.
If you want to buy a big yet portable stove with a lot of features that will last ages, you should look no further. Most of the customer feedback related to this stove also mentioned good things about this one.
Pros:
Comes with a carrying handle
It has foldable legs
Comes with windscreens for wind resistance
Made with stainless steel and die-cast aluminum
Comes with Piezo igniter, no lighter needed for ignition
Comes with the griddle plate
Cons:
High price
You have to buy the storage bags separately
Heavy
The second Primus stove on our review is a different one. This is a very small and lightweight stove made specifically for backpackers.
Because of its design, size, and weight, it has become one of the most popular backpacking stoves out there. This is the Essential Trail Stove from Primus.
For your information, the stove has a weight of only 113.3g or 4 ounces. The size of the stove is 4.3 x 2.4 inches. It is a 1-burner stove.
But don't let the size of this stove fool you. In reality, it is a very high-end and feature-rich stove, that can get the job done. It is a sit-on-top stove with 3-point pot supports that is very easy to use.
This canister stove comes with a flame control valve system. As a result, you will be able to fine tune the flame and heat very precisely for the best cooking results with the valve control knob.
Primus has used 'Laminar Flow Burner' technology in these gas-powered canister stoves. That way it provided the stove a very low center of gravity, which translates to a very stable stove that is compact and lightweight.
Another great feature of this stove is it comes with a wind-blocking system.
That way the heat source and the flame will be steady and strong even on the windy days outdoors. These canister stoves can also support a variety of pot sizes without any issues with the generous pot supports. For boiling water, it is a great option.
This comes with a BTU of 8600. So, it is suitable if you want a on-burner with a short water boiling time. As a matter of fact, it needs about 4 minutes to boil 1 liter of water.
Unlike the average fuel canister stoves, you can easily disassemble this small stove into multiple parts within a minute. Then you can store it in a carrying bag that you will have to buy separately.
Despite being a little stove with very low weight, the heat source produces a wide flame so you can use larger pots too. Also, you'll like that it is a very ruggedly built backpacking stove.
So, it will offer extra stability and long-lasting service for ages to come. It could be a great addition to your backpacking gear. Also, if you are an overlander, this could be useful as a backup stove.
What Previous Buyers Said?
The past buyers of these small portable canister stoves stated that they are very impressed with the performance of this one. They've also liked that it has a great build quality.
Although, some customers complained about the bit of a high price tag. But others mentioned that for the features and convenience it offers, the price is justifiable.
Pros:
Small, low weight, portable, and durable
Comes with laminar flow burner technology
Precise flame control
Great wind resistance
Durable and user-friendly even for the new users
Cons:
A bit high price
There are smaller one-burner stoves on the market
Concluding Thoughts
Primus is undeniably one of the best —if not the best— brands in the outdoor cooking industry. Even though they have an array of cooking products for campers, we have chosen the Primus Tupike Stove for multiple reasons.
We can tell you that it has been accompanying us on our overlanding tours for a long time without any issues.
Similar to this, all of their other gear is also top-class. If you want long-lasting and durable stoves for campers, then you can get any of the Primus stoves.
They have a very large and versatile catalog, so there will be no difficulties finding a suitable one for you based on your requirements.