Have you ever taken a look – and we mean a very close look at your cutlery and dishware? What do you think the ecological impact of plastic and glass cutlery is?
They certainly can't be too good for the environment, can they? Enter Kupilka – the outdoor Scandinavian brand that will get you one step closer to Mother Nature.
What Does Kupilka Do?
Kupilka is an outdoor brand whose mission is to minimize the carbon footprint as much as possible.
Using materials that are recyclable, the people behind Kupilka believe nature should be respected when you are in its midst. It is also one of the first companies to use green electricity when fabricating its products.
Kupilka provides any piece of cutlery or dishware that you might need. You have cups, plates, knives – you have everything you might need to have a comfortable outdoor experience.
Most of their products are oriented towards survivalists and campers that do not want to use plastic throwaways but still wish to be comfortable.
The Materials They Use
Kupilka products are made out of composite – namely, the natural fiber kind – a material that encourages the use of renewable energy.
The composite also contains pine wood originating from certified Finland forests. They are manufactured using EKOenergy, ensuring that the carbon emission is as minimized as possible.
The products feature a wide operating temperature going from 30 degrees Celsius to 100 degrees Celsius – ensuring that the materials are resistant and that the products can be used for years at a time.
Just because they are made from composite, it does not mean that they are lacking durability.
They are as durable as they can get, and at the end of their lifespan, the products may be recycled, returned to the manufacturer so that they are reused, or incinerated for heat energy.
Regarding their durability, we can also attest that they took the beating of off-road tracks over 50-thousand miles very well, while we were using them nearly every day. In fact we're using them on a daily basis every time we go on a trip. The Kupilka 37 is just perfect for our usual oatmeals in the morning.
I managed to accidentally burn one of the Sporks a little, so it looks damaged, but that is of course totally my fault.
The packaging of Kupilka is also made from recycled cardboard, meaning that it may be burned or recycled after taking the products out.
The product also contains thermoplastic to a certain degree, but the carbon footprint that it leaves is minimal. Its production leaves a nonexistent carbon footprint, and as long as it is properly recycled, the ecological impact should be zero.
Kupilka's Range of Products – What Can You Choose
Kupilka provides a wide range of products, all of which may be bought for personal use or as a gift. The most popular options include:
Outdoor cups
Outdoor plates
Outdoor cutlery (spoons, knives, forks, sporks)
Outdoor bowls
Outdoor knives & FireSteels
Accessories
Kupilka allows you to buy these items separately, but if you wish, you might also buy them in sets.
For example, you might buy a bowl, a cup, and a Kupilka spork featuring the same design. This way, you will know that you have everything that you need for a proper outdoor experience.
Kupilka also offers gift ideas for those that are running out of things to give their loved ones. They are wrapped nicely, and the fact that they are quite attractive (some might say rustic) in their design makes them a nice gift choice for anyone.
Moreover, if you want to personalize a particular set, you can send them the logo and they will make the product just right for you and your loved one.
Popular Kupilka Products
Kupilka sells numerous products – but there are a few of them that are quite popular among buyers. These Kupilka products have interesting features that can make every camping trip a success.
These are also the products that we've been testing for more than two and a half years now.
Let's see what they are:
The Kupilka 37 is what many people get as their first Kupilka item. This cup can easily fit in anyone's hand, connecting them with nature and inspiring them to take in everything that is surrounding them.
Plus, the cup is spacious enough for a meal or even a drink – as I mentioned earlier, we're using it for our oatmeals in the morning.
Unlike traditional outdoor composite dishware, this cup may easily take on boiling water (freshly cooked hot soup, for example). It may also handle sub-zero temperatures going as low as -30 degrees Celsius, for those instances when you are adventuring through the Dalton Highway in Alaska.
Depending on your aesthetic preferences, you may purchase the Kupilka 37 in four different colors.
You may go for the original color that is typical of most Kupilka products, or you may go for the conifer, cranberry, or kelo color.
The Kupilka 37 can be washed outdoors by hand, or you may put it in the dishwasher at home. However, while these options are safe, you might not want to put it over a fire or in the microwave. This might compromise the longevity of your product.
Should you get a spoon when you go camping? What about a fork?
You don't want to take too many things with you – try to always travel light. So, what should it be: spoon or fork? Well, why not both?
This is why the Kupilka spork has been such a hit with outdoor enthusiasts – because it is both a spoon and a fork. It is the perfect option when you need to cut down the grams, but you don't want to sacrifice comfort.
Since you'll likely be carrying the rest of your camping gear with you as well, from your tent and sleeping bag to your clothes and survival kit, the last thing you may want is heavy cutlery. 
This tool may be safely dipped into boiling water – for example, if you are cooking something outdoor. Plus, the product is not only highly practical, but it is also quite attractive in terms of design.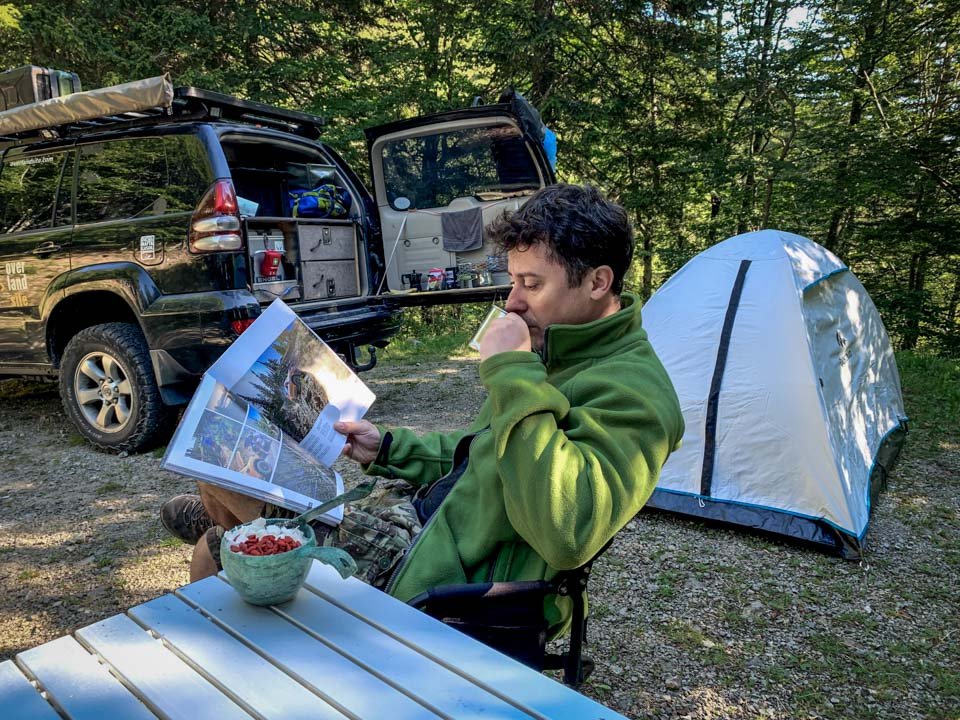 What Makes These Products Different?
At this point, you might ask yourself, what exactly makes Kupilka different in comparison to any outdoor brands?
One might argue that even traditional plastic or wooden outdoor eating gear can be recycled at the end of the day – so, why go all the way out to buy Kupilka items?
Well, while traditional eating gear can indeed be recycled, its manufacturing process generally leaves quite a significant carbon footprint.
On the other hand, Kupilka uses green energy to create its products. So, by the time the products go out into the world, they will have left no CO2 footprint whatsoever.
Unlike disposable plastic products, Kupilka ones are also reusable – and once they have reached the end of their lifespan, they can easily be recycled.
Using eco-friendly products could be one of the 17 Things You Can Change to Reduce Your Impact on the Environment While Overlanding.
How many times can you spot us using the Kupilka 37 in this video?
FAQ about Kupilka
The Kupilka outdoor brand brings a lot of comfort to every camper – that part cannot be denied. However, there are still a few questions that arise with every client buying a new Kupilka.
Are the products made by Kupilka biodegradable?
No, Kupilka products aren't biodegradable. Still, they are designed to have a long life – which means the carbon footprint will also be reduced.
Can I wash the Kupilka in my dishwasher?
Yes, all Kupilka products are dishwasher-safe in the event that you do not want to wash them by hand.
Can I boil water in my Kupilka dishwasher?
While Kupilka may indeed withstand temperatures up to 100 degrees Celsius when you simply pour the water in the cup, you shouldn't boil water in it directly.
Microwaves, open fires, and stoves may shorten these products' lifespan, or even damage them.
What should I do once my Kupilka reaches the end of its life span?
Once your Kupilka has lived out its life, you may incinerate it for heat energy, recycle it, or even return it to Kupilka so that it may be reused.
Bear in mind that each country may have different specifications, so you may want to carefully consider all of them.
Are the materials used sensitive to humidity?
No, the materials that Kupilka uses are not sensitive to humidity. This means that they will not be absorbing the taste or smell of what you are eating or drinking – keeping your food nice and fresh.
Do Kupilka products have expiry dates?
No, Kupilka products do not have expiring dates. They behave in the same way that indoor household items do – except for the fact that they are more durable and resistant to shock. This is why they are great to be taken outdoors, and they work brilliantly for overlanders.
The Bottom Line
If you are conscious about the environment, then the Kupilka products might be just right up your alley.
Made from natural fiber composite and their own recycled materials, the products under the Kupilka brand are friendly to the environment – taking part in the cycle of life.
However, besides all the environmental reasons, they are stylish and look and feel like wooden cups, but at the same time, they are light, durable and machine-washable.