When it comes to choosing the best soft cooler for your journey, whether it's short or long, a soft cooler can be a great option.
The best soft coolers are lightweight, durable, and easy to access, making them a viable alternative to traditional hard-sided coolers. They are perfect for those who don't need to carry a week's worth of food and drinks, and they can save you money as well.
With options ranging from burly waterproof designs to packable ones that collapse for easy storage, the best soft coolers offer a variety of features to suit your needs. If you're looking for more information, you can check out our detailed reviews with pros and cons, and buying advice below the picks.
And if you prioritize cooling capabilities and durability over portability, we also have a list of the best hard-sided coolers.
So, whether you're on a short trip or a long adventure, consider the best soft cooler that meets your requirements for ice retention, durability, and accessibility.
Quick Answer – Best Soft Cooler:
So, whether you're on a short trip or a long adventure, consider the best soft cooler that meets your requirements for ice retention, durability, and accessibility.
Best Soft Cooler – Reviews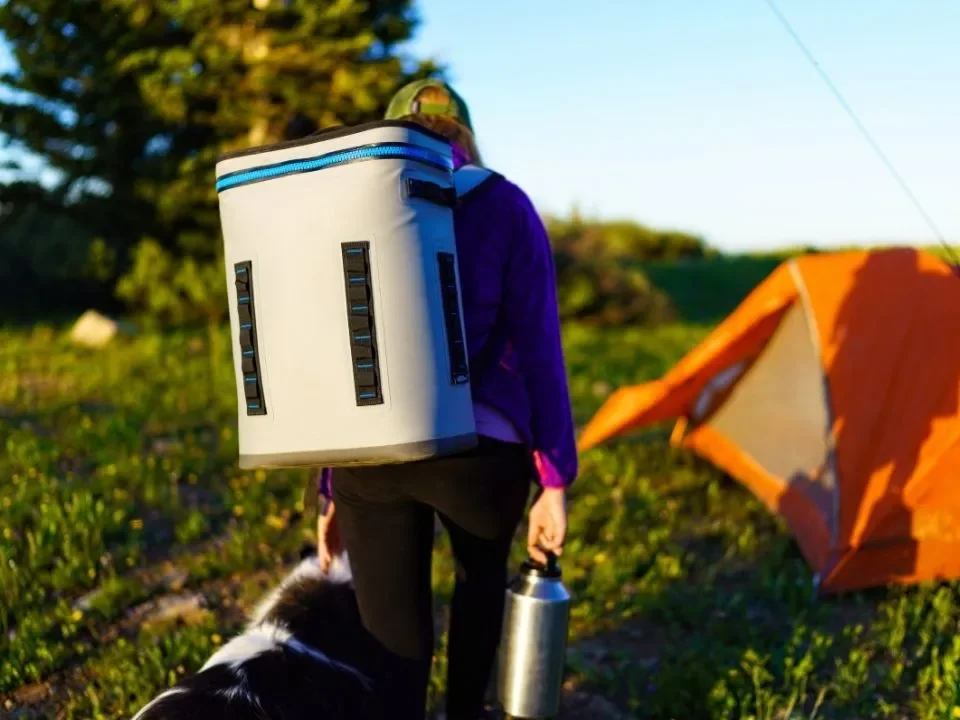 Buying Guide – Best Soft Cooler
Soft-Sided vs. Hard-Sided Coolers
Coolers are essential for keeping food and drinks cold, whether you're heading for a day at the beach or planning a camping trip. When it comes to coolers, there are two main types: hard-sided and soft-sided. Let's take a closer look at the key differences between them.
Hard-Sided Coolers
What are they? Hard-sided coolers are characterized by their sturdy exteriors and thick insulation, making them capable of keeping items cold for an extended period of time.
Pros:
Long-lasting insulation: Hard coolers are ideal for keeping your food and drinks cold for more than just a couple of days.
Durable build: With their heavy-duty materials, hard coolers are built to withstand rough handling and tough outdoor conditions.
Cons:
Bulky and heavy: Hard coolers can be challenging to carry around and may not be easy to store due to their size and weight.
Soft-Sided Coolers
What are they? Soft-sided coolers, as the name suggests, are basically bags designed to keep food and beverages cool. They are made of lightweight materials and have thinner insulation compared to hard coolers.
Pros:
Portability: Soft coolers are highly portable due to their small form factor and bag-like design, making them easy to carry around.
Easy to clean and store: Soft coolers are typically easy to clean and store, making them convenient for regular use.
Cons:
Limited insulation: Soft coolers are best suited for keeping food and beverages cold for a few hours, although some premium brands offer models that can retain ice for up to three to five days.
Lower durability: Soft coolers may not be as durable as hard coolers, as they are made of lighter materials.
In conclusion, hard-sided coolers are ideal for extended trips where you need to keep items cold for several days, while soft-sided coolers are more convenient for short outings where portability and ease of use are key factors.
Tips and Tricks for Packing A Soft Cooler
If you want your soft cooler to perform at its best, packing it correctly is essential. Improper packing can lead to poor ice retention and shorter cooling times.
Precooling is a must: Soft coolers are not refrigerators, they are designed to keep things cool. To get the best results, pre-cool every item that is going into the cooler. Store items in the cooler right out of the refrigerator for maximum effectiveness.
Pre-chill the cooler: To boost performance, pre-chill the soft cooler with plenty of ice for half an hour to an hour before packing it.
Store bottles, foods, and items first: It's best to place bottles, foods, and other items in the cooler before adding ice. This helps to keep things colder as cold air naturally sinks.
Avoid direct sunlight and hot surfaces: Always keep your soft cooler out of direct sunlight or in a cooler place. Avoid placing it on a hot surface to prevent heat from affecting the cooling performance.
Make use of block and cube ice: If you want to keep things cold for longer, use block ice. Cube ice is great for cooling things down faster.
Utilize ice packs: Ice packs can be used to extend the cooling time of your cooler. They are especially useful for longer trips or when you don't have access to fresh ice.
Minimize lid opening: Try to open the lid of your soft cooler as little as possible to prevent warm air from entering and cold air from escaping, which can affect ice retention.
Keep the zipper clean and lubricated: Clean and lubricate the zipper of your cooler frequently to ensure smooth operation and to prevent it from getting stuck.
Avoid keeping the cooler open for too long: Keep the cooler closed as much as possible to maintain the cold temperature inside and prevent unnecessary heat from entering. Avoid keeping the cooler open for longer than necessary.
By following these tips, you can ensure that your soft cooler performs at its best, keeping your items cool for longer periods of time, whether you're going on a camping trip, a picnic, or any other outdoor adventure!
How to Determine the Best Soft Cooler from the Rest
Soft coolers are a convenient and versatile option for keeping your drinks and snacks chilled on the go. But with so many options available, how do you know which one is the best? Here are some key factors to consider when choosing a soft cooler that will last long and meet your needs.
Material & Construction
The quality of materials and construction is crucial for the durability of a soft cooler. Look for coolers that are made from tear-resistant, UV ray-resistant, puncture-proof, water, and leak-proof materials. Soft bag coolers with TPU or Thermoplastic Polyurethane material are known for their durability.
Some brands even use DryHide shell technology to make the material stronger, flexible, and long-lasting. Don't forget to check the quality of zippers and stitching as well.
Tip: Remember, higher quality materials and construction may come with a higher price tag, but it's worth the investment for a reliable and long-lasting soft cooler.
Insulation
The insulation of a soft cooler is what keeps your items cold. There are two types of insulation – open-cell and closed-cell. Closed-cell insulation is superior as it keeps items colder for longer periods of time.
However, it may also come with a higher price. Pay attention to the thickness of the insulation as well, as thicker insulation tends to provide better performance.
Portability
One of the advantages of soft coolers is their portability. However, the level of portability may vary depending on factors such as size, shape, weight, and build material. Keep in mind that you may need to compromise on capacity for more portability, or vice versa. Consider your specific needs and preferences when choosing a soft cooler that is easy to carry on your adventures.
Size & Storage Capacity
Soft coolers come in various sizes and shapes, and the storage capacity depends on their size. Typically, soft coolers can store anywhere from 6 to 48 cans (or even more in some cases) along with ice. Be sure to check the inside and outside dimensions of the cooler. The outside dimension is important to ensure it fits in your vehicle or boat, while the inside dimension will help you determine the storage capacity. If you need to store a large quantity of items, a bigger cooler may be the best choice. On the other hand, if you only need to store a few bottles and cans for a short period of time, a smaller cooler would be suitable.
Pro tip: Consider your storage needs and available space when determining the size and storage capacity of your soft cooler.
In conclusion, when choosing the best soft cooler for your needs, it's important to consider the material and construction quality, insulation, portability, size, and storage capacity. By taking these factors into account, you can find a soft cooler that meets your requirements and provides reliable performance for your outdoor adventures.
Wrap Up – Best Soft Cooler
If you are still with us, then you are now familiar with some of the top soft-sided coolers available. Now, you just have to make the final call.
Remember that depending on your requirements, your choice of the best soft cooler will vary from another individual. As a result, it is very hard to pick only one best option from out of these 10 soft coolers.
Nonetheless, the YETI Hopper Flip can be the best choice in many ways. Because it is built with the most rugged and premium materials both on the in and outside.
On the other hand, if you are on a tighter budget, you should choose the Coleman 16-Can Soft Cooler.
Remember, the best soft cooler for you will depend on your specific needs and budget. Consider factors such as durability, ice retention, size, and additional features to make the right choice. Happy cooling!