Whether it is storing your precious bottles of beer or keeping groceries fresh for long, you need cooling on your trips. Coolers come in all sizes and brands, and there has been a lot of comparison among different types of coolers in the market.
You may be looking for coolers like YETI, but cheaper options would be great to choose from. Grizzly is among those options and our Grizzly Cooler Review below will show you why.
Are grizzly coolers as good as Yeti?
Grizzly coolers and Yeti coolers are very similar in what they offer. Grizzly has been in the market for around 30 years so they have a lot of experience. Yeti on the other hand only for 10 years, but they make up for that with their slightly higher quality products. This however means that they are more expensive, therefore Grizzly has a better value.
Quick Summary for featured snippet:
YETI coolers are pricier than Grizzly coolers, however, they are easier to handle, a bit more portable, and they are also easier to clean. Grizzly coolers are made in America, whereas some YETI models are manufactured in China. Grizzly products are slightly cheaper, but they are sturdy and quality products.
Grizzly and Yeti are among the most popular brands of high-end coolers. Their products are designed and made for overlanders and serious outdoor enthusiasts who want their gear to last for many years. Both brands are known for their functional and durable rotomolded coolers.
Grizzly has been in the industry for more than 30 years and they have a lot of experience when it comes to rotomolding coolers. Yeti, on the other hand, has been around for about 10 years. They have been delivering fantastic coolers ever since.
Our base for the Grizzly cooler vs Yeti comparison is the Grizzly 40 Quart model, that we can compare against YETI 35 and 45, since the two brands don't sell the exact same sizes.
Grizzly vs YETI Comparison
Features of the Grizzly Coolers:
Made using (RotoTough) rotationally-molded construction
Environmentally friendly insulation
Molded in as well as rope handles
Two inch drain plug
Plastic dry goods Tray
BearClaw Latches
Non-slip non-marking rubber feet and 2" Tiedown slots
Rubber gasket
Limited lifetime warranty
Features of the YETI Coolers:
Fatwall design and Permafrost insulation for extra-long ice retention
Rotomolded construction for durability
Patented T-Rex Lid Latches also designed for durability
ColdLock freezer-quality gasket between the lid and the box
Easy drain system
Two types of grips: rope and firm handles
5-year warranty
Grizzly
YETI
Grizzly coolers have impressive features, such as the well thought out non-marking, non-slip rubber feet.
YETI has a hinge system with securing riveting pins that ensures that the lid is firmly connected to the body whereas Grizzly's version lacks the riveting pins hence the durability of the top to body connection may be less over time.
YETI has a Permafrost insulation system with freezer-quality gaskets, involving thick pressure-injected walls that ascertain that the ice in the cooler is sustained for as long as 5 days while Grizzly coolers use eco-mate foam and a thick rubber gasket.
Comparison of Dimensions, Weight and Capacity
As we mentioned before, YETI gives you more in terms of size choice with the 35 quart and the 45 quart to choose from in the medium size range.
Let's see how the Grizzly 40 compares to both YETI 35 and YETI Tundra 45 for a complete picture.
Grizzly 40 vs YETI 35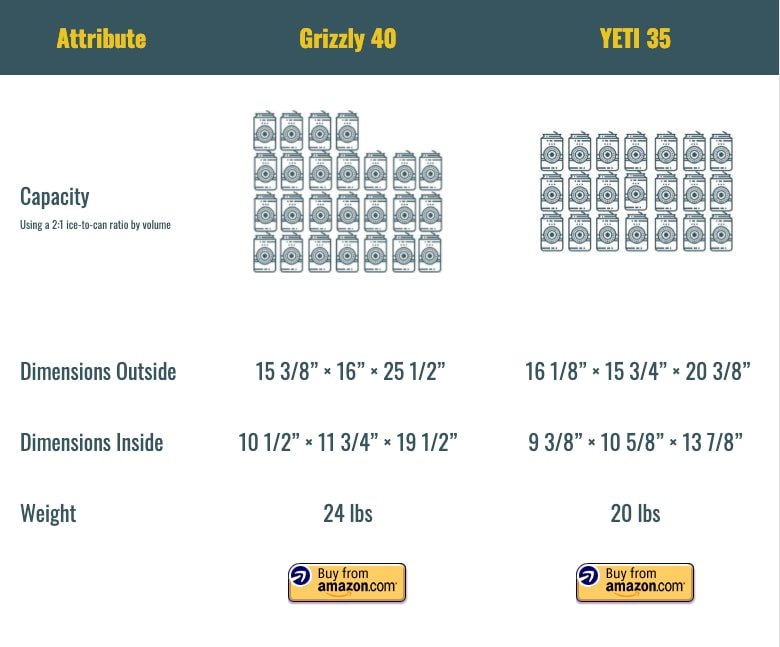 YETI 45 vs Grizzly 40
The Grizzly 40 cooler is true to its name with 40 quart true size. The interesting takeaway from the YETI vs Grizzly comparison tables are that the Grizzly is actually quite heavy.
Its capacity is very close to YETI 45's, and the outside dimensions are also larger than expected. The weight is probably related to the great ice retention capabilities.
Using the 2:1 ice-to-can ratio the Grizzly can can hold 25 of your beers cold. It literally comes with a heave price – but only figuratively, not literally!
Grizzly
YETI
Comparison of Construction and Design
Grizzly coolers have a roto-molded shell. Roto molding produces plastic that has uniform strength and is superior in durability and impact resistance than plastic materials made from other traditional fabrication methods.
This makes Grizzly coolers durable enough to withstand harsh conditions and abuse. It's also worth mentioning that in the construction of these coolers, they produce little waste, making it environment-friendly.
Speaking of durability, Grizzly coolers are also certified to be bear proof by the IGBC. This means that you can safely bring your cooler to a bear country. Your content will be safe.
Yeti coolers also use a rotomolded shell that is extremely durable. They are bear proof too! But unlike Grizzly coolers that are designed to have contours and edges, Yeti coolers have fewer contours and have smoother curves, making them easier to clean.
In terms of construction, we also noticed that Grizzly coolers have a rubber gasket that goes around the lid, making a perfect seal so that no air comes in or out.
They also have other features that you can't find on a Yeti cooler such as the dry tray for things that you don't want to get wet, an embossed ruler, a 2-inch drain hole and more color options.
Comparison of Insulation
The quality of insulation affects how long the cooler can retain its coolness. Grizzly and Yeti are among the superior brands when it comes to superior insulation.
They both use pressure-injected foam to the rotomolded shell for optimum coolness for a number of days.
For this category, we can say that both brands offer stellar insulation.
Comparison of Latch System
One of the biggest differences between Grizzly coolers vs Yeti coolers is their latch systems.
Grizzly uses a bear-claw latch system composed of rectangular-shaped rubber pieces that wrap around the molded plastic peg system of the cooler's base.
On the other hand, Yeti coolers are fitted with a T-Rex ball latch system that is widely known in the industry to be extremely durable and secure. That latch is attached to the entire frame of the cooler using riveted pins.
The installation is a bit tight so that when you raise the lid of the cooler, it will not drop down. This is an ergonomic feature as it prevents the lid from closing on its own.
When it comes to the latching system of Grizzly vs Yeti, there's a big difference between these two brands. Grizzly's bear claw latches are not as durable as the T-Rex ball latch system of Yeti.
Yeti has definitely a more durable latching system than Grizzly has. For ease of use, Yeti's T-Rex ball latch system is also a sure winner.
Comparison of Ice Retention
Ice retention can be a dealbreaker especially if your main consideration is the number of days a cooler can retain ice.
We have seen a number of YouTube videos that show the varying performance of Grizzly vs Yeti coolers across their different models.
Since the Grizzly 40 Quart model and the YETI Tundra 45 model are the closest match, it's good to see how they fared when it comes to retaining ice.
In a Grizzly vs Yeti ice test where both coolers were filled with the same contents and the same amount of ice, at the end of five days, Grizzly had no more ice left but the water was still cold while Yeti still had smaller blocks floating on top.
This test does not reflect the ice performance across the different models for both brands. But between Grizzly 40 and Yeti Tundra 45, we can tell which one performs better.
If your overlanding adventures often go for five or more days, between a Grizzly cooler vs Yeti cooler, the latter is a better choice.
Comparison of Product Warranty
Grizzly and Yeti offer product warranty to give a high level of customer satisfaction. Yeti offers a 5-year warranty for its coolers while Grizzly offers a limited lifetime warranty.
Since these coolers aren't cheap, the warranty can make a big difference in protecting your investment.
The limited lifetime warranty of Grizzly covers most manufacturer defects and issues with the seals and gaskets. This is a great advantage since those parts are the common ones to have problems with.
However, the warranty will not cover damage due to misuse, neglect or abuse, accident or unreasonable use.
Your Grizzly cooler is not also covered by the warranty if you have altered it from its original configuration. Damage due to any act of nature is also not covered.
On the other hand, the 5-year warranty of Yeti covers all the components of the cooler. They also have one of the best track records for customer service and satisfaction.
Overall, considering the length of the warranty and what's covered or not, Grizzly has a better product warranty between the two brands.
---
Other cooler guides you may be interested in:
---
Comparison of Price
If you have already started checking around, you probably already have an idea about the price ranges of Grizzly vs Yeti. Grizzly's coolers typically range from $120 to $750 dollars.
On the other hand, Yeti is on the more expensive end with its basic model that runs from $190 to $1,300.
What Previous Buyers Said
YETI
As you can expect from an established cooler brand like YETI, its customers are more than happy with their products. The well-known fact, that they are quite pricey, often appears as one of the complaints, though.
But the most liked features and attributes are its durability, the thick, therefore well-insulating walls, the heavy-duty carry handles and latches.
Apart from the price, the very few users who are not completely satisfied mention the weight of the ice chests, but compared to Grizzly, there are actually light.
Grizzly
If that's even possible, Grizzly's customers are even happier. The overwhelmingly positive buyer's review rave about how easy it is to clean the ice chest, how well it is made and how happy they are with the price compare to those of YETI.
A proud buyer mentioned that the Grizzly's are American made products that you can depend on. It serves its main purpose to the highest standards, that is to hold ice for very long periods of time. I think we now know the answer to the question of who's customers are happier:
Grizzly
YETI
Grizzly
YETI
Conclusion
With the knowledge of both YETI and Grizzly features, benefits and their differences, it is now easier for you to choose the cooler that suits your tastes and preferences.
Both brands have high-class builds and excellent abilities and have been approved by the Interagency Grizzly Bear Committee (IGBC) as bear resistant.
However, in our sincere opinion, we believe Grizzly represent more value for money.
Understandably, you can argue that YETI is the better cooler for a a few reasons: it has a good reputation which says a lot about its customer satisfaction abilities and is rated as one of the best coolers in the US.
It has high-quality build, relative portability and good ice retention that surpasses that of most other coolers. It may be more expensive than the Grizzly, but it comes with a 5-year warranty.
Regarding warranty, YETI's 5-year warranty generously covers all damages and malfunctions to the cooler.
Grizzly has a limited lifetime warranty, but its coverage excludes many cases such as accidents, natural wear and tear or even dents. It mostly covers manufacturing faults only.
Grizzly has been in the market for over 30 years and has amazing amount of experience in the production of rotor-molded systems.
However, YETI, which has been out for about ten years has been on a higher demand level. Hence their prices are much higher than Grizzly's.
Grizzly
YETI
Our decision eventually had to be made based very much on value for money. You get so much value for Grizzly's prices that YETI just simply can't beat.
But if you don't consider price, but brand image matters a lot for you, plus of course quality, design, and features, YETI is still the champion!