While camping for a few days, one of your main concerns would be how to keep food cold. Fear not! We have got you covered and have compiled a list of 15 tips on how to keep your food cold while camping.
In this post, we will share these tips with you so that you don't have to constantly worry about your food while you enjoy the outdoors instead.
On top of that, we will also answer some frequently asked questions on this topic. By the time, you have read this post, you will come to know a lot of new tips on how you can keep your food cold longer than usual, while camping.
How To Keep Food Cold While Camping
Get a High-quality Cooler
It goes without saying that the best solution to keep food cold while on a camping trip would be to use a camping cooler. There are a variety of brands that offer different types of coolers at different price ranges.
Among them, YETI, Pelican, Coleman, RTIC, etc. are some of the best brands in the camping cooler industry. If you have got a high-end cooler, it should keep your food stay cold for up to 5 days under the right circumstances.
Another great trick is to keep a fridge thermometer inside the cooler. So you will be able to make sure the food is safe by looking at the internal temperature in the cooler.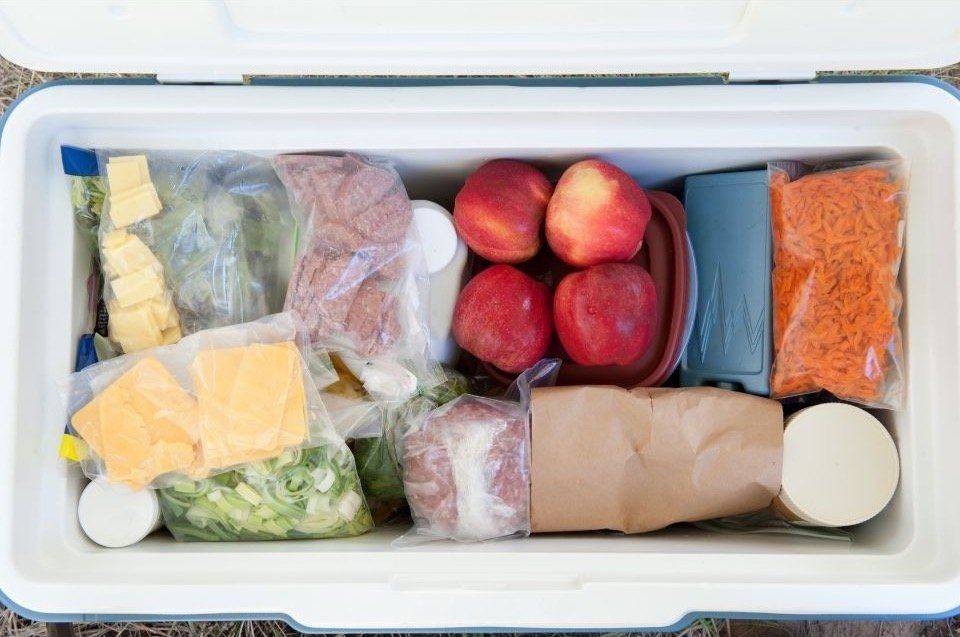 More Camping Coolers
Taking a cooler with you while camping is great. But you know what's better? Taking two coolers with you if possible. In this case, you can use one cooler for your drinks and beverages and the other one for food.
Usually, you will open the cooler with the drinks frequently, which could result in it warming faster. On the flip side, your food in the other cooler will stay colder and last longer.
But if you were using only one cooler instead of two coolers, then it would impact both the drinks and food at the same time.
Use Ice Packs
Another budget-friendly option would be to use ice packs. You can buy ice packs specifically designed for camping.
Interestingly, you can reuse this type of ice pack multiple times. They can keep your food and drinks cold for several hours.
DIY Ice Packs
On the other hand, you can make your own ice packs. Simply, freeze water in a Ziploc freezer bag, and you are done. Many people also use frozen bags of vegetables or other food as ice bags.
While using the DIY ice pack, you should keep in mind that all of your food should be stored in non-permeable bags. Thus when the ice melts, the water will not get into your food.
Many campers also make their ice pack by freezing dish soap in Ziploc freezer bags. You can also buy loose ice from the local gas station if you are in a hurry.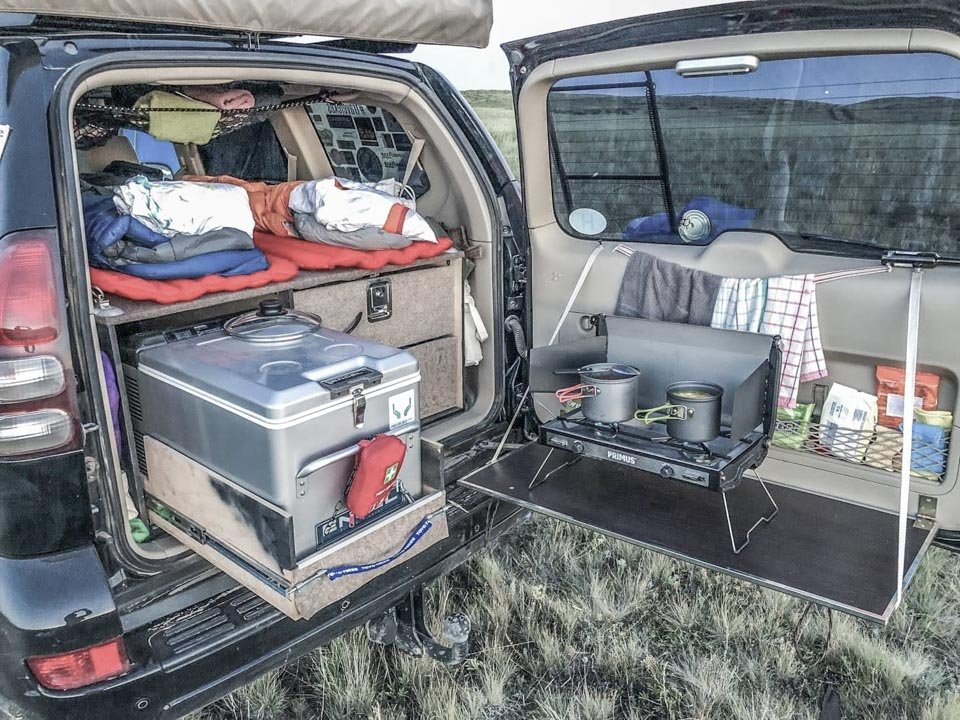 Use Portable 12-Volt Car Fridge
If your car will be with you while on a camping trip or if there is a power source on your campsite, then you can use a portable car fridge. Many different models from various brands of portable fridges are available on the market.
They can help in keeping your food cold while camping without any issues. Some of them even come with additional features like USB ports for charging, which can come in handy while camping.
Freeze Your Water
Everybody on their camping trip will bring water and drinks with them. You can actually freeze the majority of your water and drinks before leaving your home.
That way, you can use those frozen water bottles to keep your food items cold.
To be noted, don't freeze all of the water and food. In case of emergencies, you might need fast access to water and food. In those instances, it might take a while to defrost if you have frozen everything.
Freeze the Food before Your Trip
If you would take cooked food on camping, you should cook your meals in the first place. As a result, it will save you from a lot of stress. After that, you should freeze all of the food you will be bringing on your camping trip.
This tip is very effective in keeping food cold longer than usual. Don't forget to use freezer bags to pack all of your meals. Otherwise, there could be cross-contamination.
Don't Open the Cooler Frequently
It might be tempting to open the cooler frequently to get a bottle of water or drinks, but the more you open the cooler, the warmer it will get. Meaning, the cooler would not be able to keep the food cold longer while on your camping trip.
Pack the Food into the Cooler Properly
You might have the best camping cooler in the world, but it would not be able to offer the best service if you don't follow some vital rules while packing your cooler in the first place.
First of all, you should begin with a layer of ice or ice pack at the bottom. Then store the frozen food that you will not need to access right away.
Right now, add another layer of ice packs on top of that. Next, put all the other food items or beverages on top. Finally, add some ice cubes to fill the rest of the empty space inside the cooler.
Remember to not place the items that you will need first at the bottom of the cooler. That way, you will not have to dig deep every time to access those items so that the temperature will not rise inside the cooler.
Pre-cool Your Cooler
If possible, you can pre-chill your camping cooler. There are a couple of ways to do it. First, you can put several blocks of ice into the cooler a few hours prior to packing the food.
You can replace those ice cubes later if you want to while packing the food. Otherwise, if you happen to have a larger chest freezer, you can keep your cooler inside the freezer for better results.
Maintain and Keep the Cooler Properly
The performance of your cooler will depend on a lot of external factors. Among them, the temperature outside and the sunlight are two of the most important things to check out.
You should try to keep your cooler out of the sun as much as possible to boost up its performance.
Try to Not Bring Perishable Foods
Obvious, isn't it? It is always best if you can avoid taking perishable food at the campsite. Because that food will go bad very quickly if there is no cooler at your disposal.
In this case, you can bring beef jerky or sausage as an alternative to fresh meat. As per dairy products, you should bring firm cheeses instead of soft ones.
Bringing some dry food is also a great idea while camping.
Keeping Food Cool without a Hard Cooler
There's no denying that the most effective approach to keeping food cold when camping would be to use a hard camping cooler.
But what if you don't have one at your disposal or you don't want to bring one with you? Alternatively, you can use soft-sided coolers.
Many brands also offer soft coolers in backpack styles, so it will not become a hassle to carry it around while camping. In addition, you can go the old-fashioned way by storing the food underground or in running/cold water where there's cold air.
However, you have to be very careful attempting this. Make sure you are keeping the food in a sealed container. Otherwise, it could be stolen or contaminated.
Dry Ice
Another quick way to keep the food cold during a camping trip is to use dry ice. However, this approach is a bit complicated. First of all, you need insulated gloves while handling dry ice, because it is extremely cold.
Next, when the dry ice melts, it will emit carbon dioxide gas as dry ice is the solid form of carbon dioxide. So, you should keep it very far from humans and other animals.
Also, as the dry ice will turn into CO2 gas, if you have locked up the lid of the cooler for a long time, it could burst open due to the pressure created from the gas inside the cooler.
To prevent that, you should open the cooler every once in a while. Make sure to put the dry ice on top of your food, not on the bottom for better results.
Bring Backup
As always, you should bring backup food while camping. The best option would be to opt for non-perishable foods or foods that don't require refrigeration. For example, you can bring crackers, trail mix, dried fruit, noodles, and so on.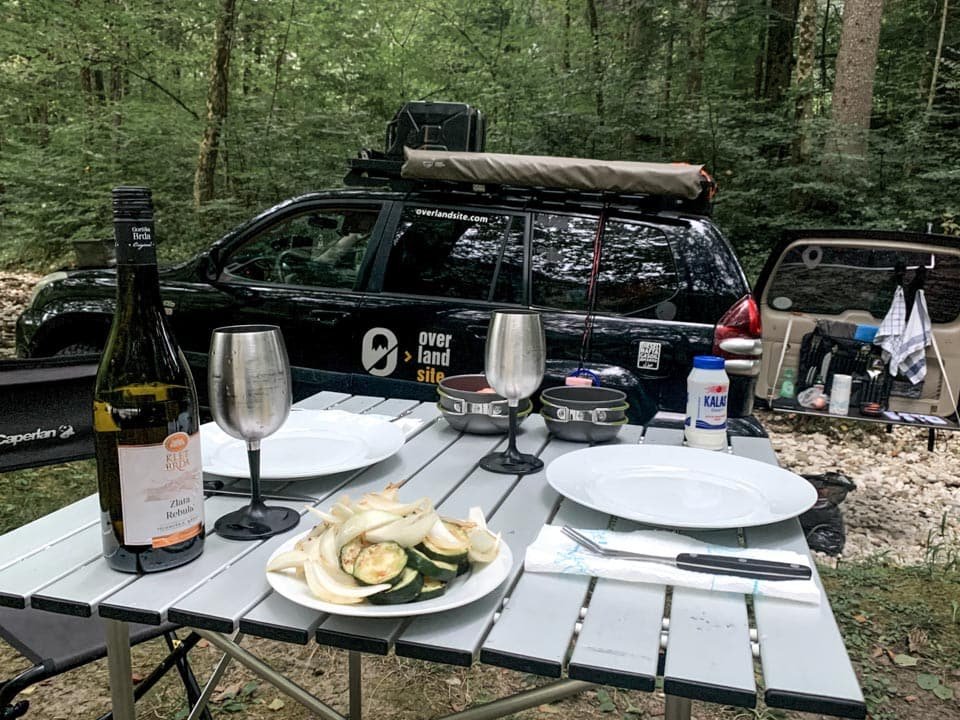 FAQ
How Do You Keep Food Cold For 3 Days Camping?
The best way to keep your food items cold for 3 days of camping would be to buy a high-end camping cooler.
It is better to invest in hard coolers than soft-sided coolers if you want to keep food cold for a longer span of time. Also, you can follow all the tips we have shared above if you don't have a cooler.
How Do You Keep Food Cool When Camping?
When camping, the most effective method of keeping your food cooler for a couple of days would be to use a cooler.
Or else, if your car will be with you, then you can use a 12-Volt portable car fridge. On top of that, you can buy ice packs or large blocks of ice to keep food cool when camping.
How Can I Keep Food Cold For 8 Hours?
If you want to go the budget-friendly way, then you should freeze the food before leaving. Then, you can use ice packs or ice cubes to keep it cool.
Of course, the best idea would be to use a portable cooler or car fridge to keep food cool for 8 hours.
How Do You Keep Food Cold Without A Refrigerator?
There are many alternatives to refrigerators to keep food cool. For example, you can buy a camping cooler. A camping cooler with good features from a top brand would be able to keep things cold for up to 3-5 days.
You can also use ice packs or ice blocks to keep the food cold without a refrigerator. Otherwise, you can use thermal bags.
---
Cooler guides you may be interested in:
---
Concluding Thoughts
How To Keep Food Cold While Camping
Discovering that all of your food has gone bad while camping is not a good feeling at all. As a result, you should be prepared the best way possible to keep the food cold while on camping trips.
In that sense, we have provided some handy tips above on this critical topic. We hope these tips on how to keep food cold when camping would help make your camping trips more enjoyable.