There are a host of brands that manufacture winches worldwide. Among them, Runva is a brand that is going strong for years.
They have a wide range of products that are popular all over the world for their affordable pricing and numerous features. In this post, we are going to share reviews of some of their well-known winches of various categories.
Along with that, we will be talking about the brand Runva itself to let you know whether you should go for their product or not.
Best Runva Winch Review
Runva Winch 13xp Review
The Runva 13XP Premium Electric Winch is a 4×4 winch that has a 13,000lb/6.5 Ton capacity.
With its powerful 5.5hp motor and heavy-duty gears, the 13XP can pull your rig out of any jam.
The advanced planetary gear system ensures smooth, reliable operation even under the most severe loads, while the free-spooling clutch makes quick work of getting your vehicle unstuck, as well as a wired remote control for precision operation. Wireless control is also available.
With a corrosion-resistant finish and all-metal gears, the 13XP Premium Winch is built to last.
What Previous Buyers Said?
One of the downsides of this winch is that the recovery hook is rusting very quickly.

Some buyers complained about the company's customer service. According to these buyers, dealing with the customer service department can be a frustrating experience.
Pros:
Handheld and Wireless Remotes
Large Recovery Hook
Cons:
Larger winch than normal
Corrosion on the recovery hook
Runva 12000 Winch Review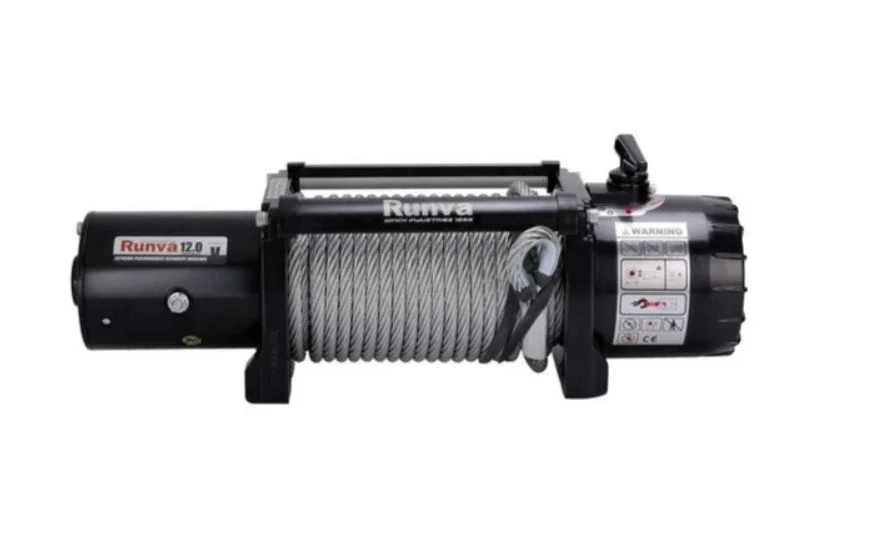 The Runva EWV12000 has a fast line speed and can handle heavy loads with ease.
This winch has a pulling capacity of 12,000 lbs and features a 3-stage planetary gear system with 253:1 gear ratio to handle fast, smooth, and reliable operation.
The automatic load-holding brake ensures safe operation and the heavy-duty metal drum housing is built to last.
Additionally, the Runva winch 12000 comes with wireless remote control for easy operation from anywhere on the vehicle.
It is reliable and sturdy construction, it's a great choice for anyone looking for the best 4×4 winch for the money.
What Previous Buyers Said?
The Runva EWV12000 is a solid choice. Previous buyers' reviews reveal that it's easy to install and it's easy to control.
Reviewers love its reliable performance and sturdy construction, noting that it's a great choice for anyone looking for an affordable 4×4 winch.
Some customers reported that some Runva winch parts were missing from their box when it arrived.
Pros:
IP67 protection
Ratchet-style brake
Affordable price
Cons:
Wireless control could be better
Runva Winch 11xp Review
If you are looking for a truck winch or a winch for Jeep, this one can be a great option. The first device in the line of our Runva winch review is the powerful 11XP. It comes with a rated line pull of 11,000 pounds or 4990 kg. This one uses a 6.5 hp series wound motor.
At the same time, it is also equipped with a 3-stage planetary gear system. For additional safety, both the motor and the gearbox are sealed in a weather-resistant box.
The gear ratio of this winch is 230:1. And it comes with a free spooling clutch system. Thus, it can deliver a faster line speed.
Speaking of line speed, this winch is capable of both pulling or out. Additionally, it features a 4-way roller fairlead. That means it comes with a steel cable.
The diameter of the steel rope is ⅜ inch or 9.2 mm. And the length of the rope is 26 meters of 85 feet. On top of that, it uses a forged steel latch hook for additional safety.
It is compatible with the mounting bolt pattern of 10 x 4.5 inches. The net dimension of the winch is 21.3 x 6.3 x 10.7 inches. And it weighs about 85 lbs. or 38 kg.
Another great feature of this Runva 11XP winch is the addition of a wireless remote. That indicates that you can operate the winch from a safe distance using the wireless remote.
However, we want to add that the quality of the Runva winch remote control is not that good.
It sports a waterproof fitted cover which would make it suitable for use even in submerged conditions. Due to the rugged build quality, you can use it in any weather condition and it can withstand the abuse of the wild without any hitch.
Overall, this can be a top pick, if you are going to get a powerful winch with high-rated pull that would serve you for years to come.
What Previous Buyers Said?
Most buyers have liked the Runva 11XP winch. They have said the price is very cheap compared to other similar winches.
Also, the build quality is not that bad. However, some of them left negative feedback because of the poor wireless remote control.
Other than that, they have said they are happy with everything else the winch is offering.
Pros:
Reasonable price for a long-lasting winch
Comes with a wireless remote
Waterproof winch
The gearbox, solenoid, and motor are sealed
Cons:
The instruction manual is poorly written
The inclusion of synthetic rope would be better
The wireless remote is not that powerful
The next Runva winch on our list is perfect for overlanding vehicles. It comes with a rated line pull of 3500 lbs. or 1588 kg.
Also, with a net dimension of 13 x 4.4 x 4.6 inches and a weight of just 22 pounds or 9.97 kg, it is a fairly compact and portable winch.
This ATV winch features a steel cable that has a diameter of 7/32 inch or 5.4 mm and a length of 42 feet or 12.8 meters. With the addition of a wired remote control, Runva has made it easy to operate the winch from a safe distance.
The Runva winch controller also comes with 7.6 feet or 2.3 meters of cord. Similar to most other steel cable Runva winches, it uses a 4-way roller fairlead. And it also features a forged steel latch hook.
You will like that this Runva winch is equipped with a 3.2 hp permanent magnet motor and a full steel planetary gear. Also, the greater reduction ratio of this winch is 170:1. That means it has a fairly faster line speed.
For instance, under the maximum load of 3500 lbs., the line speed of this winch is about 4.6 feet per minute. And under no load, it has a line speed of up to 10.5 feet per minute.
And it also has the power in/out feature for winching both forward and backward directions. The mounting bolt pattern of this UTV winch is 3 x 4.87 inches.
The diameter and length of the drum are 37 mm and 80 mm. If you want to get a Runva winch for your UTV or ATV, then this one can be a good option.
What Previous Buyers Said?
Frankly, the previous buyers of this Runva winch had mixed feelings about this one. Amond the mixed Runva winch reviews some of them said the winch is not that powerful and not long-lasting. Also, the cord of the handheld remote control could be a bit longer.
But on the contrary, most other buyers have stated that they like the winch for its various features. And, they also praised the build quality of the winch.
They have said if you are pulling the right amount of load, it does the work properly.
Pros:
Comes with a handheld wired remote control
Power in and out future
Compact and easy to install
Comes with all the installation accessories
Cons:
Not entirely waterproof
No synthetic rope
Last but not the least, we have another compact and powerful winch from Runva. This one is also suitable for ATVs, UTVs, and other smaller vehicles.
It comes with a plethora of high-end features like many other winches from Runva. However, it also has some drawbacks. But we have to admit that the benefits outweigh the drawbacks, though.
The net dimension of the winch is 12.7" x 4.5" x 4.4". And it weighs only 20 lbs. or 9 kg. You will like the inclusion of all the installation accessories with this winch from Runva.
This winch comes with a free spooling clutch system. That means you can pull in or out the rope as much as you want with ease.
At the same time, it also features an automatic braking system. This is a great safety feature, to say the least.
You will also like the inclusion of a wired handheld remote control with this winch. The remote control is equipped with a 7.6 feet or 2.3 meters cord for operating the winch from a safe distance.
This winch features a 12 V/2.6 hp permanent magnet motor. It is also integrated with a planetary gear system with a gear ratio of 170:1.
This Runva winch is rated to pull up to 2500 pounds or 1134 kg. To pull the load, it sports a steel cable of 46 feet or 14 meters.
On top of that, to withstand the abuse from the steel cable, it features a 4-way fairlead. And you will like the addition of the safety latch hook that is made with forged steel.
Additionally, another good thing about this winch from Runva is that it can pull both backward and forward.
It is compatible with the mounting bolt pattern of 3 x 4.87 inches. So, if you are looking to get a full-package winch for your smaller off-road rig, this can be a great pick.
What Previous Buyers Said?
Most of the buyers left positive reviews about this winch. Moreover, a few past buyers said it could come with a good instruction manual.
However, if you are familiar with installing winches, this would not be a major issue. Except for this, they have said this one is a great winch for pulling your smaller vehicle out of danger.
Also, some of them have used it to pull trees and other things for a long time.
Pros:
Comes with an automatic braking action feature
It features a free spooling clutch
Compact yet powerful
Has handheld wired remote control
Comes with mounting plates and other installation accessories
Cons:
The instruction manual could be a bit better
The synthetic rope version would be better
Not entirely waterproof
Buying Guide – Runva Winches Review
About The Manufacturer 'Runva'
Runva or Runva Performance Winches is a winch manufacturing company based in Australia. Their main distribution center is located in Brisbane, Australia.
At the moment, they are supplying their product to over 50 countries worldwide.
They established their winch manufacturing factory in China back in 1997. Right now, they have a 36,000 square meters factory there.
On top of that, Runva also have their R&D (Research and Development) center in China where they perform all the product testing, research, and reviews.
With 30 years of experience in manufacturing winches, they offer various types of winches ranging from compact winches, ATV/UTV winches, 4×4 hydraulic winches, 4×4 electric winches, to even industrial winches.
Runva is very strict in quality control. Most of their products come with certifications like EWN14492-1, ROHS, CE, TUV, ISO 9001:2000, ROHS, and so on.
Availability of Parts and Accessories

– Runva Winch

Along with manufacturing winches, Runva also offers all the necessary winch accessories and parts as well. So, if you need to buy any spare parts for your Runva Winch, you can get them easily.

However, you should know that the price of the Runva winch accessories would be a bit higher. And, if you are using an older model, the accessories for that model may not be available to buy as of right now.
Where Are Runva Winches Made?
All Runva winches and accessories are made in China. But as we have said they don't actually buy low-quality products from China and then rebrand them.
Rather, they have their own factory in China for manufacturing winch of premium quality.
Many people believe that they manufacture their winch in Australia as they are from Australia. But that is not the case at all.
Because of their mass production facility in China, they can offer a very competitive price on their products.
How Do Runva Winches Compare To Warn or Smittybilt (At Brand Level)
This is one of the most frequently asked questions of many customers. Now, we can say that Runva is not a bad company at all.
They are producing very good quality winch and accessories for off-roaders all over the world.
However, according to the experience of many past buyers, Runva winches are not yet at the level of the 2 mentioned companies (Warn and Smittybilt) in both quality and performance.
Simply put, Runva's brand image and reputation are not quite up there compared to Warn or Smittybilt.
However, the prices of the winches of these 2 popular brands are very high compared to Runva Winches. So, in that case, they can be a good value for money choice but not a quality choice.
They are obviously a reliable brand and Runva itself is a well-established brand. But when compared to either Smittybilt or Warn, they are not up to the mark of these 2 brands.
---
Other winch guides you may be interested in:
---
Concluding Thoughts – Runva Winch Reviews
From the discussion and reviews above, you can see that the winches from Runva are not that bad. Rather, they are very good value if you are on a tight budget.
But when it comes to recovery gear like winches, you should buy the best of the best for your safety.
In that case, we would recommend spending a little bit more on a premium and top-quality winch from a well-reputed brand.
For instance, you can get a winch from Superwinch or X-Bull instead. Those may cost you a bit more now but they will serve you better in the long run for years to come.
CHOOSING A WINCH FOR YOUR VEHICLE IS A COMPLEX TASK
Enter your email below to sign up to our newsletter and to download this FREE 22-PAGES long guide on how to choose a winch.
YOUR PRIVACY IS PROTECTED