Over time winches have evolved to become a very important recovery tool that is used on most overland rigs nowadays. There are many types of winches to choose from, from countless manufacturers. The below Badland winch review will go through a detailed review and comparison to other brands' products.
So if you're on the market for a winch, next to the big brands like Warn or Smittybilt, one of the challenger brands is Badland.
In our Badland Winch Review we will discuss their pros and cons, features and how they perform in general so that you can decide whether purchasing a "Badland 12,000 winch" would be a good decision for you, or not.
Badlands Winch Review (harbor freight winches)
The Harbor Freight Badlands winch is literally made for "bad lands" – or so many users say. Let us see what this "Bad land winch" can bring to the table and whether it can help you out in very tricky situations or not.
Who Makes Badland Winches?
The devices are manufactured in China and branded as Badland Winches by Harbor Freight. Hand winch Harbor Freight is also worth checking as their Harbor Freight Portable Winch.
Key Features Of The Badland ZXR 12,000 lb. Winch
Let's see in this Badlands 12000 winch review why should we buy this model? The Badland winch was made to sport high-quality features – as you can see from the list below:
Automatic load holding brake type
Aircraft-grade steel cable
6 HP Series Wound motor
Three-stage planetary gear system
Cable tensioner
12 ft. handheld remote control
65 ft. cable
It supports up to 12,000 lbs
Designed for off-road vehicles
It weighs 93.2 pounds
12000 lb Badland winch was meant to benefit heavy off-road vehicles.
Having an aircraft-grade steel cable, this model was made to be more durable than the average winch, and with the ability to pull more weight as well.
The 6 HP Series Wound motor is typical of high-quality winches, particularly the ones provided by Badland.
They are supposed to enable lengthy use, with the automatic load-holding brake keeping the motor from overheating.
That is usually the case, however, some users complained that it can actually overheat from time to time.
Naturally, it comes with a Badland winch remote and the 12 ft cable is usually long enough to keep a safe distance from the action.
Although you would need to purchase it separately, a wireless Badland winch remote control is available and it is a great addition to your kit. However, it's only worth buying it if you do use your winch frequently.
Pros:
Long and sturdy cable
Easy to mount
Powerful motor
It works for large-scale vehicles
Power-in/out encourages good load control
Fairly affordable
Cons:
The motor may overheat after too much use
The pulling action is rather slow
Detailed Review Of The Badland ZXR 12000 lb. Winch
Considering its features in this Badland 12000 winch review, one could see that this model was meant for heavy-duty use. Given the 12,000 lb. load capacity, those that drive off-road may be able to truly appreciate this unit.
Here's what you might want to know:
Design
Weighing a little bit over 90 pounds, this unit is not the easiest winch you could lay your hands on.
However, chances are, folks who buy a winch with a 12,000 lb. capacity will mount it on an equally large rig that won't really mind the heavier unit on the front.
Ease of Use
The installation and usage of this unit are very straightforward. You start by mounting the fairlead, you continue by attaching the controller box, and then you mount the winch through the front bumper plate.
The cable will thereon go through the fairlead, and you finish by hard wiring it to the battery.
You are ready to start winching now. Generally, this process should go flawlessly – but if you experience any issues, you might want to contact a professional.
Affordability
We have to mention the affordabilitiest is Badland ZXR 12000 review. Considering that the general price is something between $300 and $400, the Badland 12 000 lb winch is perfect for those who want a professional product – but do not want to spend loads of money on it.
According to buyers, it offers a fair amount of recovery muscle, making it a good winch to take you out of a tough situation.
CHOOSING A WINCH FOR YOUR VEHICLE IS A COMPLEX TASK
Enter your email below to sign up to our newsletter and to download this FREE 22-PAGES long guide on how to choose a winch.
YOUR PRIVACY IS PROTECTED
What Previous Buyers Said
In this 12000 lb Badland winch review we have to talk about the different views of the buyers. Mostly they admitted that this is a good winch, one that you can use for several years. It's strong enough to handle big cars, including Chevy 5500 water trucks, Jeeps, and so on.
They say that if you know how to properly install and use the winch, it will work for years without any issues. The cable is sturdy, and even if it does break, you can get it fixed under the Badlands winch warranty.
Users did say that it tends to overheat, but this can be fixed as long as you have a few short breaks between pulls. Also, it drains the battery – like any other winch, but some suggested that you can solve this problem using snatch blocks.
They will also make the winch stronger, allowing you to "pull a mountain," as a buyer mentioned. Of course, keep your engine running while using the winch.
What are the Alternatives to the Badland 12000 lb winch (harbor freight winch)?
Other Badlands Winches
Badland 18000 lb Winch Review – Tow Truck Electric Winch Harbor Freight
If you're looking for a tow truck electric winch that can handle the most extreme conditions, you need to check out this Harbor Freight winch review.
This powerful winch can pull up to 18,000 lbs, making it perfect for towing large trailers or vehicles. It also features a rugged design that can withstand tough conditions, so you can rely on it for any job.
A three-stage planetary gear, automatic brake and free spooling clutch is controlling this winch. It has a 75 ft steel cable.
The winch cable is an important component of the winching system. It handles transferring the pulling force from the winch to the object being pulled.
Without breaking the cable, it is recommended to use the winch for recovering any weight up to 12000 lbs.
To ensure safe operation when lifting or pulling a load, it is important to use a winch with a capacity that is 1.5 times greater than the weight of the load. Otherwise, it can cause damage to the winch and may also result in an unsafe situation.
For example, if you are using a winch with a capacity of 15,000 lb, then you should limit the weight of the vehicle to 10,000 lb.
This winch comes with a corded remote control. If you're looking for an easy way to operate your winch, you should consider buying a Badland wireless remote (Harbor Freight winch remote).  It makes using your winch a breeze. It has a long range and is very easy to use, making it perfect for any application. 
Although it is IP66 rated, be careful because the remote control is not water-resistant.
The Badlands 18000 winch is a great option for those looking for a quality, affordable commercial winch. This winch is durable and built to last. There is a bit winch with a bit lower capacity, the 15,000 lb winch Harbor Freight. It might be worth checking as well.
What Previous Buyers Said?
Not everyone agrees that Badland 18000 lb winch is the best option for off-road vehicles. Some users believe that it's overkill and that a smaller winch would suffice.
I don't agree with them 100% and don't disagree with them either. According to your requirements. If you're only going to be using your winch for light off-roading, then a smaller winch might be better. 
Pros:
Easy to mount
Durable
75 ft steel cable
Competitive price
IP66 rated
Cons:
Corded remote control
90 days Harbor Freight winch warranty
Badland has two very similar models:
Badland winches 12000 ZXR and
Badland APEX Winch 12000.
The main difference between the two is in their no-load line speed.
The Badland ZXR 12000 has a line speed of 9.8 feet per minute, while the Badland APEX 12000 has a line speed of 19.6 feet per minute. This means that this Badland winch synthetic rope can pull in twice as much cable per minute as the ZXR 12000.
Both winches have a rated load capacity of 12,000 pounds, so they are both capable of handling large loads.
The cable length is 80 feet. This Badlands 12000 winch synthetic rope is waterproof. Even if it's water-resistant, it worth buying some nice Badland winch covers. The remote is magnetic wireless, and the gear ratio is 210:1. The fairlead is aluminium hawse. 
What Previous Buyers Said
Users said these are most reliable and versatile winches at Harbor Freight. This winch can handle any terrain with ease, thanks to its powerful motor and robust construction.
Pros:
Lightweight
Fast winch
Good value
80 ft synthetic rope
IP68-69K rating
Control pack that you can move
Cons:
Shipping to some counties is not available because of its size
Badland ZXR 9,000 manual could be more clear
This particular winch is capable of handling 9000 lbs of weight, making it ideal for larger vehicles or heavier loads. It also features a robust design that makes it durable and long-lasting. Additionally, Badlands 9000 winch comes with all the necessary installation hardware, making it easy to set up and use.
When you are recovering your car, the last thing you want to worry about is the remote. With a wireless remote, you can control the winch without having to worry about any cords getting in the way.
But, if you prefer a wired remote, that option is also available. There is no issue with using a wired remote – both are effective and safe ways to operate your Badland 9000 winch.
The Badland ZXR 9000 pulls the cable (65 ft steel cable) out without bunching up in one spot.
What Previous Buyers Said
In our Badland 9000 lb winch review, we also discuss what others think about this product. Some users believe a longer cable would be a nice addition. With it, they could reach further distances and wouldn't have to worry about the cable bunching up. 
Overall, 9000 Badlands winch is a solid winch if you are looking to compare it with other 9000 lb winches.
Pros:
Easy installation
Automatic load-holding gear
Water-resistant
Cons:
The remote cable's length
A bit pricey
It doesn't have a wireless remote
The Badlands 5000 winch has permanent magnet motor on the winch draws less current and is ideal for use on UTVs.
The Badlands 5000 winch synthetic rope is aircraft grade and rated at IP 67, meaning it can be temporarily submerged in water without damage. 
The winch also features an automatic load-holding brake for maximum safety, as well as free spooling for a fast line-out.
What Previous Buyers Said
In this Badland ZRX 5000 winch review, we have to mention that more users pointed out the poor quality of the cable. They said any bend seemed to break strands and make a lot of fish hooks. 
Pros:
Automatic load-holding brake
Single-stage planetary gear system
Affordable
IP67 rated
Cons:
No wireless remote control
Poor cable quality
Badland Winches has a 3500 lb. capacity winch too, designed for towing UTVs and ATVs as well as other payloads in this weight class.
With its low-profile design and lightweight construction, the Badland ZRX 3500 is perfect for tight spaces and easy transport.
3500 lb Badland winch also features a permanent magnet motor. Free spooling for fast line out and automatic brake release for safe and easy operation.
Whether you're pulling a loaded trailer or getting your UTV out of a tough spot, the Badland 3500 winch is up to the task.
What Previous Buyers Said
Users are very happy with this Badland ATV winch, it's an affordable, quality-built winch with easy installation. The only downfall some users reported is the longevity of this Harbor Freight winch cable. 
Pros:
Lightweight
Easy installation
Good value
50 ft steel cable
IP67 rated
Cons:
A synthetic rope (Harbor Freight winch rope) would work better with ATV/UTV
No wireless remote control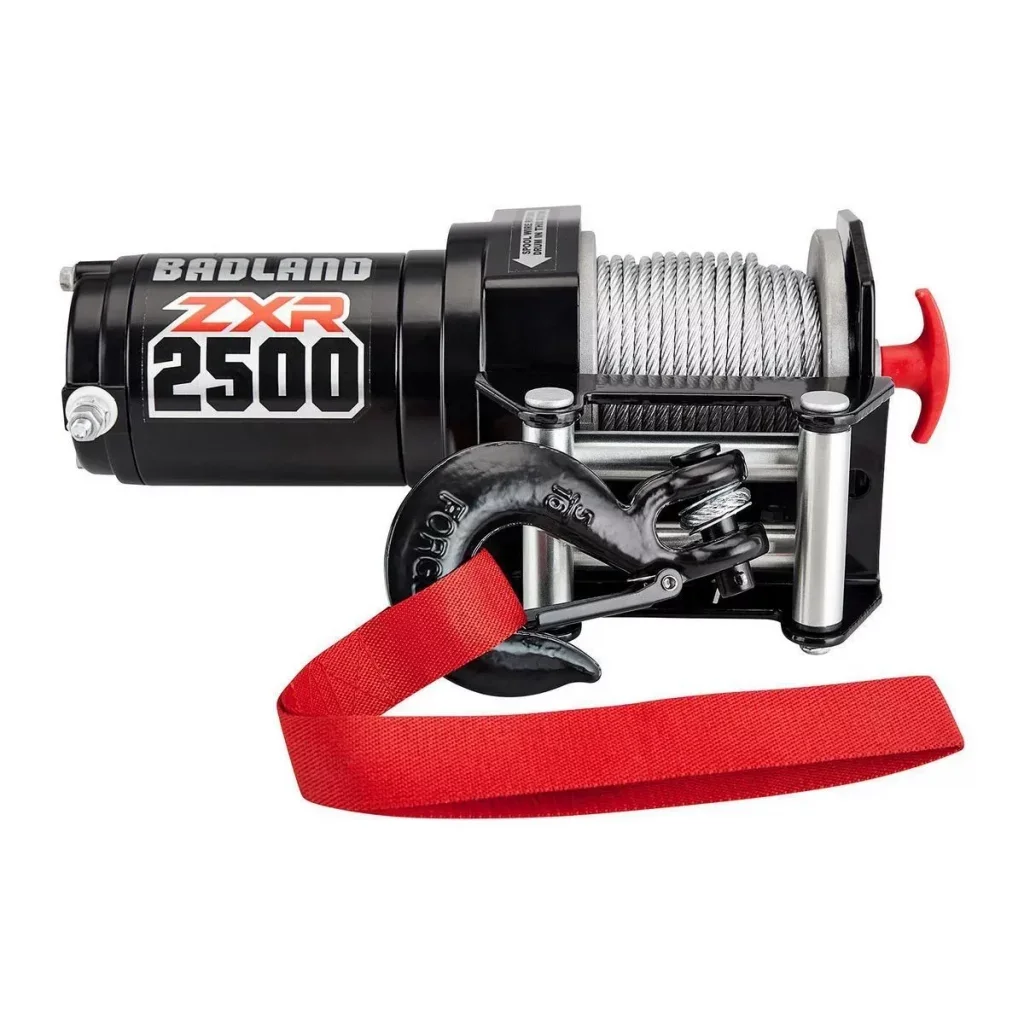 This 2500 lbs electric winch is another Badlands ATV winch. It is capable of handling any weight below 2500 lb.
The winch has a 12-volt motor and comes with wireless remote control, allowing you to operate it from a safe distance of 20ft.
In this Badland 2500 winch review, we have to talk about its other features too.  It comes with wired control. This means that even if the batteries in the remote die, you can still operate the winch through the wired controller.
What Previous Buyers Said
The Badland 2500 winch is a great choice for anyone looking for a lightweight winch. This winch also has a low profile, so it can fit into tight spaces. They also mentioned these are better than the Badland winch 1500 lb or the Badland winches 2000 lb.
Pros:
Lightweight
Wireless remote control
Memory timer to turn off the winch
50 ft steel cable
Cons:
A Badland synthetic winch rope would work better
Conclusion And Advice – badlands winch
This fairly affordable Badland winch is a good option for those who are looking for a high-quality product made from sturdy materials but do not want to blow through their whole bank account, i.e. don't want to buy a Warn.
We like the fact that they use aircraft-grade cables that won't break regardless of the weight.
For more information, you may want to check out the Harbor Freight listing of this 12,000 lb. Badland winch. You'll see some clear pictures of the product and you'll be able to read more reviews from previous users.
---
Winch guides you may be interested in:
---
CHOOSING A WINCH FOR YOUR VEHICLE IS A COMPLEX TASK
Enter your email below to sign up to our newsletter and to download this FREE 22-PAGES long guide on how to choose a winch.
YOUR PRIVACY IS PROTECTED