ATVs or UTVs? Which one is the best option for off-road adventures? Are there any differences between UTVs and ATVs?
These are some of the common questions that arise when you are going to purchase a new off-road vehicle or tool.
In this post, we are going to share some informative details about ATVs and UTVs. By the time you have read the post, all of your confusion about these off-road vehicles will clear up.
And, you will be able to make the right call when choosing between ATVs and UTVs based upon your requirements and preference.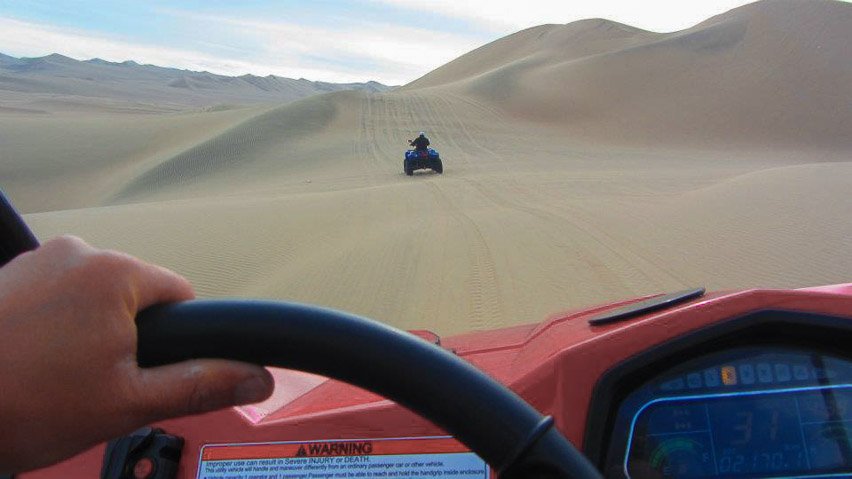 What is ATV and UTV?
ATV stands for All-terrain Vehicle.
From the name, you can already guess that this type of vehicle is made for riding on all types of terrains. An ATV is known for handling any types of roads and surfaces without any issues whether it is on or off-road.
This type of utility vehicle is known as 4 wheeler, quad, 4-track, quadricycle as well. Typically, these run on 3 or 4 low-pressure tires and have handlebars for steering instead of a steering wheel.
UTV or Utility Terrain Vehicle is on the other side of the coin. This type of vehicle is also made for both off and on-road journey. However, these tend to be larger and more powerful than ATVs.
Typically, these come with more than 1 seats and feature a steering wheel instead of a handlebar. Due to the side by side seating configuration, these vehicles are also known as 'Side by Side ATV or SxS'.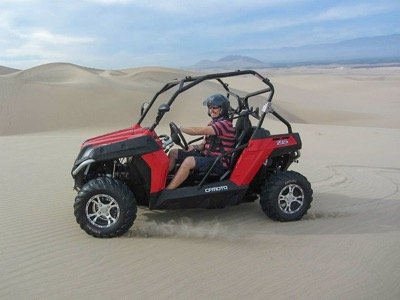 These mostly come with 4 tires and sometimes might have more than four wheels in some special models. So, let's discuss some of the most significant factors about UTV and ATV in this next section.
How Do You Choose Between an ATV & UTV?
There are a lot of factors you need to consider while weighing between 4 wheeler and a side by side. So, let's discuss some of the most significant factors about UTV and ATV in this next section.
Depending on the Size
When it comes to size, ATV and UTV are a lot different. Typically, a UTV vehicle will be larger in size compared to an ATV.
As a result, most of the 'All-terrain Vehicle' come with only one seat while the UTVs come with a couple of seats. Thus, if you are a solo rider, then you'd prefer the ATV than the UTV.
However, due to the smaller size, it is pretty challenging to maintain balance on ATVs. Thus, if you want to use your little rig for riding with multiple passengers, then the best option would be to choose the UTV.
Next, all the side by sides come with seat belts and a strong rollover safety enclosure.
On the other hand, ATVs lack these safety measures. But, because of the smaller size, these need less storage space compared to the UTV.
Bottom Line:
If you want to get an off-road vehicle in a small form and usually ride alone, then the ATV is the way to go.
Conversely, if you ride with other passengers frequently and want an easy-to-handle vehicle with a large form factor, you should choose the UTV in this case.
Depending on the Budget
Whatever you are buying, you need to be concerned about the pricing of the products prior to making the final choice.
In terms of the pricing, ATVs are a bit cheaper. And, it is pretty understandable, if you look at the size and the accessories these vehicles come with.
On top of this, you can also customize both of these types of off-roading vehicles as your liking. Now, for the record, customizing an ATV is cheaper than a UTV.
Additionally, you should remember that you would also need to buy some necessary safety equipment and gear with your new off-road rig. Those will add up to the total budget as well.
Bottom Line:
It is crystal-clear that if you are in a budget constraint yet want a utility vehicle anyway, your best bet would be to go with an ATV.
On the flip side, if the high price tag is not an issue for you, you can definitely get one of the UTVs for you.
Depending on the Usage – ATV vs UTV
This is another very interesting and important factor when it comes to choosing between an ATV and UTV. It's true that both of these types of rigs are made for off-roading.
However, they have some key distinctions in terms of ability when it comes to the task they will handle. So, let's elaborate…
Ride Comfort
As previously mentioned, ATVs are more challenging to ride compared to the counterpart. However, although the UTVs are heavier compared to their counterpart, it's very easy to handle a UTV.
When it comes to riding with other people, you will look for a more comfortable ride. In that regard, the winner would be UTV.
However, when it comes to high speed fun riding with agile maneuvers, the crown would go to All-terrain vehicle. While you are riding a UTV, you will feel like you are riding a car, mostly.
By contrast, riding a quadricycle is a little different. If you are an agile and professional off-road driver, you would love these. But, if you are new to off-roading, UTVs would work great for you.
Bottom Line:
If riding with comfort is the topmost priority of yours, then we are going to tell you to get a UTV.
Simply because, these are comfortable to ride for their (multiple) seating configurations, seat belts, safety enclosure, and grab bars, etc.
Whereas, none of these are available on an ATV. Thus, in terms of comfort, Side by Sides will work the best. Yet, if comfort is not the main priority of yours, choose the ATVs.
If You are into Customization
As you already know that both the ATV and UTV can be customized. Having said that, UTVs have the upper hand in terms of customization.
Because you can work on those for enhancing both the performance and the outlook to a greater extent.
However, for an ATV, there are not many customization options in terms of design and the outlook. Even though, you can tweak some things here and there to increase the performance of your ATV.
You can integrate features like LED lighting, power steering, in-cab heaters, stereo systems, cab kits, unique grab bars, 4-wheel independent suspension, and more on a UTV.
But most of these are not possible to use on an ATV. As a result, SxS will work the best for power users that like to modify and show off their off-roading rig.
Bottom Line:
If you love customizing your vehicle to personalize and enhance performance, then it is good to go with a UTV.
However, you should also keep in mind that customizing a vehicle might get expensive. And, if you think you are better off without customizing the vehicle, you can get an ATV, nevertheless.
Racing or Hauling Heavy Loads
As you already know that both ATV and UTV are different when it comes to performance. First off, the ATV is lightweight and smaller in size.
Thus, it is better suited for high-speed fun riding and can cut corners fast. As a result, these are also suitable for off-road racing.
UTVs are bulkier. Eventually, all of these don't actually help it to be faster than an ATV. Having said that, it can be equipped with a more powerful engine, therefor side-by-sides can be superfast.
But when it comes to towing capacity, the UTVs are the real deal. Normally, you will find that most of the side by sides have storage space in the rear for loading cargo.
Even if some models don't come with separate space for storing accessories, these will have receiver hitch mount on the back.
With the help of this, you can install a hitch mount for loading cargos or bicycles on the back of your UTV. Plus, these will always come with a few extra seats as well. So that you can ride with your friends and family.
Bottom Line:
If you like to race or just want a faster and agile vehicle for your off-road journey, you will love the ATV. These are fun and thrilling to ride.
However, if you need to use your vehicle for loading heavy cargo, it will be better to get a UTV.
Both can do both jobs, but at different levels. Both are brilliant off-road, especially if you install an ATV or UTV winch.
UTV tour in Mongolia
Frequently Asked Questions about ATV & UTV
What is the difference between an ATV vs UTV?
There are a few key dissimilarities between an ATV and UTV. Among them, the first one is regarding the design.
Most of the ATVs come with only one seat, use a handlebar steering system, lacks safety features, and tend to be lighter and smaller in size.
On the flip side, UTVs use a steering wheel, have more than one seats (2-6), and come with various safety features, but bulky and heavy in size. Thus, they are not suitable for high-performance fast riding but can be suitable for demanding tasks like hauling heavy loads.
The next difference is the price. ATVs tend to be the more budget-friendly option between these two choices. Therefore, if you are in a budget constraint, the better option would be to get an ATV.
Are UTV safer than ATV?
YES.
Typically, UTVs are safer than ATVs.
It'is because side by sides come with a lot of safety features like roll cage enclosure, seat belts, grab bars, reliable braking system, and more.
So, even though, UTVs are slower and larger than quadricycles, they are safer than ATVs.
What does UTV stand for?
UTV stands for 'Utility Terrain Vehicle' or 'Utility Task Vehicle'. These are also known as ROV (Recreational Off-highway Vehicle) or Side by Side.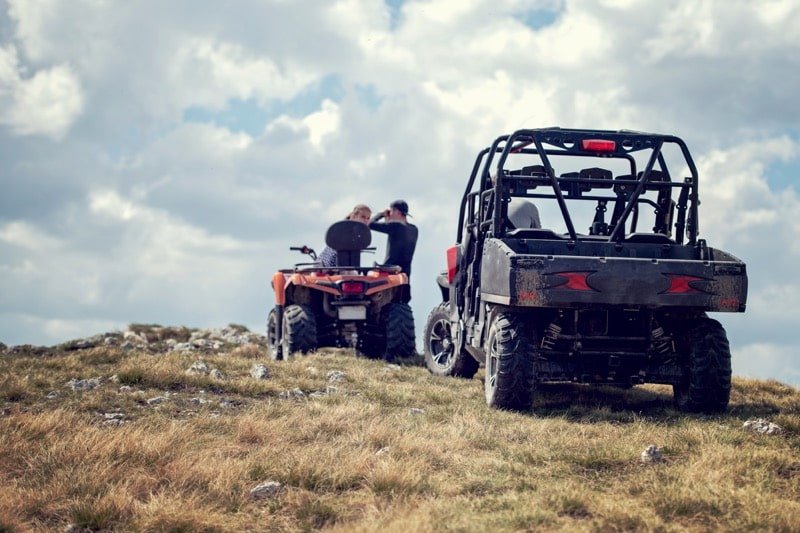 Sum Up – Which One Is Better, UTV vs ATV?
From the discussion above, you can see that there is no straightforward answer to the question. We cannot even say which one is the best option.
Because it all boils down to the preference and requirements of the users.
Ultimately, you can choose the ATV, if you ride alone, not into customization much, would like a budget-friendly option, want fun and thrilling riding experiences.
Likewise, you can get the UTV, if you are looking for a workhorse, want to ride along with others comfortably, don't have any budget limit, and like to customize your vehicles to your liking. With a UTV, you can also enter awesome races or just enjoy adventurous rides through forests or sand dunes alike.