Foreword by Ferenc – I came across the van der Burg family on social media (as you do these days) and was absolutely fascinated by their incredible lifestyle as a family. Before you also check out their Instagram account, take your time to read the below story of their incredible journey!
Through this article, Fleur kindly let us, the readers, into their daily lives so that we can have a grasp of what it's like to live LIFE totally free as an overlanding family!
A Family of 4 Overlanding Around the World
by guest contributor, Fleur van der Burg
We are a Dutch family of four, with a love for travel, the great outdoors, and offroading. We sold our house and company for an adventure around the world in our Expedition Truck, Manfred, with no end date in sight.
Our initial plan was to fly to Halifax, Canada on the 30th of April this year. Flight tickets were bought, our bags were packed, and the boat for Manfred was booked.
Manfred would have been shipped to Halifax and from there on we were planning to drive to Alaska to spend the summer there. After that, we wanted to make our way south to discover Canada and the rest of the lower 48. However, Covid-19 threw us a curveball…
Things could no longer go according to plan, and we had to come up with a new idea quickly, as we already sold our home in The Netherlands. Our parents offered us to stay in one of their homes until things would ease out. We decided to decline this very kind offer as our nomad hearts (and Manfred!) were calling for us.
We started traveling in The Netherlands in April until the borders opened, and when they did we began exploring the rest of Europe with our truck.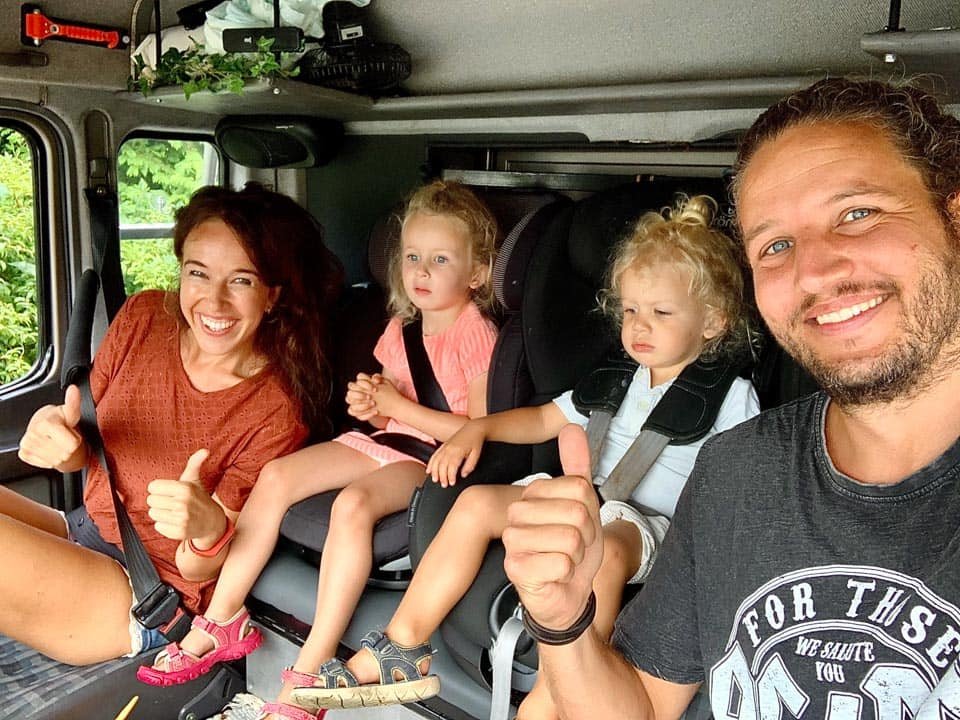 Overlanding Compared to Other Types of Travel from a Family Perspective
To us, overlanding is easier than other types of travel, such as flying or taking the train. Especially with kids. You always have your home and belongings with you, wherever you go. No hassle with buying train/flight tickets, luggage restrictions, waiting times or having to be somewhere at a certain time. You get to experience the ultimate freedom when on the road, while not being dependent on someone else.
We decide ourselves when we go and where we go!
Planning Our Trip
We plan our trip broadly, with no details, and usually stay at one place for one night and then drive further. We all love the driving portion of the day in Manfred, however, when a certain place is really really nice we'll stay longer.
The evening before we leave, we spend searching to find places to stay for the next night. We used to always use Google Maps and look for open spaces in a forest or along a river. That could be a bit difficult and sometimes we had to drive to five different places and arrive after dark before finding a good spot. Before we had kids, that wasn't a problem.
Nowadays, situations like that are a bit more unpleasant, so beginning last year we started using the apps Park4night and iOverlander. They are a great help and we never have to check out five places before we find a good spot. Everybody's happy! These days we also use the Covid News when we plan our next destination. Crazy times.
Kids' Health While Overlanding
We think life on the road is a lot healthier for all of us compared to life at home.
Michael used to own a truck trading company, working long hours, and I was working as a psychologist. It could be very stressful managing it all: lots of work and a young family.
Our kids had some health issues as well. We had years of only a few hours of sleep. We were exhausted.
Now our days are 100% stress-free. Well, I have to admit I do encounter quite some stress when driving on narrow gravel mountain roads… No rush, just pure joy for all of us. I think that this in itself is a much healthier lifestyle already. When we have a bad night because the kids can't sleep, we just have a slow day afterward. Life is so much simpler.
We also believe it's very beneficial for the kids that we get to spend so much time as a family in those early years of life. This is the foundation for the rest of their lives. And so far our trip has been nothing but a family bonding experience.
"Life is too short to just stick with dreaming."

Michael van der Burg
We are so happy that we decided to live our dream now, instead of waiting until we are retired and maybe never getting the chance to actually do it. Experiences are worth so much more to us than money will ever be. And as Michael always says, "Life is too short to just stick with dreaming."
Besides the above, we try to keep our kids healthy by being outside and moving a lot, and by filling them up with the good stuff. We usually start driving around 11:00 am.
We pack lunch and a snack box (sandwiches, chopped up cucumbers, carrots, capsicum, nuts, raisins, banana and rice cakes to give you an idea) for everyone, which prevents us from grabbing unhealthy fast food along the road.
We think the fresh air of the outdoors is amazing for them. No more sitting in front of the TV for hours.
Because we plan to go to remote areas (in Canada and Alaska for example), I also completed a first-aid course for children. In addition, we bought a Garmin InReach Mini for when we wouldn't have cell phone reception and would be in need of help.
Naturally, we also carry a well equipped first-aid kit with us. We hope we never have to use any of this, but it feels good to be prepared.
Previous Trips with the Kids
This is our first big trip as a family. We went on smaller trips together, mainly to France, but we mostly stayed home the last few years and saved, saved, and saved for this big adventure.
It's also much easier to travel now that the kids have grown a little bit. They handle sitting still in a carseat in the truck a lot better than last year, for example.
Age of The Kids as a Consideration for Overlanding
We did consider the age of the kids when planning this trip. We thought, "if this is something we really want to do, we'll have to do it now." We think they are the ideal age right now. They don't have to go to school yet, so no hassle with homeschooling.
However, if they do reach the age at which they have to go to school and we still all like this lifestyle, we will school them ourselves on the road. It's not a reason for us to stop traveling.
If they do wish to go to a regular school though, that's what we will do. Their happiness is most important to us!
How Often Do We Stop on the Road
We prefer to only drive one hour a day. That way, we don't have to stop for a break and we can still enjoy the rest of our day outside. It also gives us some flexibility to stop at that playground the kids see along the way or do some grocery shopping.
We avoid taking highways and mostly drive on rural roads. This is not always a good idea… small bridges, narrow roads, low hanging power lines can all create interesting situations. Sometimes, we need to turn around, but so far it has worked out well, apart from some paint scratches.
We see driving as a really fun part of the day. We have a cool view from up high in the truck and the kids sit in between us. They enjoy it way more than sitting in a car.
At the beginning of our trip, we still had to entertain them while driving. Now they just entertain themselves. They do some play-based learning activities, they have a few animal toys they play with a lot, and some Hot Wheels. But they mostly just look out of the window, and our little one sleeps a lot while driving.
We time our driving hours with his nap time, which works out well. If we do have to drive longer distances, we stop every 1.5 hours to stretch their legs and play outside for a bit.
For us parents, driving is also a nice break from caregiving all day. You can just sit and rest for a while without having to chase and watch the kids all the time. Traveling with kids is a wonderful experience, but it can also be exhausting at times as it is 24/7. No breaks!
Daily Routine as an Overlanding Family
Our days start off very relaxed. We get up when we want to, mostly between 7 and 8 am. When the kids rise, we all snuggle and snooze in our big bed together before we actually get up.
It's great to have this time in the morning and not having to rush to get the kids ready and get to work.
Julie, our oldest, always wakes up asking, 'Is it morning? Where are we today? What country are we in?' Completely used to this nomadic life already.
Our day begins with coffee, we can't live without it, after which we make breakfast. I usually make oats for the kids and myself (Michael hates it!). It's healthy, filling, and something we always have. We always have some bags of oats in store and a long life milk for when we run out of fresh milk.
After breakfast we get dressed, brush our teeth, put sunscreen on, and get outside for a morning walk. We can't go very far yet. The terrain is usually not suitable for strollers and we can't carry our oldest that far anymore (she's getting heavy!).
We've just accepted that you simply just can't do everything when traveling with little ones. We usually do a one hour walk at a very slow speed, because there are lots of flowers and insects to admire along the way…
When we get back, we pack our snack and lunch boxes and hit the road. When we are close to our next destination, we do some grocery shopping and usually arrive around 1 pm.
We make coffee and then start exploring the new area. We have bikes with us and an inflatable canoe. We can't cover far distances yet with both, so we stick to what we can handle.
Our afternoons are spent near a lake, ocean, forest or just next the truck on a rug with some toys. Every single day is different! We love campfire cooking, which is an afternoon filling activity by itself.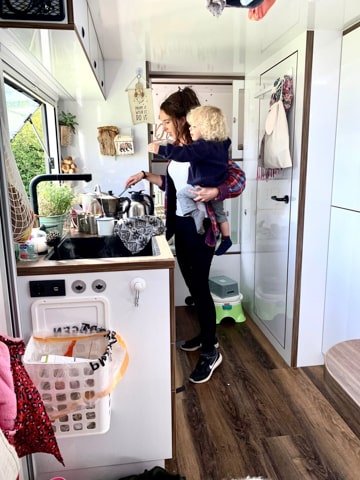 When it's raining, we go outside anyway – we have coveralls for the kids and rainboots. The kids actually love playing in the rain, stamping in muddy pools and all that, and we learned to embrace it as well. Afterwards, we just hang our clothes and boots to dry in the cabin or in the bathroom.
If we happen to be in nice towns, we go sightseeing or sometimes to a playground.
We have dinner around 5 pm and usually just eat simple, but healthy stuff. We eat a lot of wraps, as they are easy to store and you can fold just about anything you have in your fridge in there.
We also use them to eat leftover chilli or pasta sauce or even in the morning to make breakfast burritos with some scrambled eggs and veggies.
Following dinner, we let the kids play outside a little longer, read them a bedtime story (we have e-books and one big reading book), and then it's time to go to bed around 8 pm.
In the beginning, we went outside or we were sitting in the cabin when they went to bed. That wasn't always pleasant on rainy and windy days or when there were a lot of mozzies around.
Now, however, the kids are totally used to some noise and light when falling asleep, and we can just sit on the couch and chat while they are falling asleep. Perfect!
Hazards When Overlanding with Kids
Every country has its own hazards, whether it's animals, plants or terrain.
When traveling with kids, you need to be aware of that. At home, we fenced our garden and made our house and garden kids-proof. On the road there are dangers everywhere.
That may sound a bit dramatic but it's true: poisonous plants, steep drop-offs during walks or even at camp spots, open water, open fire, cars speeding near your campspot, piles of wood with nails sticking out, deep water wells, and I could go on a bit longer.
When we arrive at a new place for the night, I first take a little walk in the area to check out the dangers and to remove some when possible.
We never let the kids out of sight. They are too little to play unattended. We have taught them to never eat something they find in the wild or on the ground, even when they are perfect looking berries.
Still, I sometimes receive a concerned phone call from my dad (who is a MD) with the question of whether we know if that plant with the berries they saw on Instagram is very poisonous. We definitely appreciate that!
Manfred – The Custom Built Expedition Truck
The Hunt for the Perfect Truck
The hunt for the perfect truck for us took about half a year.
Mike searched the internet every single day. Eventually he found one in northern Germany. It was a 1993 Mercedes SK 1722. Mike jumped in the car, took money and his dad with him and off he went to pick it up and drive it home.
The truck had been used as a snow plough by the German authorities. It had only 58,000 km on the clock. It suited all our needs and we were thrilled that we had finally found a base vehicle for our expedition truck. We named it after our first car (a Landcruiser HZJ78 that we actually planned to convert but that plan didn't work out): Manfred. The mammoth from the movie Ice Age, also a giant.
This was the start of our adventure!
Expedition Truck Requirements for A Family
Actually we were looking for a truck with a sleeping cabin, because we were going to convert it to a four-seater. However, we couldn't find one that was also four-wheel-drive. That's why we decided to go for a so-called half-sleeping cab.
Mike made a bench in between our seats, where he installed two child seats with isofix. Even if they outgrow their child seats, they will still have enough room to sit on the bench in between us.
Besides having enough room for the four of us in the cabin, other important factors for us were that we would buy a truck of a brand with an easy world wide part supply.
We also wanted to buy a truck with old mechanical construction, so we wouldn't need a computer to fix it in case it breaks down. We carry a lot of spare parts with us, such as a waterpump, an alternator, a head gasket set, a fuel pump revision set, two spare tires and lots of small parts.
We have custom made wheels which make it possible to take off the tires from the rims ourselves if we need to repair them.
Michael can fix a lot of things himself. When he doesn't have the knowledge, we have a few friends we can fall back on. One of them already saved our arse once when we had some problems with the brakes. Of course there will always be things that can only be fixed by mechanics in a workshop.
Other important aspects for us were that the truck was 4WD and that it had a full steel suspension. This is important to us because we want to be able to go anywhere and everywhere (if our size allows us, which is not always the case!).
We were also looking for a truck with less than 150,000 km on the counter. Of course Michael also took the overall condition of the truck into account: whether the chassis had any rust, the condition of the cabin on the inside, etc.
Conversion
For about a year, Mike spent all his free weekends in his workshop, working on the truck.
Changing parts, upgrading the truck, adjusting the back axle tires from four to two tires. He has also built the whole air system into the chassis so we could make two big fuel tanks on the left-hand side of the truck, and several stainless steel boxes on the right-hand side to store a lot of stuff. He moved the three air valves (4×4, diff locks, low gear) into the dashboard, so we have more room for the kids in the cabin.
Furthermore, Michael completed lots and lots of little projects, such as making outdoor lighting, making a bull bar, a sun visor, a music system and a CB radio, a rear and side camera system and a water separator filter amongst other things. He'd spend so much time working on the truck that almost wasn't going to be a trip together anymore. It almost cost us our marriage!
Equipment To Travel Around World
The living unit has been built by a Dutch company called Twiga Travelcars. They did an amazing job, we are still very happy with the end result.
The living unit is equipped with a kitchen, cabinets, a bathroom with cassette toilet, shower and a 3 kg washing machine. We have U-shaped seats around the dining table. A double bed above the seats and table can be lowered with electric motors. Bunkbeds have been built for the kids and a lot of storage space.
We also have a water purification system with two filters and UV lamp on board. We have four solar panels on the roof that provide us with sufficient power. These are connected to four batteries to store this energy. We carry 350 liters of water with us and our fuel tank capacity is 470 liters of diesel.
We can crawl through a hole between the living area and the driving cabin, so if we are ever at a place we don't feel comfortable at, we can drive away without having to go outside first. We have uploaded a video to YouTube with a full tour of the living unit of our truck for anyone interested.
How the Current Pandemic Affected Our Trip
The current pandemic had a huge effect on our trip. It still feels a bit unreal: starting our world trip in the exact year this pandemic broke out.
As we couldn't go to Canada, our first plan was to go to Scandinavia (we call it 'Little Canada'). However, Norway was still closed and things got very bad in Sweden, Covid-wise.
We changed our plan again and decided to travel to Greece and spend winter there. When we arrived in Slovenia, the situation in Croatia and some other Balkan countries got very bad as well, so we changed our plans again.
We are more careful now that we are traveling with little ones, and now made the decision to head to Portugal and spend winter there. Then we'll retry Canada in April 2021. Fingers crossed!
But the pandemic doesn't only affect the destinations we travel to, it also affects the things we do in everyday life (like it does for all of us).
We avoid busy places, we do grocery shopping alone, and we don't sit on terraces and have a drink or a bite to eat as often as we would have done before. We keep our distance from other people, which is a shame really. Traveling isn't the same.
A big part of traveling for us was meeting other people and other cultures. That part is partially gone now. However, despite all of this we are still having an amazing time and we wouldn't want to miss it for the world.
---
Follow Manfred and the Fam's extraordinary stories on the usual channels and most importantly, be inspired by their great content: