The M41 highway, popularly known as the Pamir Highway is one of the greatest routes that many adventurers and backpackers dream of. It's the second highest highway not just in Central Asia but around the world.
This highway traverses the Pamir Mountains, passing through several countries in Central Asia including Afghanistan, Uzbekistan, Tajikistan, and Kyrgyzstan.
We've travelled along this fantastic road on a London to Ulaanbaatar adventure a few years ago. Along the whole trip, this section of Central Asia was the ultimate place that we wanted to see. We felt adventurous. And, we actually were adventurous.
The Pamir Highway is part of the historic Silk Road in Central Asia. It is not your typical travel route or highway as it features many detours, side trips, magnificent views and vibrant colorscapes you couldn't find anywhere else in the world. You can expect many epic adventures along the way apart from getting up close with nature, people, and rich Central Asian culture.
Since the Pamir Highway is not your usual tourist destination, this travel guide will help you plan your road trip so that you'll have an enjoyable and safe experience. We will try to cover everything you need to know for your road trip.
Where to Start Your Road Trip
Some people start their road trip in Dushanbe as it is relatively easy to hire a 4×4 vehicle with a driver in this place. However, if you are on a budget, you can also take a shared taxi or Jeep (they call every 4-wheel-drive vehicle a 'Jeep' in this part of the world) from Dushanbe to Khorog, and then in Khorog hire a vehicle that you can share with other travelers.
Khorog is about 377.7 miles away from Dushanbe and on average, the road trip will take about 12-14 hours.
Theoretically, you will reach the end of the Pamir Highway from Dushanbe in Tajikistan to Osh, Kyrgyzstan in 3 to 4 days. But that won't be a fun road trip. To fully appreciate the beauty of the Pamir Highway, make your road travel at least 7 days to 10 days.
Major Stops on the Pamir Highway
The sceneries on your route as you travel the Pamir Highway are really "out of this world." You can expect spectacular landscapes and beautiful lakes and rivers right next to the road. Some of the major stops that you can include in your Pamir Highway itinerary are:
Nurek Lake
On day 1, this is one of the places you'll be able to see. It's a popular destination for local and foreign tourists and it's worth adding to your itinerary. The road will not bring you that close to the lake but you still get to enjoy a spectacular view. This area looks more stunning in spring as the surrounding hills turn green with beautiful wildflowers everywhere.
Busy square next to the market in Khorog
Khorog (Tajikistan)
This beautiful city is one of the biggest cities along the Pamir Highway. It is nestled at the meeting point of the Panj River and Ghunt River so you can expect some scenic landscapes.
Khorog is where you can choose to travel a shorter route by directly going to Murghab via the M41 highway or pass by the scenic Wakhan Corridor which is a longer route. But before going down the road, you can spend a day exploring this town.
Khorog Central Park is a nice place to visit. If you travel in July, you may be fortunate to witness their celebration of the Roof of the World Festival. It is one of the city's biggest festivals. The Roof of the World festival aims to develop cultural exchange among the people of Central Asia,
You can also visit the Khorog Museum and its Botanical Garden.
Moreover, before heading to your next destination, you may want to grab some supplies for your long journey as the shops and bazaars in your next stops will not have much variety to offer and are a bit more expensive.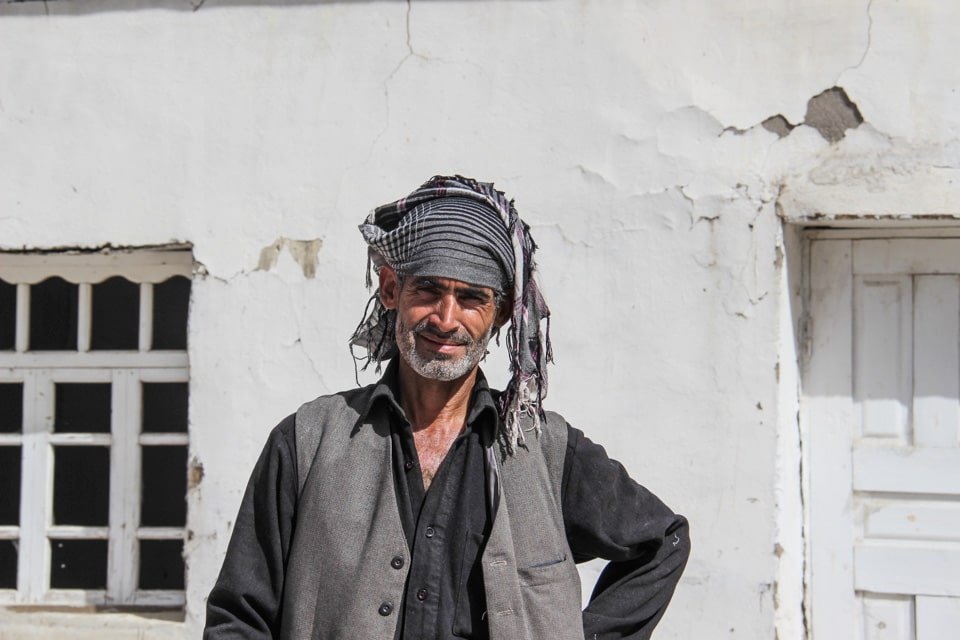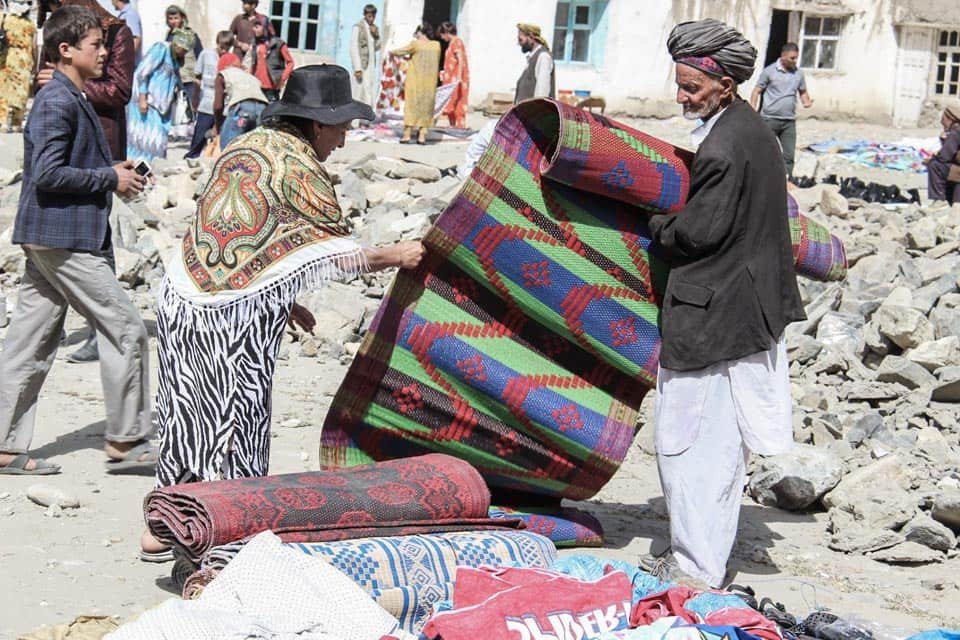 Afghan Market next to Khorog
Do not miss the Afghan Market while you're Khorog. It's a fascinating piece of the region's culture as the market is organised on an island in between Tajikistan and Afghanistan.
The Afghan traders meet their Tajik counterparts every Saturday and they can do it without having to use a passport as they're basically in no-man's land.
Wakhan Valley
One of the popular routes that travelers take to Osh is via the Wakhan Corridor. The Wakhan Corridor is a narrow strip in Afghanistan that extends to China and it also separates Tajikistan from Pakistan.
The Wakhan Valley is a mountainous region and most of it belongs to Afghanistan. For many centuries, this area was an important principate of the great Kushan Empire. Because of this, even if it's a mountainous area, you can find a number of fortresses on top of high hills.
With its rich history combined with the incredible landscape and friendly people, the Wakhan Valley is your ultimate adventure destination on the Pamir route.
There is so much to see and do in the Wakhan Valley that many travelers spend at least a few days exploring the area. You may be concerned about the real or perceived dangers in Afghanistan so you want to get out as quickly as you can, but only spending a day here isn't really enough. If you have more time, you can visit its ancient fortresses (along the border with Afghanistan), hot springs, rural villages, and lush farmlands.
Langar (Tajikistan)
This cozy town is the last settlement within the Wakhan Valley. After a day of adventures, you could spend a night here before proceeding to Murghab. After Langar is the Kargush Pass that reconnects with the M41 highway.
It's considered to be one of the most dangerous passes on the Pamir route, so it is generally safe to travel here during day time.
Bulunkul and Yashikul Lakes
Before entering Murghab, you can also include in your itinerary a short detour to the Bulunkul (smaller lake) and Yashilkul (larger lake) as these are among the most beautiful lakes in Tajikistan.
Spend a day hiking around Bulunkul, take 'instagrammable' photos, and just appreciate the snow-capped mountains in the backdrop. For the night, you can stay in Bulunkul Village, considered to be the 6th coldest place on earth!
Murghab (Tajikistan)
Murghab is a major town in the Eastern Pamirs composed largely of Kyrgyzstan locals. It is lower than Alichur in terms of altitude, so you should feel better here if you have altitude sickness. It's worth stopping in this town to enjoy their pelmeni soup and also to shop in their bazaar.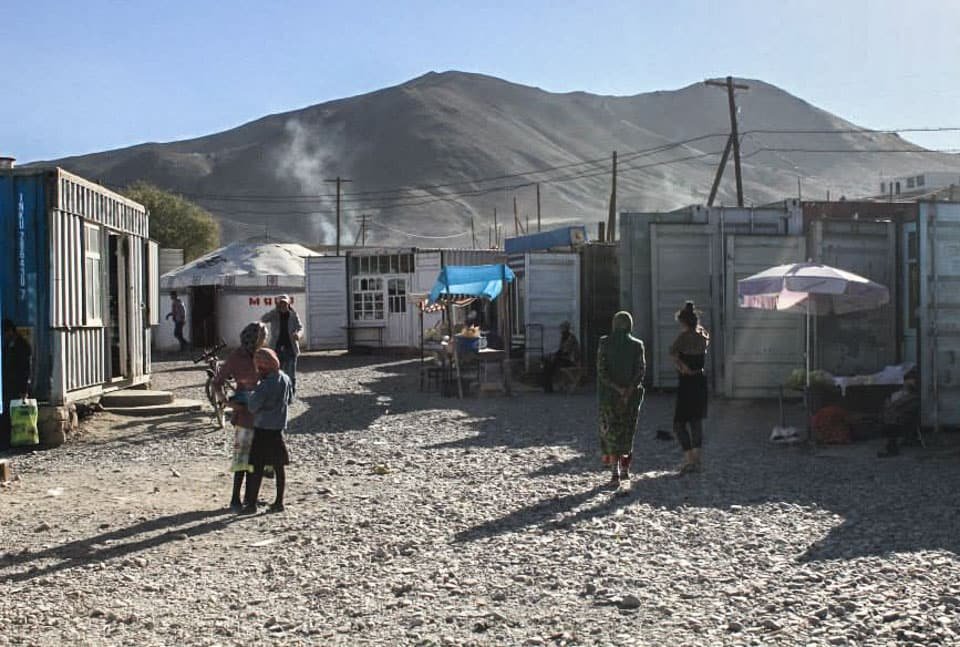 The bazaar was actually built using old shipping containers. It's a bizarre look when you're walking down the 'shopping street' but it seems to work. When you're living in such a tough place, you make it work with whatever is available.
From here you can also also take interesting road trips to the Pshart and Madiyan valleys and the Rangkul lake or visit the picturesque Madianskaya Valley and its hot springs which are said to have healing properties.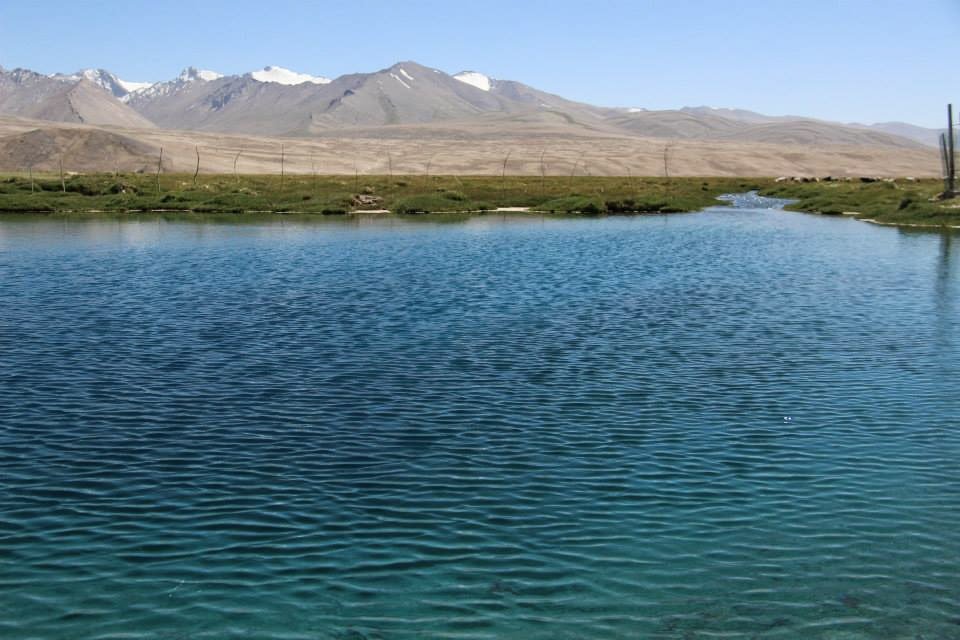 Lake Karakul
From Murghab, traversing the Pamir Highway and passing through the Ak Baital pass, you can drive to Karakul. The lake Karakul is famous for its deep blue color in the summer. You could then spend the night in Karakol, a typical eastern Pamir community with herds of yaks walking around everywhere. There are nice homestays in this small village where you could spend a relaxing and warm evening.
Sary Tash (Kyrgyzstan)
While many travelers head straight to Osh, you may want to have one last detour on your itinerary to Sary Tash. It's a small lovely town in the Kyrgyzstan Alay valley located about 184 kilometers from Osh. This town is in such a strategic position that it has become a base for organized treks and trips.
The dreamy Alay Valley in the Sary Tash is one of the most beautiful spots in the country. This part of the world is the dream place of mountain lovers. It is a great place for trekking and hiking. Looking around this place, you can see lush green valleys and turquoise lakes surrounded by towering peaks. It's a sight to behold.
Sary Mogul (Kyrgyzstan)
Just 15 kilometers from Sary Tash in Kyrgyzstan, you will find the photogenic village of Sary Mogul. It's the gateway to the Lenin Peak base camp, which is located in Tajikistan near the border of Kyrgyzstan. If the weather permits, you can tour all the way to the Lenin Peak base camp to get a glimpse of some captivating views. But you will need a special permit to enter the camp.
Before reaching the Lenin Peak base camp, you'll find the beautiful Tulpar Lake surrounded by velvet-green hills. Even if you can't go straight to the Lenin Peak, a hike to Tulpar Lake is worth your time.
Kyrgyzstan-Tajikistan Border Crossing
Traveling from Dushanbe to Osh, depending on your Pamir Highway itinerary, you will have to cross borders between Kyrgyzstan and Tajikistan at least once or even twice.
Entering Kyrgyzstan is not complicated since about 90 countries can enter the country visa-free. This is exactly the opposite of entering Tajikistan as most countries need a tourist visa.
Before reaching Osh, you will pass by the Kyzyl Art Pass. It is one of the highest border crossings in the world. To cross the border, you will need a Tajik visa. This visa is not available on arrival but you can apply for it at any embassy or online. You will also need a GBAO Permit to travel in this region, so let's have a look at the details.
GBAO Permit
The Gorno-Badakhshan Autonomous Region (GBAO) is a region on the east side of Tajikistan. Part of the road lies along the Panj River which the country share with Afghanistan. This part of Afghanistan very remote and is not affected by any current incidents.
To travel to the GBAO region by following the Pamir Highway, you need to present your GBAO Permit. You should make several copies of your permit in advance as each checkpoint will request a copy.
You can apply for this permit at the same time you apply for the visa and it will have the same valid dates as the visa.
You have multiple options to obtain the Permit:
At Tajikistan embassies. You can submit your application at the same time you apply for a visa.
At the Department of Visas and Registration Office in Dushanbe.
Online if you are applying for an e-visa.
If you are booking a travel agency, you can also apply for a permit through them.
The cost of getting a permit varies depending on where you are getting it, but generally, it will be between $30 and $50.
If you intend to extend your road trip, you may want to extend your permit as well. You can do so for a maximum of 30 days. Just submit your application at any OVIR department along your route.
It's important to note though, that if you are a citizen of any country that does not need a visa to travel to Tajikistan, you cannot apply for a permit online. You need to visit an embassy in Dushanbe or get it through your tour agency.
Pamir Highway Food and Accommodation
In major cities like Dushanbe, Khorog and Osh, hostels and hotels are available. However, as you go farther the Pamir Highway, there will only be small towns and villages where the most common type of accommodation is homestays. This means that you will be staying with a family in their home. This set-up is a great way to learn more about their culture.
Photo credit – Ashley Gardner
If you will pass by major towns, there's a good chance to find a guesthouse.
Most houses and guesthouses are cozy, especially in Kyrgyzstan. The people are accommodating and they will give you a relatively comfortable bed.
Of course, if you're an overlander there are plenty of places where you can find a good spot to camp for a day or two. Make sure you're prepared for really cold nights and you venture off the highway to camp away from curious eyes, it's good to remain a walking distance from the road in case you need to ask for help. Otherwise, having an emergency personal locator beacon with you in this region is advisable.
We've personally met overlanders who were saved by a Garmin Inreach Mini when they got totally stuck with their Land Cruiser Troopy away from the road. After realizing that they can't get out on their own, they were located and saved within one day.
Regarding food, you can find many restaurant options in Dushanbe, Khorog and Osh that serve typical Central Asian cuisines. But for most of your road trip, you will have to eat where you stay. Homestays offer decent meals and you will normally get a dose of their shorpo (meat broth), and homemade jam and bread.
Your food options in the Pamir Mountains are quite basic so it is worth taking some snacks with you.
Pamir Highway People and Their Languages
One of the most fascinating things about the Pamir Highway in Central Asia is that as you travel to its towns and villages, you will see a great diversity of people and ethnic groups with their unique culture. The Pamirs is shared by several countries in Central Asia including Afghanistan, Uzbekistan, Tajikistan, and Kyrgyzstan.
World history tells that a number of civilizations and empires thrive in the area for many centuries. The Pamir Highway was also part of the ancient Silk Road, hence they have a rich and unique culture.
As you travel along the Pamir Highway reaching the eastern part of Tajikistan, most people are surprisingly not Tajik but Kyrgyz. They have strong Mongolian features when compared to the Tajiks who look more like Iranians.
Going farther the route, you can expect varied languages and dialects among the people living in the valleys and mountainsides, depending on their location. It can be hard to communicate with the locals, and most of them are not English-speaking. Most of them are very welcoming, but it's always advisable to get their permission before taking photos of them.
If you haven't got your own vehicle when you travel the M41 route, it's important to get a well-trained English speaking driver who can also understand the locals. Arranging your Pamir Highway route tour with a reputable agency in advance can help ensure that you get an experienced English speaking driver.
Pamir Highway Weather and Best Time to Go
The best time to book your travel on the Pamir Highway is from late May until late September. Outside of these months, the high mountain passes may already be snowbound and inaccessible.
Due to its high altitude, the weather in the Pamir Mountains is pretty cool even during summer. During the day, it can get hot but it cools down quickly starting in the late afternoon. In between high peaks, you can almost expect the cool winds so it's best to pack some warm clothes.
If you are going mountain trekking as part of your road trip itinerary, the best months to visit is late April to May. During this time of the year, it will not be too hot during the day time while it's colder at night.
September is perhaps the best month to go to Tajikistan for snow-free traveling and trekking. Aside from the perfect weather, the markets at this time of the year are also filled with fresh produce. You can also expect the turquoise rivers to be in full force due to the melting of glaciers.
Costs
Aside from the visas and permit, your Pamir Highway basic travel costs will include transportation, food and accommodation.
For transportation, it will depend on your way of transportation. If you will hire a 4×4 and share it among four people, on a one week adventure, the total transportation cost will be around $250 per person, inclusive of a private travel guide. If you choose public transport or try hitchhiking, it will be much cheaper than that.
Summer is the peak tourist season. This means that you'll get to see more tourists so it's also easy to find someone to share a ride with. The downside of summer travel is that it can be really hot in the plains.
For the most part, your best option for accommodation are homestays. They generally cost between $10 and $15 per person per day, inclusive of breakfast and dinner. You may request lunch at an extra cost.
If you will hire a guide, that's also an additional expense.
Traversing the region as an overlander is probably the easiest way. Make sure to fill up even your extra fuel tanks and jerry cans as well. This naturally will be your biggest cost. Before you set off either from Osh or Khorog, make sure to check your spare tire and recovery gear.
Checkpoint on the Pamir Highway
Pamir Highway: What to Expect
Before heading to the Pamir Mountains, it's also important that you have an idea of what to expect so that you can plan on the best thing to do.
Checkpoints
When you enter the Gorno Badakhan region along the M41 highway, you will be stopped at several checkpoints where you have to present your visa and permit.
Rideshare
It's pretty common for travelers to share a vehicle with other tourists. Generally, 4 people share the cost of renting a 4×4 vehicle. If you plan and book your Central Asia trip in advance, you have the best chance of finding other travelers to share the cost with.
Cash
Cash matters as you travel the M41 highway. There are no ATMs along the road except in major cities. Be sure to bring enough USD and Tajikistan Somoni.
Electricity and Batteries
In many homestays, they have electricity where you can charge your batteries overnight. However, there are also areas where there's no electricity so it would be good to bring spare batteries, a portable solar charger or a power bank. Again, overlanders with the proper equipment can make their trip very comfortable.
Some places turn off their electricity supplies completely during the night. You can use the opportunity to marvel at the Milky Way. Due to the complete lack of light pollution in the region, the experience will be mesmerizing.
Communication
Outside of Khorog and Murghab, you can't find an internet connection. You could use a local sim card but it's not that easy to get one other than in Dushanbe.
Homestays
Don't expect much from homestays. A typical home will offer you a room with mattresses and blankets for the floor. If you are lucky, you may find a home with an actual bed.
We slept on the floor using nothing but our sleeping bags. It adds to the experience!
During peak season, you may have to share a room with other travelers.
Also, most toilets are of the squat type and in many homestays, they are outside. A flashlight will be handy if you have to go out in the evening.
Pamir Highway Travel Safety
The Pamir Highway is a safe route as crimes rarely happen in this area. Local people are warm and friendly and they will greet you with a big smile.
However, you may have already heard or read about the terrorist attack in July 2018 which happened in the Danghara District. Four foreign cyclists were killed in the incident and two more were injured. This has greatly affected the tourism in the Pamir Highway. But that was considered an isolated case.
If there's any danger in your Pamir Highway road trip, it will be related to the adventure in general. Since it is the second-highest highway in the world, you can expect some challenging terrains.
It takes an experienced driver to venture into the Pamir Highway route, so it's really a good idea to hire a 4×4 with a driver when you reach Dushanbe or Khorog. Local drivers know well how to handle the dangerous curves and passes.
But if the region is on your bucket list, it's a great reason to start looking into what overlanding is all about and perhaps start considering driving to Central Asia with your own adventure rig.
It is also important to remember the high altitude in the Pamirs. If you have an existing condition, you might have to consult your doctor first before planning your road trip. Health care in the area is rudimentary, so you need to be in good physical condition to travel to this place.
Takeaway
The Pamirs in Tajikistan and Kyrgyzstan has so much to offer for adventurers and travelers. If you are one of them, this travel guide should help you prepare for your road trip and plan your itinerary.
There are many ways to enjoy your tour of the beautiful Pamir mountains. In this travel guide, we focused on traveling from Dushanbe to Osh. Another option is to travel from Osh to Khorog.
Before your tour, make sure to have your documents ready including your visa and permit.
While traveling light is ideal, it would be good to bring some warm clothes even if you are visiting this part of the world in the summer. The weather in the high mountains is unpredictable. Even if it's hot during the day, you can have a very cold and windy evening.
In planning your road trip itinerary, consider reading reviews and recommendations from other travelers. Lonely Planet has also some good resources to share on how to travel to this part of the world.
The iOverlander app is also a highly recommended resource for planning and a brilliant way to share the places, water sources, and any other information you discovered on the road.