You might have heard the interview with us in the GHT Overland Podcast, where we mentioned we believe that Georgia, at the edge of eastern Europe, is one of the best countries to visit if you really want to experience what overlanding is about.
Georgia (in this article the country, not the US state) is a unique country for a number of reasons, but from an overlanders' point of view, there are 11 factors that make it uniquely special:
1. It's not easy to get to
The country lies right on the geographical border of Europe and Asia and is not easy to get to. It's far from all corners of the Eurasian continent.
Georgia's recent turmoil with respect to Abkhazia and South Ossetia, along with the fact that it borders Chechnya, make the country an adventurous, exotic and for some, scary destination – the latter unjustly so, since other than the landscape, there is nothing dramatic going on here.
2. It's a free camping paradise
The number of entries on iOverlander in comparison to the surrounding areas are already indicative of how many opportunities you'll have to enjoy some truly epic, remote camping.
3. The Tusheti National Park
Tusheti is one of those places where once you get there, you already feel a sense of achievement. Our 6-month drive from Europe to Singapore was one of the most challenging and rewarding roads at the same time.
With 1,600 ft drops by the narrow dirt track that leads to Omalo, the mountain pass can be quite intimidating. You won't see any vehicles without 4-wheel drive while driving there. You will definitely need the best all-terrain tires you can find to drive up to Omalo.
4. Mount Kazbegi and Stepantsminda
Stepantsminda is the outdoor capital of Georgia. After the breathtaking drive on the Military Highway, you arrive in Stepantsminda, where countless 4×4 Mitsubishi Delica vans line up on the main square.
These capable 4×4 vehicles take tourists to the Gergeti Trinity Church that was built in the 14th century.
You'll have a tough (but fun!) drive ahead if you want to visit this historical site, which sits at over 7,000 ft altitude. Apart from that, there are countless hiking trails you can embark upon, such as hiking the Gergeti Glacier.
5. Fascinating historical sites everywhere – one of the best being Vardzia
The enormous cave monastery of Vardzia is a jaw-dropping historical site that will not let you forget one question: how on Earth did they build it in the 12th century?
Especially given that the huge cave system you can see today is only about one third of the originally constructed monastery.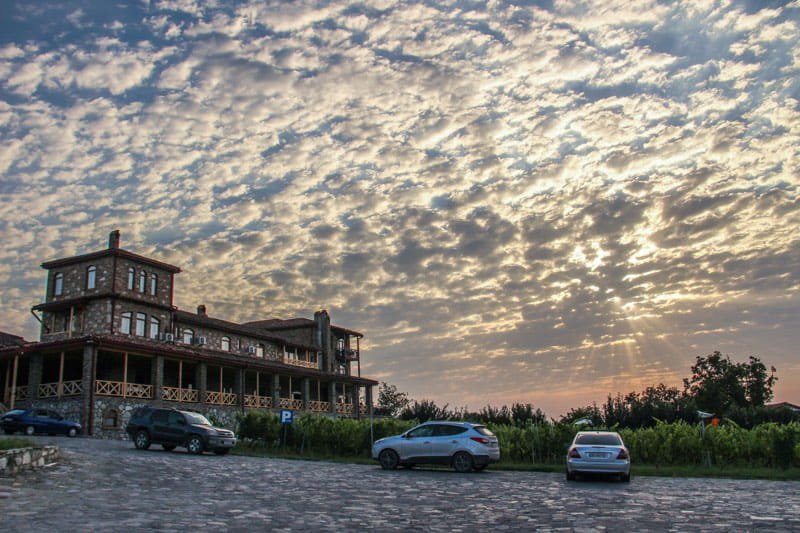 6. Wine
You probably wouldn't think Georgia produces some of the best wine in the world, but the country is one of the oldest wine regions in existence.
There are some fantastic vineyards around Telavi that you should visit before or after stopping by the Tusheti National Park.
7. It's easy to get away from main roads
When you're on your way from A to B, just turn off of the main road and use the smallest dirt tracks you can find.
You'll still get to your destination but will come across some of the most beautiful, truly off-the-beaten-track places you can imagine. Nature seems to be completely untouched in most parts of the country and you can find the best opportunities to use your camping equipment anywhere.
8. It has a beach
Georgia has a long coastline along the Black Sea, with beautiful sandy beaches north of Batumi. If you arrive from the south entering from Turkey, enjoy some great beach camping before you start to discover more of this amazing country.
Quick tip: Since you'll be driving on sand, make sure you have the best recovery gear, such as a winch with a land anchor, recovery mats and snatch straps with you.
9. The police
The highway police drive US-made Ford Taurus Police Interceptors, speak good English and are very polite even when issuing you a ticket.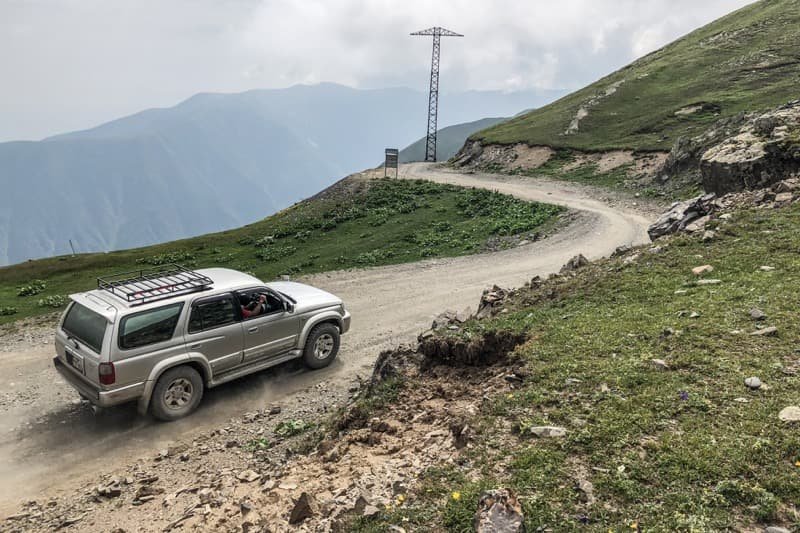 10. You can fly and overland
There are several companies in Georgia that offer 4×4 rentals. Since they're recognizing that the terrain is just calling to drivers for some proper offroading, they're not messing about with some small SUVs either.
You can fly to Georgia, rent a 4Runner with a V8 and do some real adventuring. Some companies even include camping gear in their vehicles.
11. Surrounding countries
As long the drive is to get to Georgia, you have a lot of options to choose from once you're in the region when it comes to continuing your adventure.
Azerbaijan, Armenia (maybe on your way to Iran), perhaps Chechnya toward Kazakhstan are all great and very adventurous choices!
Whichever direction you choose, make sure to have the 10 essentials for overlanding with you at all times.
hello, we are Evelin and Ferenc,
Join the Overlanding Adventure Now!

Get expert advice, tales, and gear recs to elevate your adventures. No spam, just top-notch information. Click the button and start your journey today!
YOUR PRIVACY IS PROTECTED