As overlanders, we know the importance of a travel journal. There were times when a physical diary would work for that. But nowadays, a myriad of travel logging apps are available out there.
And, you can install them on your phone for free and start tracking your adventures effortlessly. One of those travel tracker apps is Polarsteps. It comes with a plethora of handy features that every overlander and explorer will love.
In fact, we have been using this app extensively on our trips all around the world for a long time. And, we are loving it. In this post, we will share a comprehensive review of Polarsteps to let you know whether it is worth it or not.
Review of Polarsteps App
The Essential Features of Polarsteps
Track Your Travels Automatically
The primary feature of Polarsteps is to track your trips all over the world automatically. You will just need to add a New Trip to the app by tapping the '+' icon at the top. In the process, you can add a trip name, trip summary, start date, end date, share the trips with others, and more.
You can also enable the 'Travel Tracker' option for tracking travel for that trip. So, from the start date of the trip, the app will begin to track your position automatically in the background. And, Polarsteps will suggest you to add any new locations you are traveling during that period.
It is up to you whether you want to add that particular location or not. In the app, each location is referred to as 'step'. To add a suggestion, simply tap on 'Add step' and to remove tap on 'Discard'.
You can also add pictures, videos, notes, etc. to each location. And, the entire trip route will be marked on a vibrant and detailed map inside the application to give you a great visual about the trips.
Plan Your Trips
Polarsteps also have an itinerary planner feature. You can easily plan your future trips using this travel journal app.
In the process, you can add the possible date and the location of the journey and save it. So, when the date arrives, it will start to track travel automatically. You can also add past trips manually.
Share Your Travel Log
You can share the trips with your followers, friends, and family directly from Polarsteps. Similarly, you can also follow other explorers around the world.
Travel Statistics
This travel journal app creates real-time detailed travel stats. Here, you will find the number and flags of countries you visited, trip duration, total distance covered, and more.
Additional Features
Not Power Hungry
Interestingly, Polarsteps is very battery-friendly. According to the developers, it consumes just about 4% additional battery power compared to normal use.
It uses Wi-Fi, cellular signal, and GPS to track your position. We will talk about this feature in detail down below.
Privacy First
With Polarsteps, it is up to you whether you want to share your trips with others or not. Also, you can select the specific group of people (friends/family/others/public) you want to share your travel log with.
This is especially useful in regions where sharing your live position might be a bit dangerous.
Additionally, it also supports sharing travel information directly to social media sites like Facebook, WhatsApp, Instagram, etc.
Works Offline
Polarsteps works just fine offline. That means you don't have to worry about excessive data roaming charges while abroad.
There is no need to be connected to the internet to track your location using Polarsteps. It will synchronize the data only when you get back online to save both data charges and battery life.
Unique Travel Stats
Polarsteps deliver a few unique travel statistics like the percentage of the world you have visited until now, how many days you haven't traveled for, and the furthest point from home.
No Account Needed For the Viewers
Another handy feature of this travel tracker application is that other people don't need to have an account to see your map and trip. You can share links to any of your trips to your friends or family via the 'Invite your family and friends' option from the app.
That way, a secret link will be shared with that person. And, with that link, they can follow along with you on your trip without having to open an account on Polarsteps or installing the application itself.
And, if the trip creator has made their trips public, then anybody can view their trip or map by searching on the Polarsteps website.
Getting Started With Polarsteps
It is very easy to get started with Polarsteps. As usual, first, you have to install the Polarsteps travel journal app on your phone if you haven't already.
Then you need to create an account with them. To do that, you can use an email address.
Or else, you also have the option to use your Facebook account to sign up. Or else, you can also login directly using your Facebook account as well.
Then you will be on the homepage of the app. From there, you can start to plan trips and track them on the map.
User Interface
In short, the user interface is good looking and easy to navigate. However, we have seen some other similar travel journal apps with a more modern look.
But the current UI of Polarsteps is not a deal-breaker either. You can easily get the hang of it after a couple of days.
Pricing
The best thing about Polarsteps is that it is a free app. You can install this travel journal app on your smart devices without spending a penny.
For an app that is free, it packs a host of features that are advanced and rare to find even in many similar paid travel journal apps.
Ease of Use
Overall, the application is very beginner-friendly. Every important thing is available on the homepage. And, you can easily access the settings.
On top of that, as it tracks the trips automatically, you don't even have to manually input anything. Rather, you can enjoy the journey while the application will do its job in the background.
Create a Travel Book
Another cool feature of this travel tracking app is that you can order a photo book from Polarsteps for a certain fee.
And, the hardcover photo book will contain your stories, travel route, travel stats, photos, and more the application has tracked over the years. You can choose the layout, design, pictures, and what to/not to include in the travel book.
A lot of users have ordered their own travel book. And, they are overwhelmed by the quality and the value it has provided them. If you want to have a souvenir of your journey, then this photo book is a must-buy.
Compatibility
Polarsteps mobile app is available on both iOS and Android. This is great as you can use this application on most of the smartphones available out there.
For the Android version, you will need to have Android 6.0 (Marshmallow) or up to run this app on your Android smartphone.
And, in the case of iOS, this is not only compatible with the iPhone, but also can be used with iPad, iPod Touch, etc. For iOS device users, you will need to have at least iOS 10.0 or watchOS 4.3 or up.
Chances are, your iOS or Android device is already up to date to be compatible with this travel journal app.
Additionally, you can access your Polarsteps account on their website too. The desktop version of Polarsteps might not have all the features of the mobile app.
But it works great if you want to relive the memories of your past trips on a bigger display than your smartphone. To access that, you will have to just visit the official website of Polarsteps and log in to your account.
Support & Update
Even though this is a free travel journal app, the support system of Polarsteps is beyond great.
Whenever you are having issues with the app, you can leave your complaint as a review in the App Store or Play Store or their support email.
Most of the time, they will reply to your queries. At the same time, they have over 100 how-to and tutorial articles on their official support page.
Over the years, they have also been updating the app regularly.
What Other Users Said?
Right now, it has 4.7 and 4.8 rating out of 5 in the Google Play Store and Apple App Store respectively. And, millions of people are using the application all over the world.
So, from the feedback of the users, you can see that it is one of the most popular travel journal apps in the world.
Like the other users, we are also extremely delighted by Polarsteps. It has become a regular companion on our overlanding trips over the years.
With this app, it became so easy to track our adventurers. We liked that it is free, works offline, and tracks automatically.
Pros:
Free
Works offline
Tracks automatically
Battery-friendly
Easy to use
Travel information can be turned to a physical hardcover photo book
Cons:
The user interface could be better (not a disadvantage really)
What Are The Alternatives Of Polarsteps?
There are many good alternatives to the Polarsteps app. For instance, you might have heard of FindPenguins, VOLO, Bonjournal, etc.
But how does Polarsteps fare against these apps? In this section, we will compare Polarsteps with both VOLO and FindPenguins.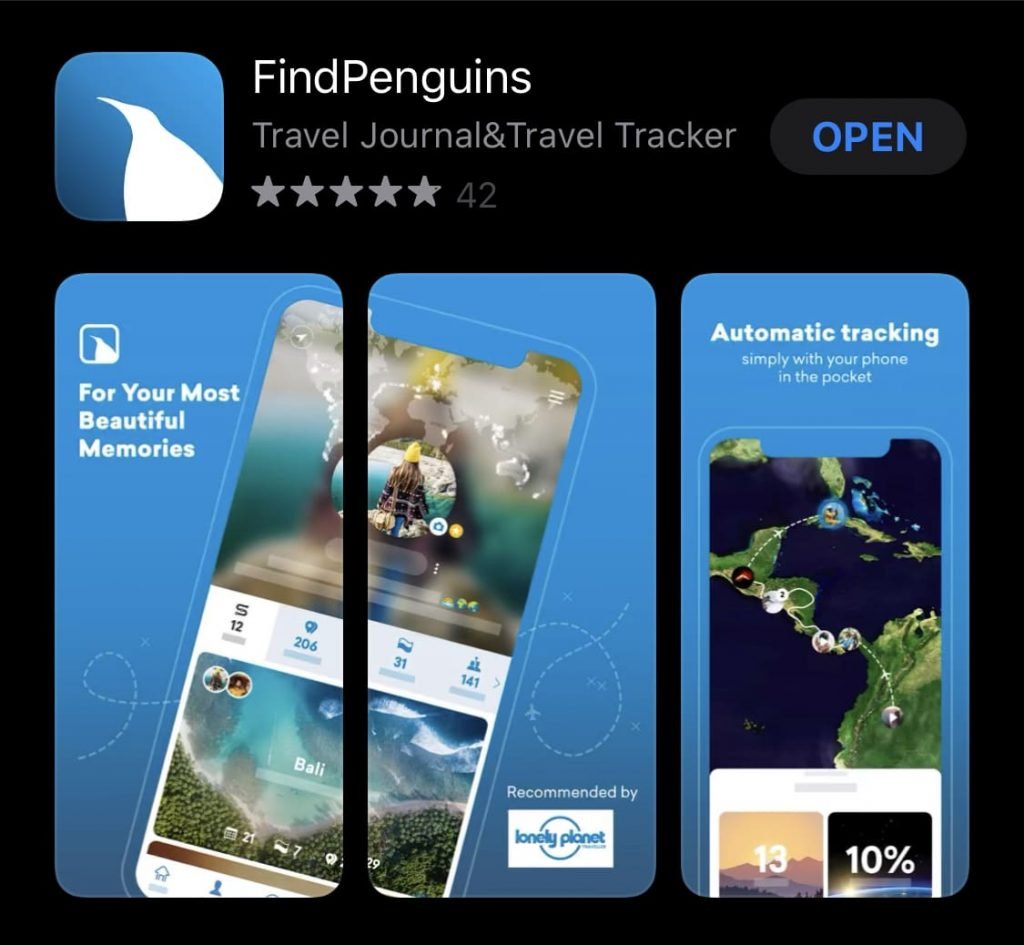 FindPenguins vs. Polarsteps
Simply put, both of these apps are almost identical in their functions and features. Both these apps can keep track of any trip automatically without draining much battery life.
You don't need an internet connection for that. Both Polarsteps and FindPenguins also offer the service to turn a trip into a premium photo book. And, these are free applications as well.
However, FindPenguins come with in-app purchases. That means you can get access to many restricted features after you pay a certain amount of subscription fee. For the record, FindPenguins have both monthly and yearly membership plans.
The monthly and yearly subscription fees of FindPenguins Android version are $4.99 and $32.99 respectively. For the iOS version, it is $4.49/monthly and $29.99/yearly. To be noted, the price might vary based upon the location of the user.
Furthermore, most users find the user interface, icons, and layout of this one more attractive and modern looking compared to Polarsteps. Conversely, FindPenguins charges more for the photo book compared to Polarsteps.
In that sense, we think Polarsteps is the better option as it is user-friendly, low-cost, and has a larger user base compared to FindPenguins.
VOLO vs. Polarsteps
VOLO is also another competitor of Polarsteps. This one comes with a lot of similar features to Polarsteps.
For instance, you can keep track of your trips, add photos/notes/comments to the trips, and share your stories, and so on with VOLO. Like Polarsteps, it also supports offline tracking. And this is also a free app.
But according to its users, there are a lot of drawbacks to the app. Matter of fact, VOLO has got a rating of just 2.9 out of 5 in the App Store and only 2.5 in the Google Play Store. They have mentioned that it was a great application in previous years.
But nowadays it is full of bugs and it doesn't work as it is supposed to. So, for tracking your travel log, you should not rely on this app. Once again, we think Polarsteps would be the best option compared to VOLO.
How Does Polarsteps Work?
You might have already guessed that Polarsteps uses GPS on your phone like any other travel journal app.
But you also may have heard that it uses a lot less battery power compared to other apps that use the GPS functionality of your phone. But how?
Interestingly, Polarsteps use 3 things to determine the position of you. And those are GPS, Wi-Fi, and your cellular signal. In the Android version of the app, you can actually choose between 3 travel tracker modes such as Ultra Light, Balanced, and High Accuracy.
Here, the Ultra Light mode uses both Wi-Fi and cellular signal data to track a trip. This way, it will update the location data slowly and the accuracy will be low in this case.
This mode will come in handy if you are in a remote place where you will have no way to charge your phone for the time being.
The Balanced mode is the recommended mode from Polarsteps. It also uses both Wi-Fi and cellular signal but provides more accurate tracking information.
On the other hand, if you have the means to charge your device anytime and want the most accurate information, then you can use the High Accuracy mode.
In this mode, Polarsteps will use GPS in the background, which will drain your battery faster but will offer very thorough details about a trip.
To be noted, you can also disable the Travel Tracker option in the app temporarily. Remember, Polarsteps only synchronize the data when your phone is connected to the internet/Wi-Fi. That way, it can save your battery life to a greater extent.
For even more accuracy you can connect your phone with the pocket sized Bad Elf personal tracker. This little device will make sure your position is accurate in the remotest corners of the Planet as well.
How Much Does Polarsteps Cost?
As mentioned previously, the 'Polarsteps' is totally free to use. You can install it from the Apple App Store or Google Play Store according to the phone you use for free.
Is Polarsteps App Free?
Yes. The Polarsteps app is totally free. You can use the application without spending any money. Also, they don't show ads on their application to monetize it.
Add in the fact, you can also access the desktop version of Polarsteps on their official website for free.
What Is The Best Travel Diary App?
There are several travel diary apps available out there. Most of them come with almost similar features and functions.
However, only a few travel journal apps are there that stand out. And among them, 'Polarsteps – Travel Planner & Tracker' is one of a kind.
It is easy to use, offers premium features, and free of cost. Also, we have been using this application for an extensive period of time over the years without any issues.
We can say that we are totally satisfied with the service of Polarsteps. Thus, in our opinion, Polarsteps is the best travel diary app right now.