Ultra Vision is a well-reputed LED lighting product manufacturer from Australia. However, they are not your typical lighting brand. In fact, they specialize in producing LED lighting products that can withstand extreme and harshest environments.
Their primary focus is to supply high-end innovative lighting products for the recreational and heavy industries.
They are known for manufacturing all of their products in Australia in their own factory. Because of that they can put the best effort and maintain the highest quality in their products.
At the moment, Ultra Vision offers two types of driving lights for vehicles under the Nitro MAXX and Raptor series.
Typically, you will find various kinds of driving lights and light bars suitable for overlanders in the Nitro MAXX series. Whereas, in the Raptor series, they offer LED lighting for trade & fleet vehicles.
Ultra Vision claims that they are Australia's No.1 manufacturer of LED lighting products for extreme conditions.
Many 4-wheeling enthusiasts seem to agree with their claim. We are also on the same boat because we have been using their NITRO Maxx 155W 18" LED Lightbar for the last three months.
We must admit that we are very happy with the performance of it. Thus, we will be covering a short yet in-depth review of the product for fellow overlanders.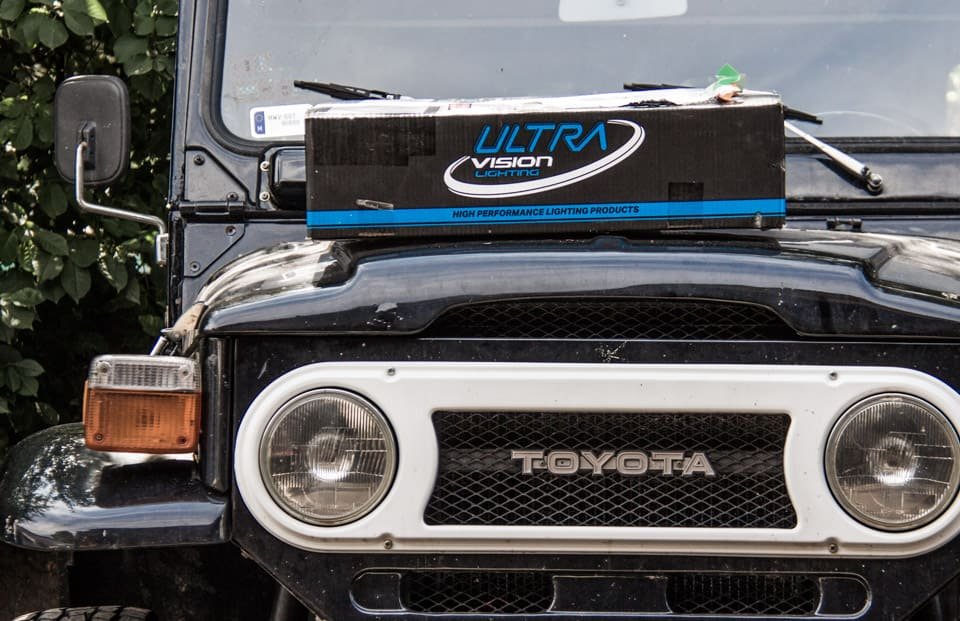 NITRO Maxx 155W 18" LED Light bar Review
Ultra Vision sent this LED light bar all the way from Australia for us to test and review.
Eventually, we started testing it by installing it and using it on our 1978 Toyota Land Cruiser FJ40. So far, we are actually loving it.
So, let's talk about the Ultra Vision NITRO Maxx 155W LED light bar in a detailed manner.
First and foremost, we loved that they have provided the harness and side mounting brackets with the light bar for installing it effortlessly. On top of that, you will also be provided with the fitting and wiring instructions that are beginner-friendly and easy to follow.
I am no electrician, but I was still able to connect the wires to the right places inside the dashboard of my vehicle only by using the instructions that came in the box.
The light itself has a quality feel. Once you unbox it, you can tell that it's a premium product.
Overall, it feels and looks very well made. We have traveled through various rough and harsh terrains and weather conditions without any issues with this light bar. It handles the rattles and shakes of an old vehicle on an off-road track very well.
We are also equally satisfied with the actual performance of the light bar. You will find more information about the performance quality of this light bar in the next section.
Overall, we can attest to that Ultra Vision has delivered a top-notch LED light bar that can withstand and perform well, even in the toughest environments.
Features of the NITRO Maxx 155W 18" LED Light bar
As the name suggests, you can see that it is an 18 inch LED light bar with a 155 Watt power output.
There are 30 x 5-watt LEDs in this light bar. According to the brochures, they have a raw light output of 18,480 lumens. Naturally, we can't measure lumens, but were quite simply shocked how much light they produce. They should have called in the Nitro Sun!
But, as per Ultra Vision, the effective light output is around 13,295 lumens. It is compatible with a voltage range of 9 to 36 volt. The operating temperature range of this unit is from – 40 to 80-degree Celsius (-40 to 176-degree Fahrenheit). From this, you can see that it is an LED light bar for truly the most extreme environments on Earth.
The net dimension of the light bar is 465 x 92 x 84 mm and it weighs about 2.5 kg or 5.5 pounds. It supports both base and side mounting and comes with HD Deutsch connector compatibility.
It does have both low and high beams, however, the low beam isn't actually a regular low beam, only if you compare it to the stronger light option.
On our other overanding vehicle, the Prado 120, we have a Lazer LED lightbar installed, and although we're very happy with that one too, it only comes with one beam, so the Ultra Vision LED lightbar is superior in this regard.
The Hi-Beam function uses all the LEDs in the light bar which translates to 5700K color temperature. Whereas, the Lo-Beam delivers 4000K color temperature as it uses just the spread optics with the warmer color temperature.
The Hi-Beam function will come in handy for open road driving. On the flip side, the Lo-Beam function will be useful for reading glare on road signs and foggy conditions.
The combination of the Widr® and Contrl® optic feature enables it to deliver light output to cover a huge distance and superb spread. You will love that it comes with IP68 waterproof certification.
The housing of this light bar is made with extruded aluminum. Whereas the lens is made with polycarbonate construction. The brackets are constructed from stainless steel and alloy.
Better yet, it comes with anti-theft nuts and a wiring harness for free. You can also order a light bar matching your rim color from Ultra Vision for a modest sum. All the 30 LEDs draw 12 Amp current and have a lifespan of about 50,000 hours.
Land Cruiser FJ40 lights vs Ultra Vision Nitro Maxx 155
Review of the NITRO Maxx 155W 18" LED Light bar
Like any other product in the world, this powerful LED light bar also has its drawbacks. Our review would not be complete if we don't mention that. We found out that the harness is very thick and the unit with the relays is bulky.
As a result, it becomes a tad bit tricky to install and work with the light bar, especially on older vehicles with thinner A-pillars.
But if you face this issue, luckily, there is a workaround for that as well. In that case, it would be wiser to install the light bar on the front of the vehicle, perhaps somewhere on the bumper or on the bull-bar.
Apart from that, this LED light bar is a top-of-the-line product.
Upon testing the light bar rigorously, we have come to the conclusion that it may be one of the best LED light bars available out there. You can see that it comes with a myriad of handy features.
On top of that, it is built for the harshest and most demanding environments. If it works for the Australian mining industry, it will definitely work on a 4-wheeling adventure.
Pros:
Rugged build quality and quality feel
Comes with 5 years warranty
Free wiring harness and anti-theft nuts
Comes with a detailed wiring diagram and installation instruction
Supports both side and base mount
IP68 waterproof certification
Powerful LED light bar; can cover a huge distance
The light bar is covered by a plastic protector
Cons:
The harness is bulky/thick
It's a bit heavy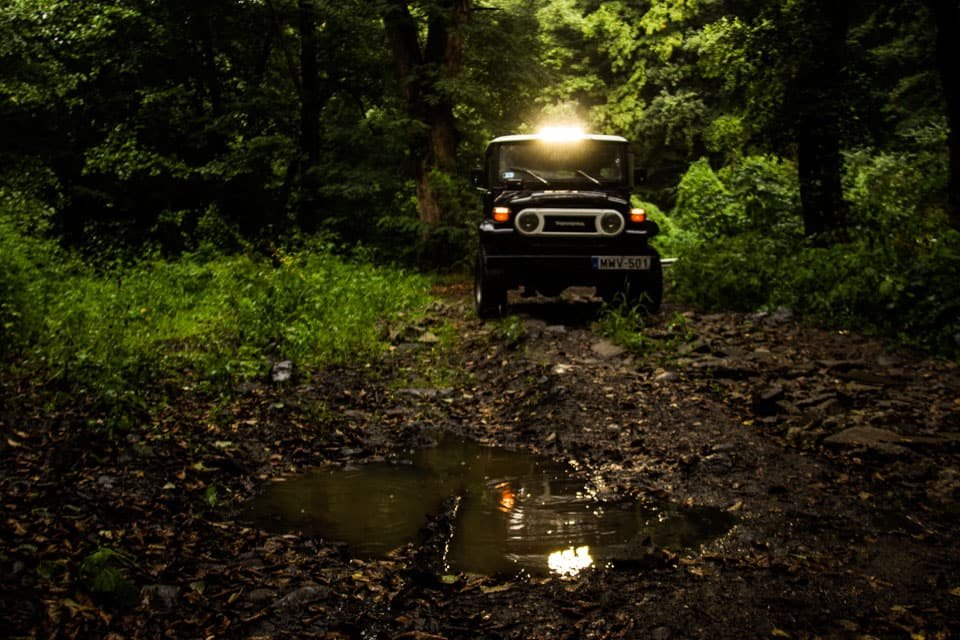 Conclusion
This is the fourth LED light bar that we've been testing – some of our tests were conducted in the Sahara desert, others in the cold mountain passes of the Alps and the Caucasus.
Out of the products we're familiar with, the Ultra Vision Nitro Maxx is the absolute champion.
We're happy to answer all your questions in the comments below.
Related Posts