For the best and safest off-road performance, you will need the perfect suspension for your vehicle.
Among many types of suspension setups, solid front axle and IFS are two of the most popular ones. But which one is the better option: IFS or Solid Front Axles?
Both options come with their advantages and shortcomings. In this post, we will talk about all the ins and outs of IFS and solid axle setups, so that it will be easier for you to decide to choose the best one for you.
What is IFS?
IFS stands for the independent front suspension. With this type of "axle", both wheels can move independently of each other.
The IFS axle consists of many moving parts. It is also known as wishbone suspension, as it has lower and upper control arms that give a wishbone vibe.
Whenever you are driving over any obstacles, only the wheel going over the obstacle will move up or down, independent of the other. As a result, it offers smoother handling. The steering input will be transferred to the wheels via a series of tie rods.
You can see that the IFS axle is a bit complicated and involves many moving parts like the control arms, tie rods, CVs, etc. This is also a newer technology compared to solid axle technology.
What is a Solid Front Axle?
For the record, a solid front axle is also known as a beam axle or live axle. This type of suspension system is found on most of the classic off-road trucks out there because it is old and a very popular technology compared to the IFS axle.
In the case of a solid axle, it would be a solid continuous beam, with both wheels connected to each end of the axle. This suspension system doesn't have many moving parts compared to the IFS system.
As a result, if one wheel is moving over an obstacle, then the other wheel will be affected as well. Simply put, if one wheel goes up because of an obstacle, the other wheel will go down and vice-versa.
Is a solid front axle better than iFS?
It comes down to what you want to achieve with your vehicle. A solid axle has fewer moving parts and is easier to service, with no crossmembers clogging everything up. Solid axles are also stronger, easier to service, and can bear higher loads. IFS are usually made of aluminum and are therefore lighter. They are great for off-road racing but their mechanisms have many moving parts and therefore are hard to service.
IFS vs Solid Front Axles Off-road
Comfort
When it comes to comfort, the winner is the IFS axle. Whenever you drive over a rock or any other solid obstacle, only one side will absorb the impact. While the other side will be as it was, in the case of IFS.
However, in the case of the solid axles, the entire vehicle will move or shake randomly. As a result, the IFS axle offers better comfort compared to solid axles while off-road.
Handling
As we have said earlier, the live axle is an older technology compared to IFS. Consequently, the solid axle doesn't provide good handling.
In contrast, the IFS suspension system offers far better and superior handling, both on and off-road.
Wheel Alignment
Frankly, if you want more customization in the wheel alignment department, then the IFS will be the superior choice.
It offers better wheel alignment as it has more moving parts and provides various adjustment capabilities.
On the contrary, solid axles are very stiff and lack moving parts for adjustability. So you will not get a better wheel alignment on live axle rigs.
At the same time, because of the different moving parts, it is easier to knock the wheel alignment out a bit in an IFS vehicle. But in solid axle vehicles, knocking out the wheel alignment will be very rare.
Ground Clearance
The underbody clearance is a very important factor to consider for off-roaders. Interestingly, the winner here is the IFS axle as the front differential (pumpkin) hangs very low in a live axle setup.
Thus, vehicles with a beam axle will have very little under-vehicle ground clearance when you are off-road, driving over rough terrain.
On the other hand, solid axles offer a lot of room for wheel travel compared to IFS. So, if you want to add that big tire to your vehicle, then you will have to use the live axle system.
Carrying Heavy Loads
If you will be carrying heavy loads on a regular basis, then you should opt for the live axle as well.
The overall build quality of the live axle is very robust compared to the IFS. You can say that live axle are designed to tow big loads without any issues.
On the other hand, the IFS axle is not that strong for carrying heavy loads. That doesn't mean that the IFS can't carry a load. It can but it is not designed for this. So you will have to be very careful.
In fact, you should try to avoid loading a lot heavier items on IFS axle trucks. So, when it comes to carrying heavy loads, the winner is the solid axle.
Modification/Customization
The majority of off-road enthusiasts tend to modify their vehicles. You could modify the suspension, or you might want to lift up the vehicle to fit bigger tires.
All of these modification capabilities greatly depend on the suspension system.
For your information, when it comes to modification, the solid axle system is the ultimate winner without a doubt.
As the IFS system comes with weaker CVs, it cannot handle rotating bigger tires. On top of that, it is not suitable for fitting big tires as well.
Conversely, a solid axle can fit bigger tires easily. As a matter of fact, you can lift your vehicle up to 12 inches if it is equipped with a solid axle suspension. Whereas it is not that easy to modify an IFS-equipped rig.
Even if there are options available for additional customization, you will have to break the bank, when it comes to IFS modification.
Repair
Similar to modification, it is very easy to repair solid front axles because this system comes with fewer components compared to the IFS. Also, most major suspension components on a solid axle will be easily accessible.
A solid axle is very easy to upgrade and repair. There is plenty of room for using your tools while repairing under the vehicle in a solid axle system.
On the other hand, the IFS system is a very complicated system, so it is not that easy to repair.
Strength/Build Quality
When it comes to strength and durability, the solid axle has the edge over the independent front suspension. This is because the IFS system contains a lot of moving parts.
Some of them are very tiny, yet critical to the overall functionality of the system, whereas the solid axle system has a much simpler, yet robust construction.
As a result, a live axle is more capable of handling much off-road punishment than the IFS suspension setups. So, if you want to tow heavier loads and drive through more demanding trails, then the solid axle is the way to go.
Another thing to note is that the solid axle setup is not connected to the chassis of your 4×4 vehicles, while the IFS system is attached directly to the chassis.
So, in the case of an impact on the solid axle, the chassis will be intact even if the axle crumbles independently. But in terms of the IFS, both the chassis and the suspension system will be damaged in most cases.
Differential Centers and Unsprung Weight
Normally, a live axle vehicle will have a stronger and bigger diff center. The live-axle suspension setups can handle bigger tires easily, compared to the IFS system.
Another thing to note is that the IFS setup comes with less unsprung mass than the solid axle system.
However, additional unsprung weight can be very helpful for providing traction off-road.
On the flip side, the low unsprung weight of the IFS setup actually helps pass the vehicles over obstacles far more easily at higher speeds with less traction.
At Speed in Off-Road Race
Driving at high speeds while off-road is not easy with a live axle system. On the other hand, IFS-equipped rigs are great for high-speed racing, even in harsh conditions.
When reacting to obstacles like rock, log, bumps, etc., only the particular area of the vehicle will move up or down independent of the other parts.
Thus, the IFS is capable of dealing with occasional jolts and bumps while moving forward without slowing down.
Whereas the solid axle system is far more rigid, so the whole vehicle will react to any rock or obstacles, which is not ideal for high-speed off-road adventure.
Weight and Fuel Economy
Generally, the IFS system is lighter compared to the live axle. As a result, the overall weight of your vehicle will increase if you use the live axle setup decreasing fuel efficiency.
It also indicates that if you are looking for a fuel-efficient system, you should go with the independent front suspension.
hello, we are Evelin and Ferenc,
Join the Overlanding Adventure Now!

Get expert advice, tales, and gear recs to elevate your adventures. No spam, just top-notch information. Click the button and start your journey today!
YOUR PRIVACY IS PROTECTED
Pros and Cons of Solid Axle vs IFS
Solid Front Axles Pros
Perfect and easy for modification and repair
Simple mechanism and better flex off-road
Robust and can take a beating
Designed for carrying heavy loads
Stronger CV's
Solid Front Axles Cons
Does not have good handling
Not comfortable compared to IFS setups
Low ground clearance
Bad for off-road racing
IFS Pros
Great handling both on and off-road
Offers a very comfortable ride
Great for off-road racing
Fuel efficient due to low weight
IFS Cons
High cost
Not strong enough for carrying heavy loads
Not easy to customize or repair
Weaker differential centers
Very limited flex off-road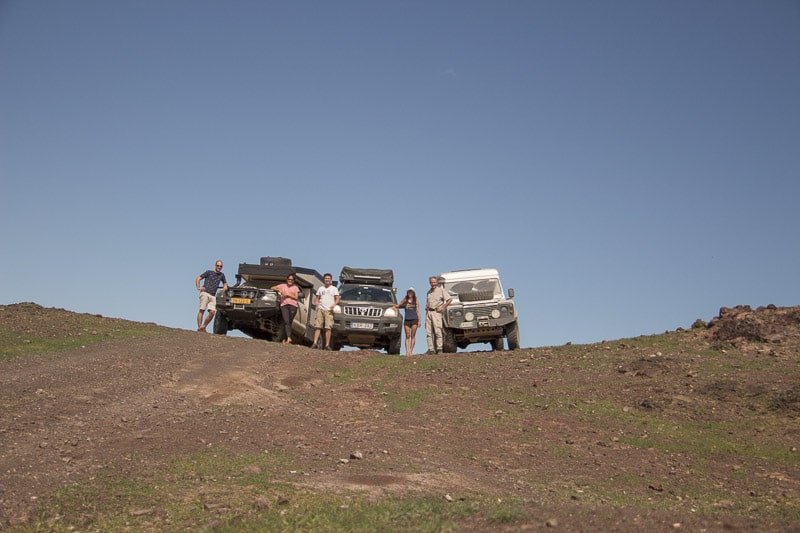 FAQ
Is Independent Front Suspension/IFS Good For Off-Roading?
Theoretically, it is true that an IFS setup is good for off-roaders. However, they can't handle too much stress, which means that if you are carrying heavy loads while off-roading, then an IFS system is not a good option.
However, they are great for faster off-roading trips. As a matter of fact, the IFS suspension system is used in most vehicles that participate in off-road racing.
What are The Advantages of a Solid Front Axle?
Even though the live axle is an old technology, it still has some advantages over the IFS system. First off, it is stronger and heavy-duty compared to IFS.
Also, when it comes to customization, the IFS system is nowhere near the live axle.
They are very easy to repair and cost a lot less compared to the IFS system as well. In short, if you want to drive off-road confidently, then solid axles would be the way to go.
Do Solid Front Axles Need Alignment?
Yes, you can align solid front axles, but it is also true that not all solid front axles need alignments. Depending on the one you are using, there could be a bit of toe-in adjustments available to it.
Concluding Thoughts
Both solid front axles and IFS suspension systems are suitable for rough terrain. However, if you have read our post above, you will know that they have their pros and cons.
Also, the most suitable suspension system for you will depend on your requirements.
If you are going to race off-road and will not overload your rig, then you can go with the independent front suspension system. This will offer you great handling, comfort, fuel economy, and a faster off-road driving experience.
However, it will be a bit costly to repair or service. Also, it is complicated to modify the IFS system and doesn't offer better flex.
On the opposing side, if racing off-road is not your goal, then the solid axle system will be the way to go. It is not that costly to service and has a simple yet rugged construction.
On top of that, you can heavily modify your vehicle that uses beam axles.
Plus, this type of suspension is designed for carrying heavy loads whether you are on rough trails or on the highway. However, you have to sacrifice handling, fuel economy, and comfort when going with a solid axle system.
[elementor-template id="14569″]