The SUV Doorstep is a unique car gadget. It is a compact yet sturdy car door latch step. You can use it to access the rooftop of your SUV or overlanding rig with ease.
It can come in handy if you need to reach the roof rack and secure those kayaks when you transport them, or even opening those awkward zips on your roof-top tent.
Even if you don't have a roof rack, you can use this door latch step to wash your car roof effortlessly.
It comes in a tool-less design and it is pretty intuitive to use. You just need to hook it up to your car's door latch and you are all set.
Now, you can step on it and it won't wobble. Rather, it is engineered to be stable in all conditions. In this brief post, we will look into this innovative SUV Doorstep and share a review of this with our readers.
So, if you were looking for a review of the car door latch step, you can keep reading on.
What is a car door step?
Car Door Steps make it easier to reach the top of vehicles. The Door Step is universal to all vehicles and doors. Just hook the Step over the vehicle's u-shaped door latches. A rubber bumper and coated hook protect your vehicle from damage.
Review of SUV Doorstep
Key Features
This SUV Doorstep comes with numerous features and functions. Here is a quick look at some of the most noteworthy ones.
Manufactured from aircraft-grade aluminum 6706-T6
It weighs about just 11.2 ounces or 317 gm. or 0.7 pounds
It can support up to 510 pounds or 230 Kg
The dimension of this doorstep is 15 cm (L) x 7 cm (B) x 9 cm (D/Unfolded)
Now, let's talk about these features in detail. First off, you can see that this doorstep is made with high-quality aluminum alloy (aircraft-grade).
That means it will be lighter yet sturdy. Also, it will not be damaged easily.
This SUV Doorstep comes in 4 different colors which are Black, Yellow, Red, and Silver.
It can hold up to about 230 Kg/510 Lbs. So, there will be no issues in supporting a person's weight.
The doorstep comes with a special coating on the hook. It also features rubber bumpers on the back of the doorstep.
So, it will not damage the finish of your overlanding rig when you attach it to the door latch.
The SUV Doorstep also has a grippy surface and anti-slip patterns on it. As a result, as long as you are careful, you will not slip accidentally while using it even with muddy boots or wet shoes.
Another great addition to this gadget is the glass breaker, that is located at the front of the SUV doorstep.
So, if you are unfortunately trapped in the car while on a camping trip, you can break the car window with the help of this doorstep. This might be a lifesaver at times.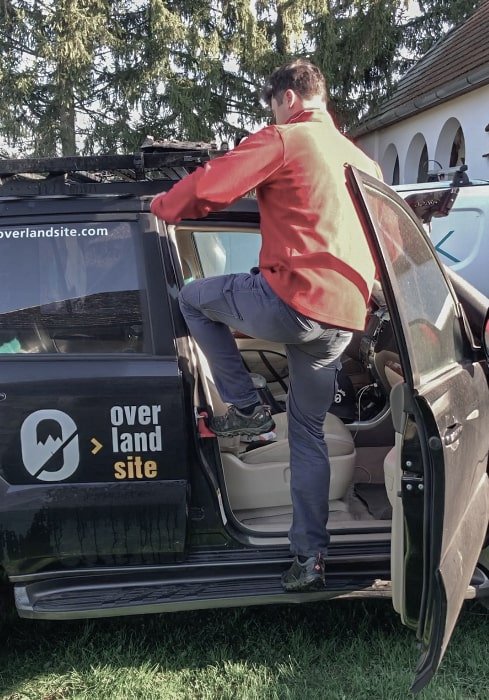 What Other Buyers Said?
The current owners like this gadget a lot. All of them were happy about the durability, the ease of use and the compact design of this car door latch step.
They appreciated the idea that it can be used as an emergency window breaker.
Overall, it has got positive feedback from customers all around the world.
Pros:
Durable and sturdy build quality
Comes with a carrying pouch
Easy to use
Very lightweight and portable
Multifunctional
Won't damage your vehicle
Comes with 1 year of warranty
Cons:
Not suitable for all types of cars
What Are The Alternative Car Door Latch Steps?
A car door latch can easily support your weight.
Wrapping it up
That is it! We really liked this handy little gadget. It can really save you from a lot of hassle when you are overlanding or on a camping trip.
You can easily toss it on your car's glove compartment as it is highly portable. Overall, it can be a great addition to your overlanding gear.
You can share your opinion about this SUV Doorstep in the comments section down below.