When it comes to all-terrain tires, Toyo Open Country AT2 and the BFG AT KO2 must be at the top of the list. But which one is the best? Admittedly, both of these tires come with top-notch features, robust build quality, and long-lasting durability. Since we own both type of tires, it was evident that we'll compare them in a thorough test: Toyo AT2 vs BFG KO2.
Because of this, it is tricky to pick the best one between the two. If you are having difficulties making up your mind regarding these two tries, we have got your back. For your information, we have been using both of these brands and types for a long time.
Thus, we have tens of thousands of miles of experience and ground to compare the two, and therefore have decided to write this comparison post to review these two top-rated tires.
Setting up the right pressure for the tire test
About All-terrain Tires in General
Both the Toyo Open Country AT2 and the BFGoodrich KO2 are all-terrain tires. But what are all-terrain or A/T tires? As the name suggests, all-terrain tires are specifically manufactured to perform both on and off-road equally.
Primarily, these types of tires will come with incredibly high traction so that they can perform great off-road.
They are also good for different types of harsh conditions like wet, extreme heat, snow, etc. At the same time, all-terrain tires can perform incredibly well on highways, providing a smooth ride.
With this combination of features, all-terrain tires have become a very popular kind of tire to overlanders and outdoor enthusiasts.
Toyo Open Country AT II is known for its rugged build quality and reliable performance on and off-road. When it comes to durability, it features aggressive sidewall and a unique tread pattern. The tire comes with deep and open tread blocks that translate to higher traction on unfavorable surfaces. It also helps in avoiding hydroplaning.
It features stone ejecting blocks, which help to remove stones or debris from the grooves automatically. It has used a wear-resistant tread compound in this tire. As a result, it claims to have a 40% higher tread life when compared to its competition.
The Toyo Open Country AT II is available in many sizes. Another nice thing about this tire is that it is very silent on the highway. So whether you are driving on mud or on the tarmac, you will have a great experience with the Toyo Open Country AT2.
Pros:
Excellent traction and rugged build quality
Comes with a longer treadwear life
Very less road noise
Comes with stone ejecting blocks
BFGoodrich KO2 doesn't need any introduction. It is one of the most celebrated all-terrain tires ever. As a matter of fact, we have been using this tire set to travel tens and thousands of miles without a single issue. The tire is full of high-end features and we will talk about all these on this BF Goodrich KO2 review.
For example, the unique footprint design of the BFG AT KO2 tire allows the distribution of the overall weight of the vehicle evenly. In addition, the 'Inter-locking Tread Design' protects it from any irregular tread wear.
They have put the 'CoreGard' technology on the sidewalls of the tires. This technology, in addition to the extended shoulder shield, protects the sidewall in the event of extreme pressure. The sidewall can easily deflect any sharp objects, rocks, or debris.
There are stone ejectors and biter lugs on the tire, which make a huge difference. These features will remove any stones or debris and will allow a safer ride in muddy or sandy terrain.
Plus, the nice 'Serrated Shoulder Design' helps to grip muddy, rocky, or even snowy surfaces. Speaking of snow, the BFGoodrich KO2 comes with 3-Peak Mountain Snowflake Rating. That means it is suitable to drive in severe snow and winter weather.
Pros:
Very aggressive tread pattern with the robust build quality
Comes with the 3PMSF symbol (suitable for snow)
Built with cut, tear, and chip-resistant tread compound
Quiet and smoother ride both on and off-road
Cons:
Has a lower tread life compared to the Toyo AT2
BFG AT KO2 VS Toyo Open Country AT2:
Which One is the Best?
Before we can come to a conclusion, we should compare this set of tires in terms of some very vital aspects.
Thread/Pattern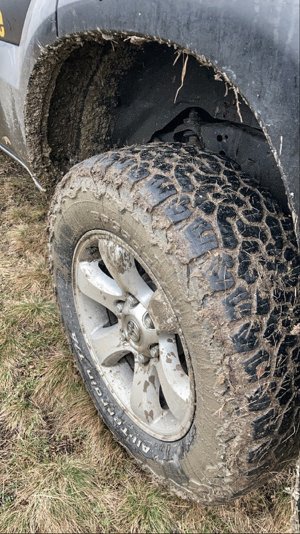 When it comes to the tread pattern, both of these tires come with a very different approach. First of all, the BFG AT KO2 has the 'interlocking tread block design'.
On top of that, each of the tread blocks features a couple of 3D sipes.
This particular tread pattern offers very powerful traction on the highway as well as on off-road. It also tackles overheating on the BFG AT KO2.
On the opposite end, the Toyo Open Country AT2 features narrow spacing in between the tread blocks. If you look closely, you will see a 'Z'-like tread pattern. Furthermore, it also has sipes all over the tread block, meaning it performs perfectly both on and off-road.
Design
Admittedly, your primary concern while choosing an all-terrain tire would not be the design. Still, both these tires are eye-catching. In our opinion, the BFG AT KO2 has a more aggressive design approach than the Toyo Open Country AT2.
In the case of both these tires, you will see that the sidewall are heavily reinforced, which looks nice on the wheels. But, the tread pattern is great looking in the BFG KO2 in our opinion. So, in terms of the design, we like the BFG AT KO2 best.
Sound and Vibration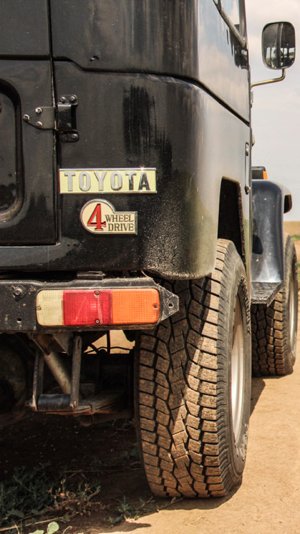 The number one complaint about any all-terrain tire is the road noise. But from our experience, we can tell you that both of these tires are very silent.
Of course, they make some noise, but it won't be noticeable unless you are riding in a very quiet environment or a paved road.
Due to the special construction, all AT tires make vibrations. It is no different in the case of these excellent tires.
Then again, in terms of sound and vibration, our experience with these tires was decent. You may not get 100% smooth riding, but they are not annoying at all.
Handling
Once again, both tires come with magnificent handling. When driving on paved roads, these don't have much difference from any other HT (Highway Terrain) tires in terms of handling. At the same time, they offer a great grip on paved roads.
However, we have noticed that the BFG AT KO2 has better traction on all types of surfaces than the Toyo AT2.
Also, the BFG KO2 is stiffer than the Toyo AT II. Because of that, it is easier to maneuver the Toyo KO2 while cornering at high speed. However, that doesn't mean that the BFG AT KO2 is worse. Rather, we have liked it more as it has super grip and handling whether you are on or off-road.
Off-road Performance
When it comes to off-road performance, the winner is going to be the BFGoodrich KO2. It has some very useful and unique features that make it a good tire to drive off-road, whether it is snowy, wet, muddy, sandy, or dry.
Similarly, the Toyo Open Country AT2 is known for its amazing grip off-road and robust build quality. So, it is also suitable for your off-road adventures. Still, if you would like to get really good traction off-road, it would be hard to find an alternative to the BFG T/A KO2.
On-road Performance
As all-terrain tires, both of these tires perform great on tarmac or the highway. The BFG AT KO2 has better traction than the Toyo AT2. On the other hand, the Toyo KO2 has better handling than the BFG AT KO2 on-road.
We have also noticed that both these tires have very low rolling resistance, which translates to saving a lot of fuel. Still, we think the BFG KO2 will be the better option for on-road performance in the long run.
Durability
Both of these tires are made with high-grade materials to last a long time. On top of that, the manufacturers are using the latest technology on perfecting the overall design and construction of these tires.
In the case of the BFGoodrich KO2, they have used a new rubber formulation on the tread which ensures superior traction and durability. BFGoodrich offers 6 years or 50,000 miles of treadwear warranty.
On the other hand, the Toyo Open Country AT2 comes with 65,000 miles of treadwear warranty. You can see that the BFG falls behind the Toyo AT2 in this instance. But even then, the BFG AT KO2 is a ruggedly built tire that can handle any type of treacherous terrain better than the Toyo AT2.
Conclusion – BFG AT KO2 VS Toyo Open Country AT2
There is no doubt that both of these tires, from top name brands, are of high quality and will last a long time. Plus, these tires come with a lot of excellent features that made them suitable to drive both on and off-road. If you have read the discussion above, then you know that these tires are neck and neck in terms of most aspects.
However, in our opinion, the BFG AT KO2 is the ultimate winner, due to it having better traction off-road, better sidewall protection, and durability as well. It is also a bit cheaper than the alternative and is suitable to drive in the snow. We have noticed that it performs better on-road compared to the Toyo Open Country AT2 in many instances.
Still, we must also admit that the Toyo AT2 would usually last longer than the BFG AT KO2. Other than this, we would recommend the BFGoodrich KO2 to our readers from our first-hand experience with both of these tires. Before you go, you can also read our article on DuraTrac VS KO2, if you are interested in the comparison of these two tires.
hello, we are Evelin and Ferenc,
Join the Overlanding Adventure Now!

Get expert advice, tales, and gear recs to elevate your adventures. No spam, just top-notch information. Click the button and start your journey today!
YOUR PRIVACY IS PROTECTED