The best farm jack would come with lots of useful features, incredible specifications, and at an affordable price range. It should be well-built and last a long time. But choosing a farm jack is not that simple.
It is very easy to spend your money on the wrong jack if you are not familiar with this tool. To help refine your search, we have gathered a list of some of the best farm jacks out there.
In this post, we will be reviewing them with a comprehensive buying guide on how to choose the best farm jack.
Best Farm Jack – Reviews
Buying Guide – Best Farm Jack
What to Consider While Buying the Best Farm Hi-Lift Jacks
Lifting Height and Lifting Range
Typically, most farm jacks come with a height of 48 to 60 inches. However, the height of the jack doesn't determine how high the jack can go while lifting.
Rather, every farm jack will come with a specific lifting range.
But as farm jacks are mostly high lift jacks, they have a very high lifting range. As a result, they are also suitable for off-road vehicles.
However, a word of caution, the higher you are raising the jack while operating, the less stable it becomes.
Thus, you should not lift the jack a lot higher than recommended. Meaning, before you choose a farm jack, determine if the lifting range of the jack will be enough for your tasks.
Lift Capacity
Another very critical factor would be to consider the lift and/or weight capacity of the farm jack.
Normally, it will come with 2 different weight capacities. One would be the rated lift capacity and the other will be tested maximum weight capacity.
Now, the rated weight capacity is the usual amount of load it can handle without any issue. Typically, most farm jacks will come with a rated weight capacity of 3000 lbs. to 5000 lbs.
On the other hand, the maximum tested weight capacity would be much higher like 7000 lbs.
The maximum tested weight capacity is the highest amount of load the farm jack can handle without breaking apart.
But it is not advised to lift more than the rated load capacity of your farm jack. The maximum tested lift capacity is there for safety reasons.
Lifting Speed
The lifting speed refers to the time it will need the farm jack to lift the load to its highest point.
Normally, most jacks can lift a load with just 5 to 8 cranks of the handle. However, some of the best farm jacks come with a high-speed lifting mechanism.
Those jacks can lift a load with just 3 to 5 cranks, but they tend to be pricey. As a result, lifting speed is not that vital when choosing a farm jack.
If you don't have any issues with budget and want to work faster, then you can go with a farm jack that has a faster lifting speed.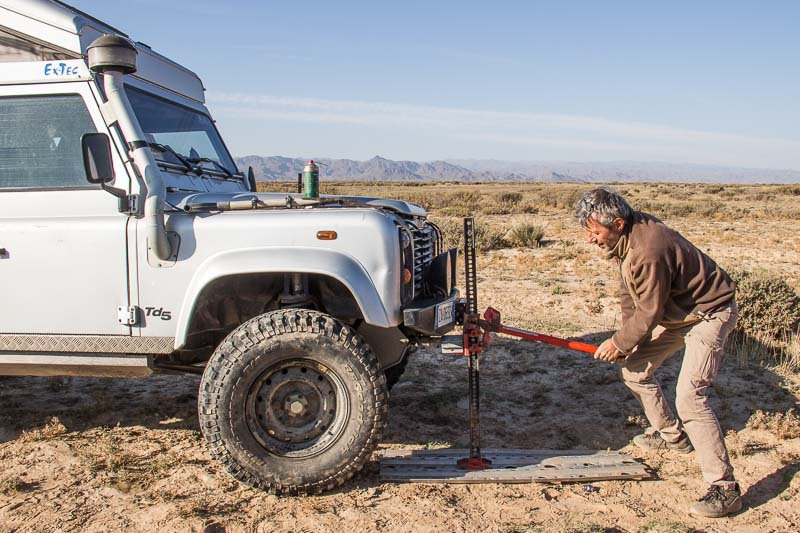 Clevis or Clamp Attachment
The top-rated jacks will come with a clamp or clevis attachment at the top. You can attach chain attachments or hooks on that spot for winching or pulling purposes.
If you want to use your farm jack as a winch when necessary, you should choose one with the top clevis or clamp attachment.
Also, keep in mind that the clamp attachment will have a different weight capacity than the jack itself.
The Handle
You should pick the farm that comes with a heavy-duty handle. Otherwise, while using the jack, the handle might break apart or bend down. It is better to choose a farm jack that comes with a removable two-piece handle.
The removable handle makes it easy to store the farm jack. The handle socket should also be well-built. If the handle has a rubberized grip, that will be a plus.
Build Quality and Design
As usual, with any recovery equipment, you should be concerned with the build quality of the farm jack.
It is better if it is made of steel or cast iron. Also, for long-lasting strength and durability, it should come with a rust-resistant powder coating.
Safety, Comfort, and Ease of Use
A farm jack could be a very dangerous tool if you can't use it properly because it will lift heavy machinery on a daily basis. So, go for a farm jack that is user-friendly.
You should look for a versatile jack that can be used both horizontally and vertically. That way, you can use it whether you are winching, spreading, lifting, clamping, or pulling.
On top of that, it should come with overload protection mechanisms like a shear bolt. That way, you will not be able to use the farm jack if you have overloaded it.
Try to avoid jacks that you will need to operate by twisting the handle, instead of pulling the handle up and down.
Additional Accessories of High Lift Jack
If you want to maximize the potential of your farm jack, you can use various high-lift jack accessories like recovery straps, high-lift jack base, and so on.
Most high-lift farm jack makers offer accessories and attachments that are compatible with their jacks.
Usually, each brand has its own unique accessories that are ideal for specific models of farm jacks. So, make sure you are buying the right accessories.
Price
Farm jacks are not that pricey. Of course, the better the quality and features, the higher the price will get.
A lot of things depend on a farm jack as you are working with a very powerful tool. As a result, you should not cheap out and get an average quality jack.
It is always better to get the best quality farm jack for your money. This will make sure you will be able to complete your work faster, more reliably, and safely.
Best Farm Jack Accessories
Advantages of Using Farm Jack
There is no denying that a farm jack is a very useful tool when it comes to farming and off-roading.
The main purpose of a farm jack is to lift up large vehicles to change a tire or to perform repairment works underneath the vehicle. However, there are more creative ways to use a farm jack.
For instance, you can use a farm jack for lifting heavy farm machinery. It can also be used as an emergency extrication spreader.
You can also use different types of farm jack accessories to strengthen your farm jack to do many other demanding tasks.
In addition, most farm jacks come with a top clamp clevis attachment with which you can turn the jack into a powerful winch. In doing so, you can even change the direction of any stuck vehicle in case of emergencies.
How Does A Farm Jack Work?
A farm jack can be intimidating to look at. However, it has a very simple mechanism. You can say that there are two parts of a farm jack that are the spine and the handle.
The entire spine will have a number of equidistant holes. Those holes act as a stable footing for the jacking mechanism.
Now, when you would want to raise the jack, you will have to crank the handle up and down.
With each crank, the climbing pin on the jack will be unplugged from its current hole. Then the pin will be inserted into the hole above your current hole.
The more you crank the handle, the more the jack mechanism will start to raise up along the spine of the jack's body. At the same time, it will lift your vehicle or the load.
How To Use A Farm Jack Safely
These jacks can be very dangerous if you are not using them carefully. In this section, we will provide some tips to avoid any kind of accidents while using a farm jack.
Make sure, the only purpose of using a farm jack is to raise up the load. A farm jack is not there to hold up the load for a long time. So, don't lift the jack more than you need to.
It goes without saying that you should never go under a vehicle that is supported or lifted up by only a farm jack. Any type of jack is not designed to hold up the load for a long time. It could tip over any time. If you want to work under the vehicle then you should use heavy-duty jack stands.
Never ever put anybody or yourself between the farm jack and the vehicle.
Always try to use the farm jack on a solid and stable surface while lifting heavy loads
Many professionals recommend throwing in a tire or log under your vehicle while using a farm jack for safety reasons.
You should never release the handle while lowering the load.
FAQ
Who Makes The Best Farm Jack?
To be honest, it is a tough question to answer. Depending on the preference and requirements of the buyers, the best farm jack manufacturer will vary from person to person.
However, from our experience and other users' feedback, you could say that the 'Hi-Lift Jack Company' makes the best and most popular farm jacks. On top of that, they have a lot of options to choose from.
Who Makes The Best High Lift Jack?
As we have stated earlier, 'Hi-Lift Jack Company' is recognized as one of the best High-lift jack manufacturers in the world.
At the same time, their high-lift jacks are also very affordable. You will have a lot of options to choose from.
Are Farm Jacks Dangerous?
Obviously. These are very large, heavy, and powerful pieces of recovery equipment, as opposed to a low profile jack.
So, they do pose some dangers if you are not careful when using them. As a matter of fact, if you are using a farm jack incorrectly, it could be fatal.
Like any other heavy-duty recovery tool, you have to be respectful and follow the proper rules while using a farm jack. That way, you will be able to use a farm jack without any issues.
How Much Can A Farm Jack Lift?
There is no specific answer to this question. Based on the model and brand of the farm jack, the flirting capacity will differ.
Typically, a standard farm jack of high quality should be able to lift somewhere between 2000 lbs. to 7000 lbs. 
Every farm jack will come with a specific load capacity and weight limit. You should keep an eye on that number before buying your next farm jack.
Sum Up – Best Farm Jack
A farm jack can come in handy under any circumstances. Whether you are a farmer or an avid off-roader, you should keep this tool at your disposal.
We know that it is not that easy to pick the best farm jack out of such a large number of options. So, we have reviewed some of the best high-lift farm jacks out there.
Yet, if you could not still make up your mind, then our suggestion would be the 'Hi-Lift Jack XT485 48″ Hi-Lift X-TREME Jack'.
This is a truly rugged farm jack with lots of features. Although it is a pricey one, all those unique features and the robust build quality makes this deal worth it.