Anton Poplett's Land Rover Defender is not a luxury vehicle for glamorous safaris. He's turned it into a traveling eye testing rig, and he's taking it far off the beaten track.
It was the end of June 2021, and Covid-19 was spreading like wildfire through South Africa. Lockdown regulations were expected to be tightened, and travel restrictions were imminent.
Despite this, Anton Poplett, founder of 4x4OUTFAR, was driving his Land Rover Defender 110 up from Cape Town with all the luggage and equipment for an overland expedition to Botswana.
Joining him on the expedition were eminent optometrist and fellow 4×4 enthusiast Karl Danneberg, his son, cameraman Cam Stuart, and Anton's wife and seven-year-old daughter. In the face of Coronavirus, they had a very different epidemic in their sights.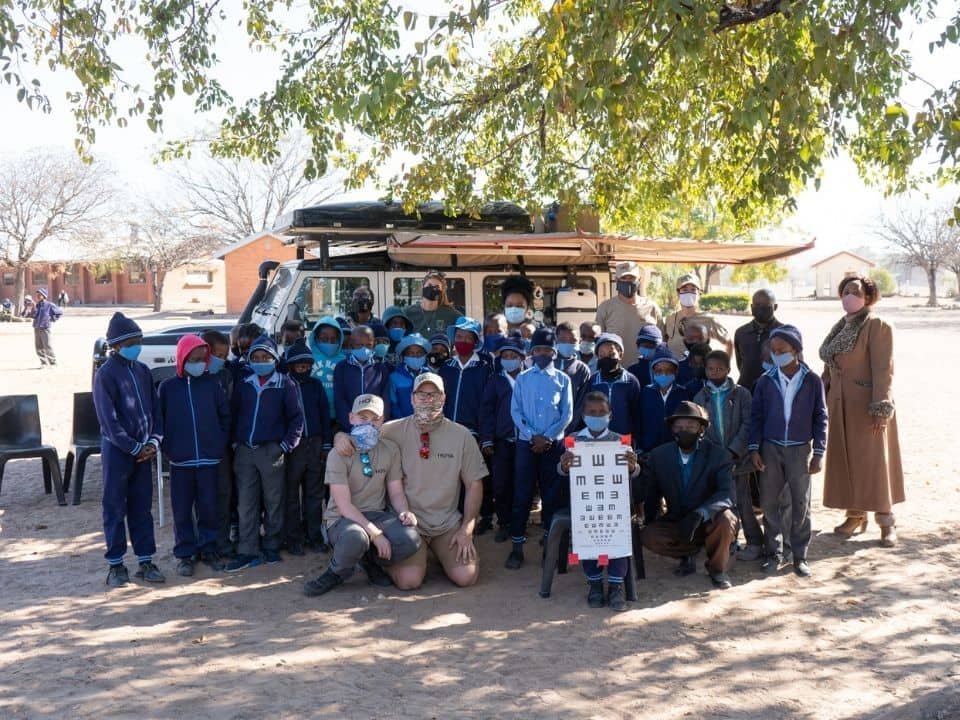 According to the World Health Organization, more than two billion people have a near or distance vision impairment. Almost 50 percent of these cases could have been prevented or have never been addressed. This makes poor vision the world's largest unmet disability. In the developing world, especially in remote areas, there's almost no access to corrective eye care.
Retired United States Marine Kevin White was determined to address this problem. His solution was inexpensive and ingenious.
Three Easy Steps to Better Eyesight
The Global Vision 2020 kit could hardly be simpler. It starts with an easy eye chart test. No need for reading, numeracy, or even a common language, just fingers held in the correct direction: left, right, up, or down.
If poor vision is identified, it's time for the specially-developed self-diagnostic lens kit. This looks like a strange pair of sunglasses, with large white knobs on either side and long clear lenses like rulers in front of each eye. The patient turns the knobs to dial the variable power lenses up and down in front of their own eyes until they can see clearly – a lot like adjusting a pair of binoculars.
Then, a color-coded system makes it a matter of moments to select the correct lens for each eye and snap them into a pair of frames. In this way, a pair of custom prescription glasses can be provided in around five minutes, and for less than five dollars per person.
While Global Vision 2020 manufactures the kits and provides the training to use them, humanitarian, faith-based organizations, NGO's and individuals partner with them to deliver the prescription eyeglasses.
Anton who runs the Africa operations steps up and shows how it's done. After all, what better way could there be for overlanding enthusiasts to put their passion for adventure – as well as their gear – to good use?
Elephants Are To Be Expected
The Borbirwa Eye Project had been two years in planning and would be another rural mission in Botswana with the Global Vision kit.
In a previous project, his team had visited schools circumnavigating the Okavango Delta district, delivering hundreds of pairs of glasses.
This time, he planned to do a circuit around six primary schools in the wild Tuli block region in Borbirwa – a place where the only traffic jams are of the wildlife kind, and elephants are considered a routine roadblock.
There are few to no tourist facilities in that area, so the team camped at the schools or in rough campsites in the middle of the bush. Again, places where elephants, lions, and leopards are to be expected.
This, along with the combination of bad roads and sketchy cell phone reception, meant that preparation and proper gear were vital, and Anton spent most of his waking hours for three weeks putting everything in order in his Defender.
The expedition got off to a smooth start as the team crossed the border under sunny skies. The first test of their skills came as the sun vanished while they were still negotiating a narrow road through the middle of the bush to reach their first camp on the banks of the Limpopo River.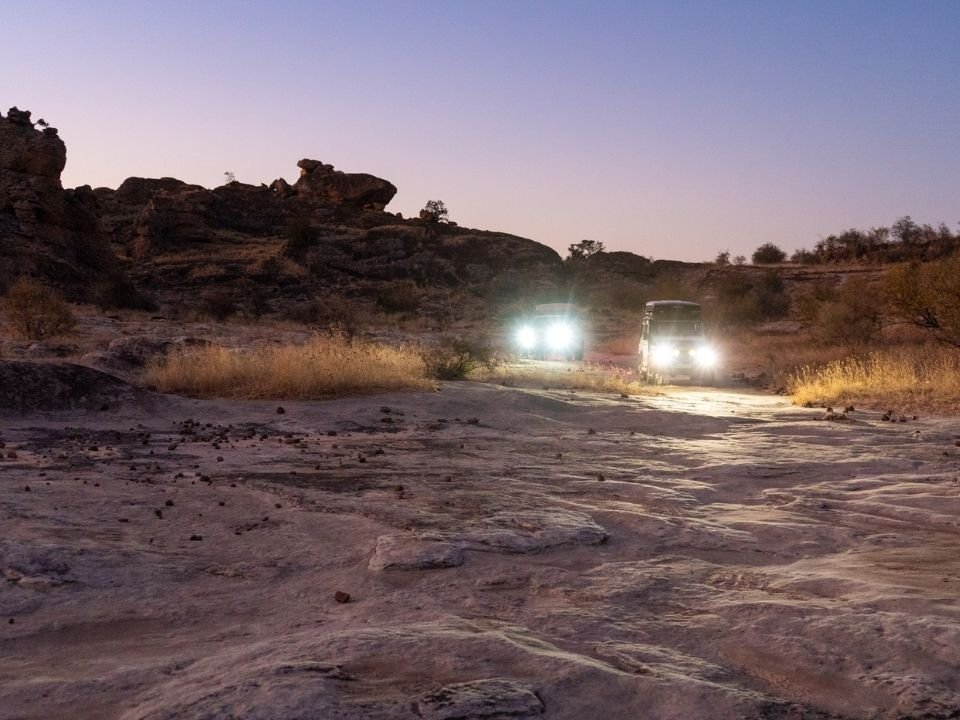 Fortunately, Anton had installed a new set of Vision X ADV2 lights on his Land Rover Defender, which gave him the confidence to continue through the utterly unknown terrain of long grass and tall trees. For his wife and daughter, it was a suspenseful and late introduction to the expedition.
Leave No Child Untested
After a weekend spent prepping and checking by the river, the project started with the usual chaos of a team finding its rhythm, but they soon had an efficient system worked out.
With more than 2000 children to screen in five days (one of which was a public holiday), everyone on the expedition took part in the process, so that no children were left unscreened. Everything was done with strict adherence to health protocols of sanitizing, mask-wearing, temperature checks, and social distancing.
Although several adults, including teachers, were given glasses, the project was focused on screening children between 10 and 14 years old, a critical period when the eye is coming into its middle stage of development. At each school, the team was joined by Children of the Wilderness Eco Mentors (2 of which trained to use the kit after we had left, said Anton), all of whom are local teachers, caregivers, or parents.
Since many of the younger children were apprehensive about the testing, it was a great help for them to have someone familiar to explain what these strangers were doing.
The team's thoroughness and attention to detail uncovered an undiagnosed phenomenon in 10 of the children. Noticing an anomaly, Karl performed a more thorough eye exam, which led him to suspect a sight-threatening condition called keratoconus, a progressive thinning of the cornea. Once his diagnosis is confirmed, the team will follow up with a suggested course of action.
Dust and Dung, not Disney
To reach the schools, Anton and Karl relied heavily on their 4×4 skills and equipment. The dirt roads were rough, with corrugation, deep dongas, and divergent routes to tackle. Sometimes it could take more than an hour and a half of driving in second gear to cover a distance of just 30 kilometers.
The team frequently saw Bobanong's lone ambulance going in different directions – a reminder of the scarcity of healthcare services in this wild area.
There was little other traffic and only two 'traffic jams' – one, when they had to wait for a herd of elephants crossing, and another when two giraffes were somewhat inconveniently having a fight right in the middle of the road.
The days were as long and busy as the roads were long and dusty. Wildlife encounters aside, humanitarian work in Africa is anything but a Disney movie.
But Anton and his family found joy in unexpected places. For his wife, it was the beautiful combination of buchu bush smells, dung, and dust that hung in the air at dusk. For his daughter, it was endless helpings of delicious mealie pap, and the intriguing variety of stones, bones, and poo offered up by the African bush, some of which returned home with her.
And for Anton, it was a chance encounter with a little girl that brings a lump to his throat and the glimmer of tears to his warm brown eyes when he tells the story:
"We didn't have any reception at all for the last three days, and we found out earlier in the week the return flights were canceled following the new lockdown restrictions. So, I went back to the first school we visited, Lentswele Moriti Primary. There's a tree there, and if you go and stand right underneath it, you can get a signal.

While I was there, I happened to ask the teacher a few questions, and she brought me one of the young girls who had received glasses from us a few days before. The little girl was very shy about her English, but she told me that before, she could never sit in class and do the work like the other children, she could only listen. Now, with her glasses, she can see clearly.

Her uncle also told the teacher that he's noticed a great improvement in her eyesight and that she's started to take an interest in her schoolwork for the first time even at home. That, to me, is gold. That's exactly why I do this."
Anton's next 4x4ouEar expedition is planned for the Hwange district in Zimbabwe. To find out more, follow him on Instagram @4x4ouEar.
Anton Poplett is a hard-working South African. His drive in supporting people on his African continent grows daily as he sees the need for sustainable development with local communities that are in dire support of basic necessities. 
Vision as we all know is a global pandemic and easy for a city dweller to be tested but not in the rural regions.
He's developed his overlanding rig for long hard touch drives that are not common to get to so he can help these people. He builds and works on his rig as best he can and has become quite knowledgeable when people ask for help.