Quick Answer – BEST CAMPING LIGHT:
If you're looking to escape the stress of living in the city or if you simply want a break from your work, going on an overnight-camping trip might be exactly what you need. Yes, heading into the wild can be really exciting.
Still, if you are not used to handling the darkness, you might consider bringing along the best camping lantern to make your stay more comfortable.
Camping lights are available in a wide range of shapes, weights, and have different power sources. They can be used not only for camping or backpacking but also for emergency situations when the electricity suddenly goes down.
No matter how you intend to use it, you may need the best LED camping lantern that has enough power and operates in stormy weather.
That being said, these are the top 9 camping lights and everything you need to know about them.
Best Camping Light Reviews
Coleman LED String Lights is actually a set of 10 LED lanterns that can stretch up to 6 ft and can last up to 20 hours. This might be a good option if you want to bring some atmosphere to the wildlife experience.
It is lightweight and it can be attached to your backpack with ease, as each lantern measures 1.51 by 2.75 inches, while the battery pack is 2.32 by 1.04 by 3.39 inches.
People who are looking to have a quick escape or go out for a night picnic can take advantage of the small form of the string.
The 10 LED lanterns set aside one another guarantee you will benefit from a lot of light all at once. That's why it is considered one of the best LED camping lights.
The device is powered by three AA batteries and is not connectable with any other power source.
What Previous Buyers Said?
Overall, previous customers declare themselves satisfied with the product. Even though problems might appear here and there, they are happy with the value they got for the price.
Going overlanding has been easier for them using these lights, which lasted even through the heavy rains.
Pros:
Highly portable
Creates a beautiful atmosphere
A good amount of light
Cons:
Not as resistant as other lanterns
Gould Armour Camping Lantern is an ideal accessory for people who want to spend a couple of nights out in their tents.
Powered by three AA batteries, the LED lanterns are not rechargeable on their own. They can, however, last longer using a battery recharger. Moreover, the lanterns come with a set of 12 batteries, which is a bonus.
With such powerful LED lighting (350 Lumens), the 4 lanterns can bright up a large tent of 10 x 10.
It is hand-built with military-grade materials, and it's also water-resistant, so it will last even in the harshest conditions.
One lantern measures 4.90 inches in height and 3.46 inches in diameter when it is collapsed. At full extension, it goes up to 7.28 inches in height and it keeps its diameter.
It is one of the best camping lanterns for the price, and it can brighten large areas at a time. Avid campers who need powerful lights can benefit the most from its features.
What Previous Buyers Said?
Reviews point out the long-lasting power of the LED lantern, with the running time going up to 10 hours.
Another positive aspect was the amount of lighting they produce. The lantern was able to brighten even the outside of the tents and was visible from afar. It's also great for car camping.
Pros:
Great light capacity and run time
It is compact and easy to carry
Price
SUAOKI Collapsible Clover Style 18 LED Camping Light is one of the best camping lanterns designed to be used in every possible situation where light is limited.
With its internal battery, the camping light can be charged either by USB or by using its three solar panels.
This is a great advantage, as you're not required to buy batteries and you can actually save money. You can also leave it to charge in the sun, which is definitely a benefit.
The lantern has 3 interchangeable modes: low, high, and SOS (blinking) light. With 18 LEDs showing 6000-6500K light, you get a tint of blue.
The smart protection chip helps to avoid overheating or damaging.
Furthermore, you can take advantage of its hook to hang it wherever you want, or just let it stand on your portable table.
With a diameter of 62.7×149.8 mm and 168 g, you can take it wherever you want, as it is smaller than some phones. So, for car camping, it could be a great option.
What Previous Buyers Said?
Reviewers are praising the long battery life for such a small device and are also impressed by how much ground the light covers.
Pros:
It has affordable pricing
Comes with a LED display
It is a maintenance-free battery
This is equipped with the AGM tech
Comes fully charged from the factory
SUAOKI LED Camping Lantern is a long-lasting lantern. It packs an 800mAh lithium battery that can be charged via its USB connection or through the solar panel on the top.
It can output up to 65 lumens at high brightness and as low as 25 lumens, in three different modes: low, high, and SOS mode.
It's also ideal for smaller places and limited gatherings. And, it has great battery life.
Its smart protection chip ensures that the device doesn't fault on its own and doesn't drain more battery than needed.
With two modes, compact and extended, the camping LED light can be used both as a lantern or as a flashlight.
Moreover, its dimensions are 3.8×3.7×2.1 inches, which makes it highly portable.
People who want to spend long nights out in tents can benefit the most from SUAOKI's Camp Lantern. If you're a tech-savvy, you'll be delighted to find out that you can actually charge your phone with it.
What Previous Buyers Said?
Users were also happy with how long the lantern would last (up to 15 hours of battery life). With small malfunctions, the lantern still behaved exemplary, providing good light, even in the biggest of tents.
Pros:
Highly portable as it is collapsible
USB and solar panel recharge
It can be used as a flashlight
Cons:
Bugs can get stuck inside it sometimes
Hallomall Outdoor Camping Light is one of the best camping lanterns available.
Its built-in lithium battery supports two USB slots, where phones can be charged simultaneously. The lantern is rechargeable, performing with a power of 15W and with a voltage between 110-240V.
With 24 LED pieces, the lighting can switch between three modes: low, high and SOS, which is a great advantage because you can make the battery last longer.
With two red and two blue LEDs, it can be used as a road signal as well. One of the best features is its 360-degree rotations, which lets you position it however you need it.
Campers who need a steady light that can turn to every point can take advantage of this lantern.
It is usable under any conditions and will beam inside and outside the tent with the same intensity.
Another great feature is its water-resistant capability, which will guarantee you that the lantern will be fully functional even after heavy rain.
What Previous Buyers Said?
Praised for its long-lasting battery life, most users choose the Hallomall Outdoor Camp Lantern due to its powerful light and the fact that it's easy to store.
Pros:
Powerful light
360-degree maneuverability
It is water-resistant
Cons:
It is not as portable as other lanterns
E-TRENDS Portable LED Lantern Tent Light Bulb is usable for any camping, hiking, car camping, and fishing situation, where light is limited.
Powered by three AAA batteries, the light bulb is not rechargeable. Even so, you can take advantage of the 12 included batteries to power your lantern when you're out camping.
You can use its two settings to get the best out of the power time: use dimmer for a longer lasting bulb, or bright if you need more power.
An advantage of using the E-TRENDS lantern is that people can store it easily, because of its small dimensions.
No matter if you use its hook to hang it outside or leave it on a table; the light it will provide will be good under any circumstances.
If you're going out camping for several days in a row, and you need a sturdy light, then this is a good option. If you're not the type who needs big, bulky lights, then the E-TRENDS lantern might be the best portable solution for you.
What Previous Buyers Said?
The previous buyers are happy with the accessibility of the product, being able to store it and use it easier than a flashlight. Users are also glad about the amount of light it produces.
Pros:
It is highly portable
Great light power
Good value for money for the 4-pack
Cons:
It is not as sturdy as other lights
​One of the best portable lanterns, the MalloMe LED Camping Lantern comes in a set of 4 and provides good lighting for all camping enthusiasts.
Powered by 3 AAA batteries, the lantern can last up to 24 hours, even with constant use. Unfortunately, it is not rechargeable, but you can make use of the 12 batteries included in the package.
With a power of 350 lumens, you can take advantage of its collapsible design to adjust how much light you need. Specially created for campers, this lantern has a powerful light that can brighten up the whole tent or the whole site.
Made from ABS plastic, the 4 lanterns are water and weather-resistant. Heavy rain, mud, or cold will not affect them.
Moreover, with its compact layout, you can put it in your backpack without having to give up too much space.
What Previous Buyers Said?
People are praising the amount of light they get from MalloMe's LED lantern, mentioning its sturdiness and compact design.
Most of them use it to light tents when camping or to brighten up the path in their backyard.
Pros:
Powerful light
It has a compact design
Sturdy construction
The Luminoodle LED Light Rope is a highly compact light that can be carried to any camping site.
Using a power bank or any device that outputs electricity, the light rope can be powered through a USB connection, consuming 2.5 or 5 W. With a battery of 4400mAh, the light will last up to 3 hours. You can get a 4400mAh battery included for an additional fee.
With its 360 degrees lighting, the product can be handy to anyone who needs to work outside in the dark.
You can use it through the rain as well, as it's water-resistant.
Because it creates a beautiful atmosphere and it lights very well, this can be a good solution for a night out camping. And because it comes with a nylon bag, you can transform it into a lantern to take it with you hiking.
It comes in two length versions: 5 feet and 10 feet.
What Previous Buyers Said?
Praised for its flexibility and portability, Luminoodle LED Light Rope is considered one of the best camping lanterns by reviewers.
Pros:
It is highly portable and flexible
Water-resistant
It can be used as a lantern
Cons:
It needs a separate power source to run
Etekcity Portable LED Camping Lantern Flashlights are suitable for anyone travelling or camping.
The lantern uses 3 AAA batteries to charge a powerful LED that lasts up to 12 hours, even when it's continuously used. The lantern comes with two extra batteries included.
With 60 lumens, you can expect it to light up the tent or the whole campsite.
If you are not much of a light-packer, there is no need to worry. Its military-grade construction will allow you to just store it in any corner.
With a collapsible design, you get to save a lot of space in your backpack or your car.
Having only 4.9×3.46 inches, it can be used by anyone who needs space in their baggage. However, it can expand to 10×3.46 inches when the handles are pulled up.
Moreover, rainy weather is not a problem anymore, as the lantern was designed to resist harsh weather conditions. Also, you can just hang the lanterns on a tree branch or leave on the ground while getting 360 degrees light.
What Previous Buyers Said?
The past buyers are praising the time the lantern can output light, as well as its power. They have also liked that you get a pair in each pack.
Pros:
2 of them in every pack
Bright light
Sturdy build
Best Camping Lights Buying Guide
Things to Consider Before Buying a Camping Light
Power And Run Time
Camping lanterns differ in power and run time. And, when you are buying a camping lantern, you should know exactly how long the run time of this lantern is.
If you are going on a long trip, you will need camping lanterns that will last a very long time. And, for a short trip, a low-powered one will do.
However, you should also remember the more power your camping lantern draws, the faster it will run out of battery/fuel.
So, you will have to find the sweet spot, when it comes to power and run time depending on the length of your trip. In this case, the longer your camping lantern would be able to last, the better.
Size and Weight
Usually, the best camping lanterns would be lightweight and compact in size. That way they are very easy to carry and store.
Also, if you are hiking using a camp lantern, it will be great if it is lightweight and easy to handle.
Portability
Typically, most camping lanterns tend to be portable. However, you don't necessarily need portability when it comes to camping lanterns.
If you want more power and brightness, then you might have to use more than one camping lights simultaneously.
Also, some camping lanterns are specially designed to stand them down on the floor or hang them up. In that case, portability should not be your main priority.
On the opposite, if you are trekking or hiking, then a portable camping light would do wonders. As a result, a lightweight camping lantern with a sturdy and ergonomic handle will be the best option.
Lumen Count (Or Brightness)
Don't get confused between lumen and wattage. These are two different terms. You might think that the more the wattage, the brighter the light will be. But that is not the case at all.
Rather, you could say that lumen represents the brightness of a light source. Simply put, the lumen is the measure of the amount of light you will be getting from a light source like a light bulb, camping lanterns, flashlight, etc.
So, how many lumens do you need in regards to your camping lanterns? As you might have already guessed that it all depends on your preference. In short, the more the lumen is the brighter the light will be.
Thus if you want to light up a large campsite, you will need a high lumen camping light. On another note, the higher the lumen, the faster the battery power will run out.
As a result, if you want your camping lantern to last longer, you should run the light in very low lumen if possible, or simply get a low lumen light for emergency cases.
Plus, you will have to be cautious using a high lumen camping lantern as high lumen could be very dangerous to your eyesight.
Build Quality
Camping lanterns are not that pricey. But that doesn't mean that you will compromise on the build quality. Rather, you should look for the best camping lanterns that are built with heavy-duty materials.
Additionally, it will be very good if you are buying waterproof camping lanterns. That way, you will be able to use your camping lanterns in any weather conditions. You should also check the quality of the handle or the hook of the camping lanterns.
Because these are the parts that will go through the most abuse. A camping lantern that comes with sturdy construction might be a bit pricey. But going with such a product would be the best option for you.
Ease of Use
A camping lantern is an essential overland gear that will be used day in and day out. Thus, you should look for one that is very user-friendly.
Most camp lanterns are very easy to operate. They come with a few switches with which you can turn it on or off, increase or decrease the brightness, change the LED color, etc.
Also, some lanterns camping light features a USB port for charging your smartphone, or such devices.
Try to get one that is not complex so your whole family can get the hang of it without a hitch.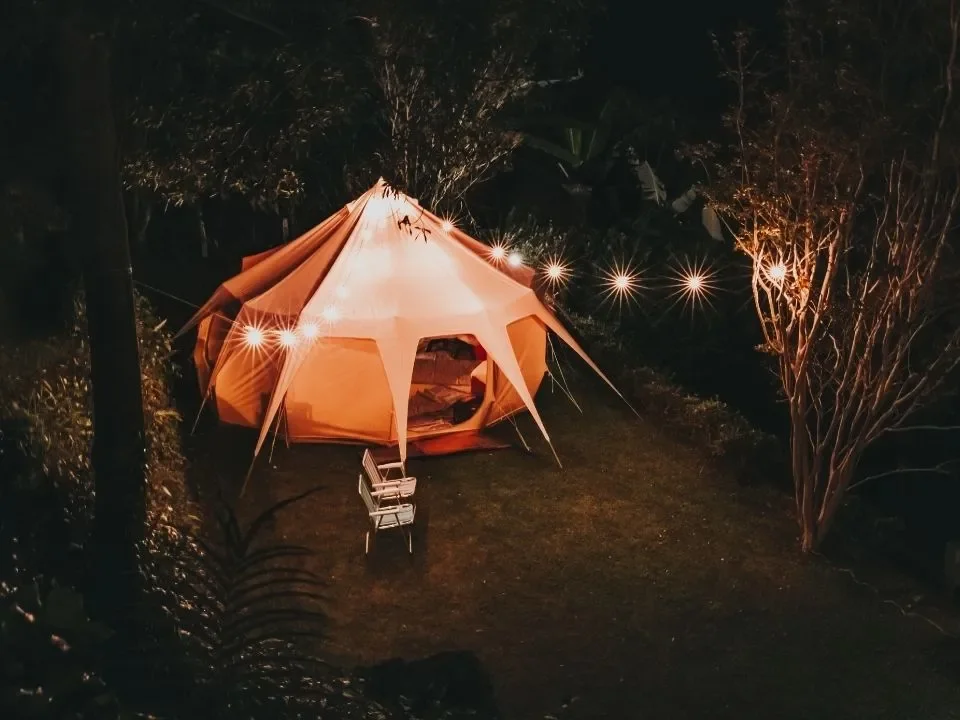 Additional Features
As we have mentioned earlier that some camping lanterns come with a USB port to charge your smartphone or other battery-powered devices.
This special feature could come in handy in emergency situations. However, it is best to rely on the camping lantern for charging your smartphone in the wild.
Also, some camping lights come with a foldable or collapsible design.
This way, you can make them compact while you are tossing them on your backpack. And when the time comes, you can bring them out of the backpack and set them up easy and fast.
There are some multi-purpose lanterns for camping as well. You can use them as a torch, table lamp, or a traditional lantern.
So, depending on your situation, you might look for this exclusive feature as well.
Some lanterns come with a normal base, whereas some come with hooks or straps to hang them up. And, some of the best camping lanterns also have multi-functional handles that can also be used as stands for the lanterns to stand it up.
There are some camping lanterns that can emit light at 360-degree, whereas others have their limits. And, if you want to light up your tent or campsite comfortably, a 360-degree model would be a great option.
We have also seen some campaign lanterns that come with smartphone app support. That means you can control the lighting, intensity, power on/off, etc. directly from your smartphone via the app. It can be a good feature. But this is not a must.
Finally, a waterproof camping lantern would go a long way in dire situations while you are camping in the middle of the rain.
Also, this type of camp light comes with a rugged build quality. Thus, these will last a long time compared to the normal ones.
Types of Camping Lanterns
Electric Lanterns
As you can guess, these types of lanterns are powered by electricity. However, most electric lanterns come with internal batteries integrated.
So, you will have to recharge your lantern after you have used it for a certain period.
This type of electric lantern is very easy to operate, portable, and comes with various advanced features.
If you have a power source to charge your lantern near your campsite, then electric lanterns could be a good option.
Battery Powered Lanterns
This type of lantern uses normal rechargeable batteries like AA or AAA batteries. So, once the battery runs out, you either have to replace them or you can recharge the batteries.
Due to the size of the rechargeable battery, this type of lanterns tend to be lightweight and portable.
Solar Powered Lanterns
Yes, these are powered by the sun. And, you know that a solar-powered lantern is environment-friendly. But, if you are in a cloudy place, these could be useless.
Fuel-Burning Lanterns
A fuel-burning lantern is the most basic type of lantern. This type of camping lanterns uses fuels like kerosene, gasoline, various gas, and more.
Fuel-burning lanterns are great as you should be able to increase or decrease the brightness more precisely with this type.
However, these are not environment-friendly, and carrying volatile/flammable fuel in the backpack might not be convenient for everybody.
Candle Lanterns
As the name suggests, this type of camping lantern uses candles to produce light. So, once the candle burns completely, you will have to add another one.
This is a good option if you are looking for a natural lighting system at your campsite. However, these are not that efficient compared to the other options.
How To Light A Lantern?
This process will depend on the type of your camping lantern. For instance, if you are using electric or battery-powered lanterns, then you will have to flick a switch or button to turn on the lantern.
On the other hand, the gas-powered lanterns might come with an auto-ignition system.
On the flip side, you will have to manually light up a candle or fuel-burning lantern. The best camping lantern will come with an instruction manual.
In short, you should check the instruction manual for the best and most accurate instructions.
How To Hang Lights In A Camping Tent?
If you are in need of hanging the camping lantern, you will have to go for one that has the required hook, or strap, or handle.
That way, you can hang your camping light easily using the hook or the straps. And, if your camping lantern doesn't have such extensions, you can use it just by placing it on a stable and flat surface.
How Many Lumens For Camping?
This is tricky to answer. Because it will depend on the area of your campsite, the number of people, and the location, etc. You will not want to go overboard in this.
At the same time, you should not go with a set of lanterns that are not enough for lighting up your campsite.
Usually, a few camping lanterns in the range of 1000 lumens should be more than enough in most situations. Then again, it will depend on your preference and requirements.
So, make sure you are keeping that in mind, while you are choosing your next camping lantern.
Another great idea is to carry multiple camping lanterns. Thus, these can be used as backup or additional light source.
Buyer's Advice For The Best Camping Lights
Every lantern comes with different applications that satisfy the particular wishes of any customer. That's why it's hard to say which one is the best camping lantern.
If you are looking for a lantern that can brighten a large area, then you could go for Gould Armour Camping Lantern. However, if you want something more durable and long-lasting, you might want to have a look at SUAOKI LED Camping Lantern Lights.
When you choose the outdoor lantern that suits your needs the best, you must remember to take into consideration the main factors: the power source, extra features, weight, and portability.
We hope that this guide helped you narrow down your options so that you can find the best camping lantern for your needs.