Have you ever just wanted to get out and have an outdoors adventure but didn't really want to invest into expensive gear? We may have just found a solution: renting camping and overlanding gear in California.Adventure travel is growing in popularity and overlanding is a huge part of it. Overlanding is probably one of the fastest growing outdoors phenomenons, that includes a number of fun activities like camping, hiking, fishing, hunting and of course, driving off the beaten track.
It can be an expensive hobby, however, TopoTerra can make things a lot easier in that respect. If you're planning a vacation in or around California, rather than buying all the equipment, you can contact Brandon – the founder of TopoTerra – and rent camping gear, even vehicles, for a full overland experience around the beautiful Southwest.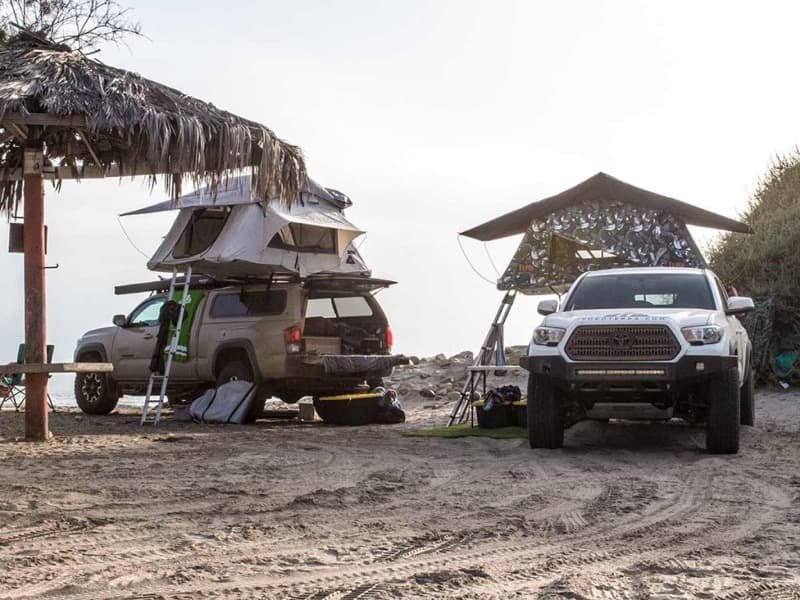 TopoTerra – Who are They?
TopoTerra is an adventure lifestyles experience company located in San Diego, that was founded by Brandon Thomason. He grew up going hunting, fishing, hiking and on backpacking trips, this gave him a love for outdoor adventures. TopoTerra was born out of love for the great outdoors and the beauty of nature. When he grew up, Brandon often went on hikes, fishing trips, camping, and other adventures that involved the outdoors.
He is hopeful that the company will help parents to teach their kids about the outdoors – taking them away from TVs, phones, video games and every other thing that prevents them from exploring the nature around them.
The Services of Topoterra: rent your camping and overlanding gear
As someone that may just be starting with overlanding, you might not have the budget to buy all the gear yourself.
The vehicles can be very expensive – not to mention that the camping kit also needs to be reliable and effective. In this case, renting the equipment might be something more affordable.
For instance you can have a fully kitted 2017 Toyota Tacoma TRD, perhaps with the Tepui Kukenam Sky Siberan RTT (Rooftop Tent). This tent is installed straight on the rooftop – which makes camping not only easier, but a whole lot more fun, too.
If you don't want to rent the entire rig, you can also opt for a trailer. More compact than your average steel trailer, these overlanding trailers are designed for an off-the-grid camping set up.
For instance, the 2018 SmittyBilt Scout Trailer equipped also with a rooftop tent can easily fit three people (make sure you choose the right size RTT).
Your gear can be complete with a fridge-freezer and extra batteries so that you can also keep your food cool and your devices charged (in case you actually need them).
You can also go for only the rooftop tent if you already have a vehicle that can support this type of adventure and equipment. You can get them based on how many people are joining you on the adventure – so, you can get a smaller tent or a larger one. Bear in mind that a bigger tent may need a bigger vehicle to support it as well.
If you're not a fan of tents, you may also rent a traditional RV. Camper vans will be part of TopoTerra's fleet soon — you might want to check their website for updates on this. Same goes for off-highway vehicles.
TopoTerra also provides rentals of camping gear to the last details. For example, if you need add-ons such as kitchen essentials, camp tables, barbeque, stoves, or sleeping bags, you can rent them from the company with ease.
Bear in mind that prices may depend on the season. For example, rental during the high season might be more expensive compared to the offseason.
What Else Do You Need to Know?
When you're renting your overlanding gear, you will be renting by night – and not by day. You pick up the unit at noon, and you need to return it in the morning before 11 A.M. You may return it later or pick it up earlier – but there will be some extra fees added in the price.
You can travel off-road as well – but you need to understand that in certain circumstances, your insurance may be affected or voided. Plus, while you may drive on countryside roads, the vehicles are not suited for extreme off-roading (e.g. water crossing, rock crawling, mudding, etc.).
You can cancel your order and if you have at least 30 days before the departure, you will be refunded almost the entire sum – minus $50 needed for processing. If the cancellation occurs within 30 days but you still have 14 days before departing, you will receive 50% of your down payment.
There won't be any refunds on short notice cancellations. Most of the rentals allow pets – although a cleaning fee might be charged if there's damage, pet hair, or odors. You should also be careful with the weather because extreme weather might not be suitable (or pleasant) with rooftop tents.
While TopoTerra offers equipment rentals, they don't offer any trip planning. Having said that, Brandon is an experienced explorer in California, so they can offer you suggestions of nice locations.
In the event that something happens to your vehicle, TopoTerra will try to help you the best they can. Roadside assistance is available through a 3rd party for an additional fee.
TopoTerra is based in San Diego, but their equipment can be used all over North America. When it comes to the vehicles that TopoTerra rents out, people can take the rigs out of the U.S. for a larger security deposit and added insurance. In this case, prior approval is needed from the company.
A prep and clean fee is included in your bill, meaning you don't have to return your rentals professionally cleaned. If you have trekked through the mud or have made a complete mess of the vehicle or tent, you should clean up anything extreme and your trash. Read our Trasharoo Review here, which is an excellent tool for the job . When it comes to getting your deposit back, the company tries to get peoples deposit back within 2 to 3 business days and no more than 7.
Final Thoughts
People often find that expensive camping and overland gear prevents them from starting overlanding. Now there is no excuse!
Instead of investing a lot of money in the gear, you might want to try renting. This is the most affordable alternative – particularly when you're only going on these types of trips occasionally.
Overlanding just became very easy and affordable. Any rentals can be booked right on the TopoTerra website, where you shouldn't forget to use your 10% discount code: overlandsite.
Go check them out!